Biden takes a harder line in COVID response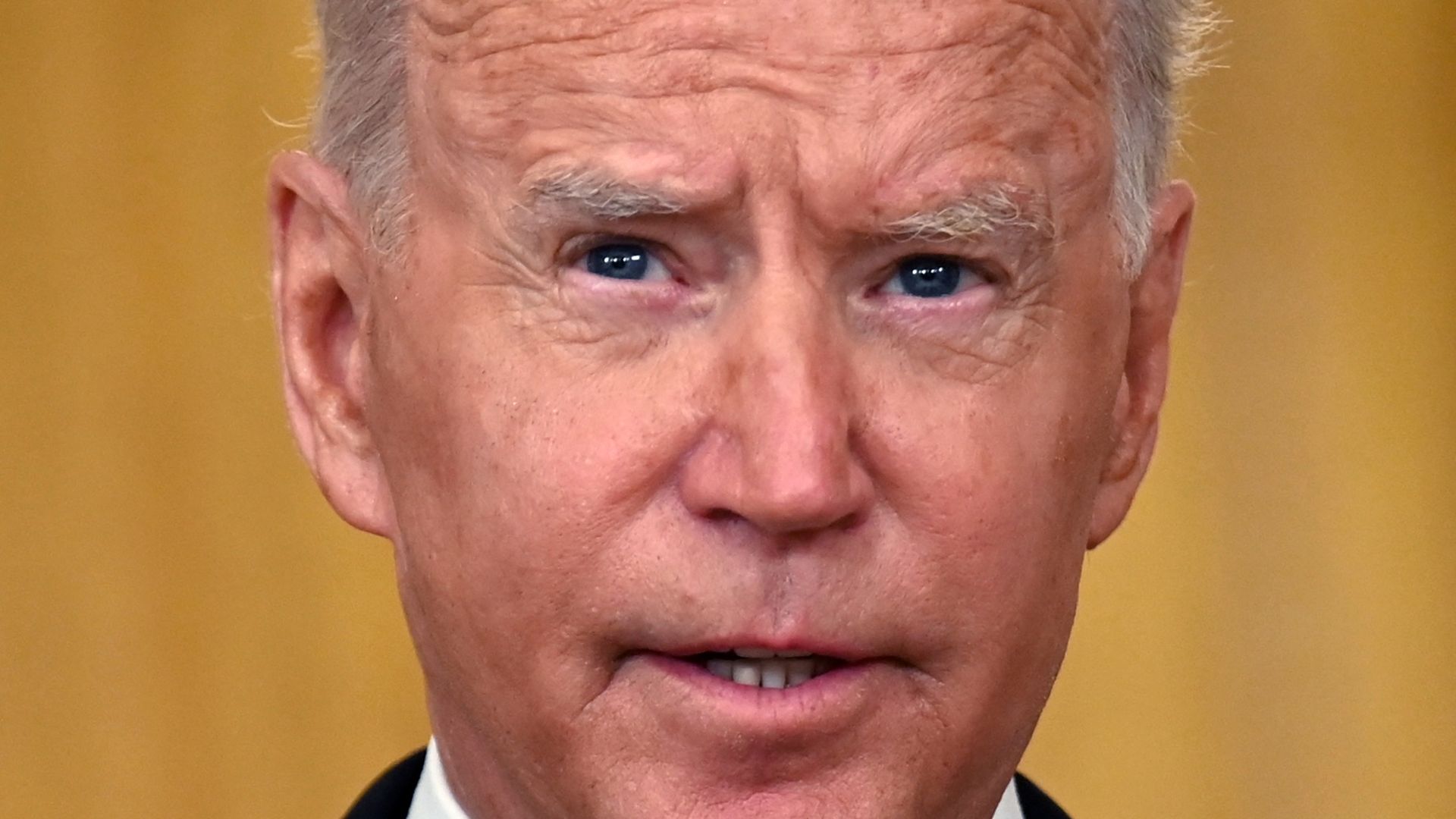 President Biden signaled Wednesday he's leaning into a heavier-handed approach to the COVID response.
Driving the news: In addition to announcing plans for boosters for the general population, Biden unveiled plans to require staff vaccinations at nursing homes. He also stepped up his fight with GOP governors who are banning school mask mandates.
"As I've said before, 'If you're not going to fight COVID-19, at least get out of the way of everyone else who is trying," Biden said during a briefing at the White House.
Catch up quick: The administration already announced mandates for the federal, VA and HHS workforces, including onsite contractors. But the nursing home rule extends the requirement even further into the private sector.
Details: Now the Centers for Medicare and Medicaid Services is developing an emergency regulation that would require more than 15,000 nursing homes to require staff vaccinations or risk losing federal funds.
The administration also announced plans to use the federal civil rights office to block states from school mask bans.
In addition, Biden said he'd push the Education Department to use funds from the American Rescue Plan to provide help to schools that are penalized for instituting mask mandate in defiance of state orders.
But some critics said the administration may have played too heavy of a hand, increasing pressure on the FDA and CDC with its announcement of boosters for the general public before either had a chance to consider and approve them.
Zoom in: Vaccination rates among nursing home staff — who work with some of the most vulnerable patients — have remained stubbornly low, with about 62% of staff vaccinated nationally as of Aug. 8. But vaccination levels vary widely state by state, from a high of 88% to a low of 44%, officials said in a statement.
In recent months, cases in nursing homes have begun to rise among residents, from a low of 319 on June 27 to 2,696 cases on August 8, officials said.
A CDC report released Wednesday found that vaccine effectiveness among nursing home residents dropped from about 75% to 53% after the Delta variant began circulating.
The other side: But the nursing home industry, which already struggles with a shortage of workers, says it could "face a disastrous workforce challenge" that could harm the quality of care if they have to require staffers to be vaccinated.
"Focusing only on nursing homes will cause vaccine-hesitant workers to flee to other health care providers and leave many centers without adequate staff to care for residents," warned Mark Parkinson, president and CEO of the American Health Care Association and National Center for Assisted Living.
But, but, but: The number of carrots to encourage vaccination are running out, said Carri Chan, a professor of business decision risk and operations at Columbia University.
A more "coordinated approach" may be necessary to address larger imbalances around the country when it comes to vaccination, she said.
"There are a number of people who no matter what you do are never going to get a vaccine," Chan said. "But there are people that you may be able to nudge and, if the carrots haven't worked thus far, the stick may be the thing that breaks the camel's back."
Go deeper:
Biden's booster plan receives criticism at home and abroad
Biden administration unveils plan for vaccine boosters starting in September
Go deeper