Tens of thousands of U.S. students quarantining or isolating due to COVID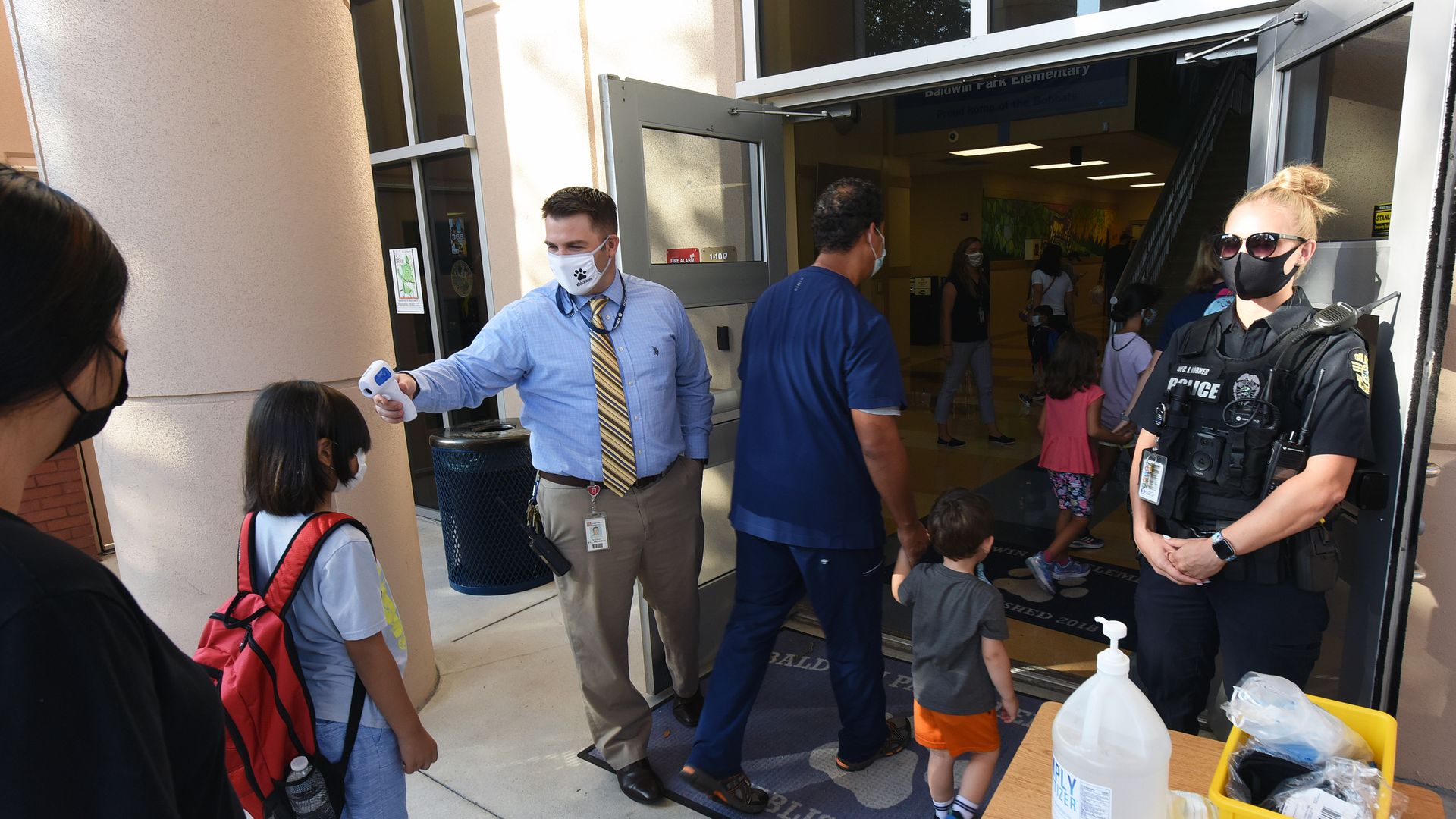 The school year has just started, and already tens of thousands of students and school staff members across the U.S. are isolating or quarantining after testing positive or possibly being exposed to COVID-19, school districts and other officials said this week.
Why it matters: The announcements come as health officials report an alarming number of children hospitalized with COVID-19 and amid tense debates over whether masks should be mandated for students and teachers.
As of Aug. 12, more than 4 million children had tested positive for the virus since the beginning of the pandemic, according to the American Academy of Pediatrics. There were 121,427 child COVID-19 cases last week.
While the organization noted a decline in early summer, there was a steady increase in cases among children in early July.
By the numbers: About 20,000 Mississippi students were quarantined due to possible COVID-19 exposure as of Tuesday, a state health official said, per AP.
Nearly 6,000 students and more than 300 staff members in Florida's Hillsborough County school district were quarantining or isolating as of Monday, officials said.
More than 3,000 students and staff in a New Orleans school district were quarantining as of Monday afternoon, according to NOLA Public Schools. The district reported nearly 300 active coronavirus cases.
Roughly 1,200 students in Georgia's Cherokee County School District have been ordered to quarantine since the beginning of the school year, the New York Times reported.
The big picture: Outbreaks and the growing number of students and staff in quarantine have prompted some districts to implement or consider imposing mask mandates — including in Florida, where state officials have sanctioned at least two school districts for approving mandatory mask policies in defiance of Gov. Ron DeSantis' order prohibiting them from doing so.
The Hillsborough County school board is scheduled to hold an emergency meeting on Wednesday to discuss whether to implement a mandatory mask policy and other mitigation strategies in schools.
Florida's Marion County school board on Monday approved a face-covering policy for students and staff after the district reported that hundreds of students and staff had either tested positive or were quarantined due to possible exposure. The policy allows students to opt out.
Arkansas' Marion County school district implemented a mask mandate after hundreds of students were told to quarantine within the first two weeks of school.
Other districts have had to temporarily close schools or suspend in-person instruction due to COVID-19 outbreaks.
This includes at least four school districts in Texas, per AP.
Georgia's Ware County and Burke County school districts suspended classes for at least two weeks due to COVID outbreaks.
Go deeper: Biden administration offers aid to Florida schools defying DeSantis order
Go deeper