Exclusive: EPA administrator visits Apple HQ to talk climate, environmental justice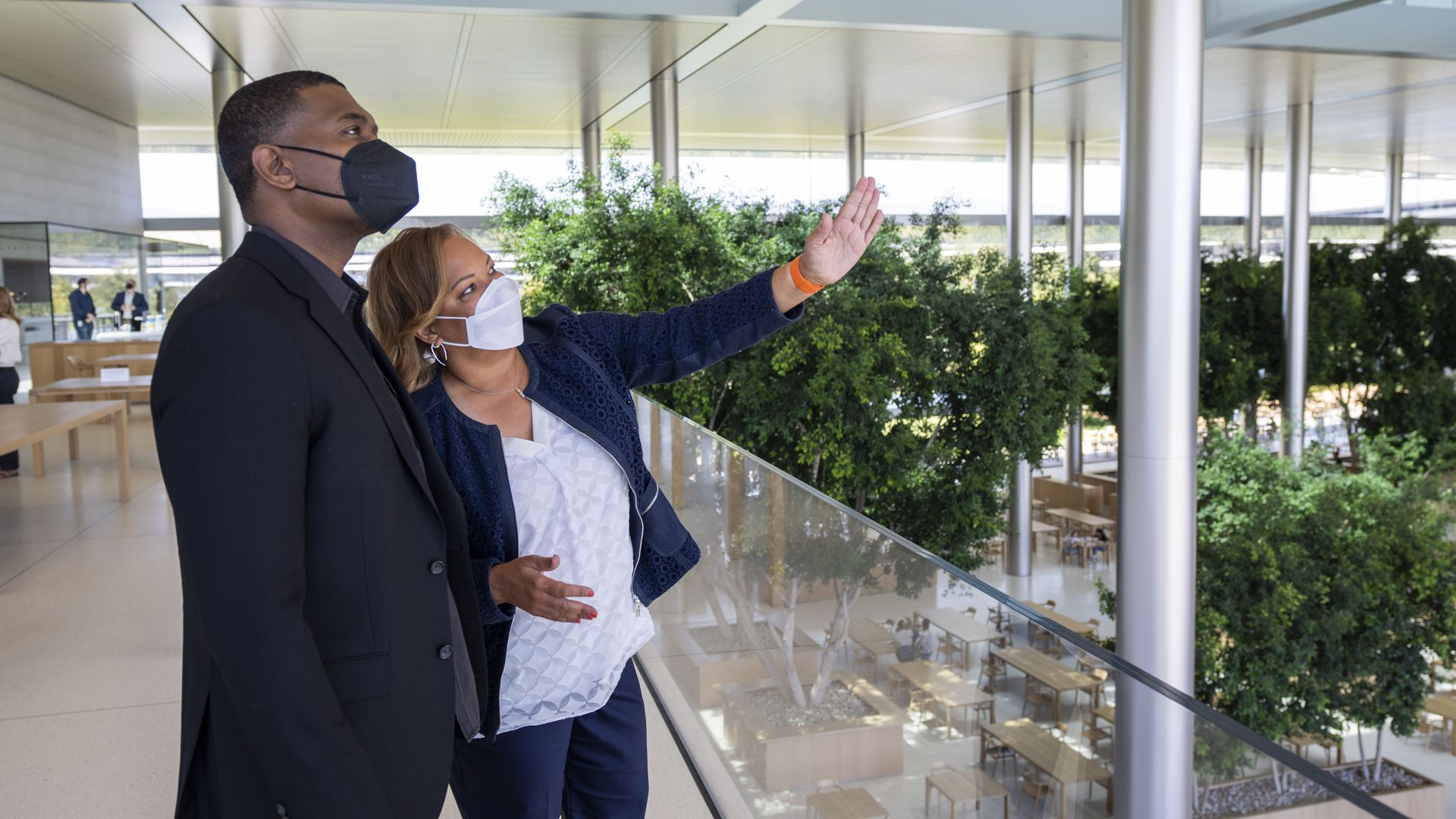 Environmental Protection Agency administrator Michael Regan visited the Apple headquarters Tuesday for a conversation with former EPA head Lisa Jackson, who now serves as the tech giant's leader on environment, policy and social initiatives.
The big picture: Apple, considered a leader in procuring renewable energy for its stores, data centers and offices, is in the midst of tackling its toughest environmental challenge yet: greening its vast, global supply chain. The company is aiming to have a carbon neutral supply chain by 2030.
Driving the news: Regan sat down with Jackson for a fireside chat in the Steve Jobs Theater at One Apple Park to discuss their respective priorities, particularly their shared commitment to environmental justice.
The discussion brought together the only two Black leaders of EPA — one past (during the Obama administration), the other present — since that agency was created more than five decades ago.
"It makes me happy to know I'm not the last," Jackson said, according to an Apple-provided transcript of the meeting. "And you won't be the last either," she told Regan.
Context: Apple took a step Tuesday toward finding ways to have minority-owned businesses help the company clean up its supply chain, through a three-month "Impact Accelerator" program for an initial group of 15 Black, brown, Native American and Indigenous-owned businesses.
The accelerator program is aimed at pairing companies with Apple experts to help them grow further, and potentially become Apple suppliers.
The companies include BlocPower, a Brooklyn-based firm that has retrofitted more than 1,200 buildings in disadvantaged communities across more than two-dozen cities with efficient, electric heating and cooling systems.
Another company selected is Volt Energy Utility, which is a utility-scale solar energy development firm based in Washington, D.C.
There's also GreenTek Solutions, which focuses on repurposing, refurbishing, recycling and reusing tech products.
In addition, there's Oceti Sakowin Power Authority, which is an independent, nonprofit governmental organization comprised of six Sioux tribes to develop tribal renewable energy resources.
What they're saying: Jackson told Axios in an interview that the accelerator companies could help Apple achieve its 2030 supply chain goal if they eventually become suppliers to the tech giant. So far, she said, 110 of Apple's existing suppliers have committed to transitioning their Apple production to 100% clean energy.
"You can easily see that with the training, mentoring, the work they're going to do combined with their own business savvy, they're going to be formidable competitors to get Apple contracts and business," she said.
Jackson views Apple's lofty sustainability ambitions as good for the bottom line. "We've never approached clean energy or climate solutions as charity work," she said. "This is a business investment like all the other investments that Apple makes."
In the wake of last week's IPCC report on the effects of climate change, she said, "It's not just bad business, it's almost dangerous to operate your business in a way that isn't mindful of the impact on our planet and what it's doing to people, to real lives."
Regan told Axios in an interview that the agency is seeking to partner with private companies such as Apple that are pursuing environmental goals that are consistent with the administration's focus on climate and environmental justice.
"It's important that we truly understand what companies like Apple are doing so that we can take advantage of this moment, and the resources that are being made available to us," Regan said, referencing the money for environmental justice initiatives contained in the bipartisan infrastructure bill.
From the IPCC report, Regan took away a sense of urgency. "You know, the IPCC report was, it was jarring," he told Axios. "I think when you look at what the scientists have laid out, it reinforces what we've always known. But it puts it on an expedited timeframe. And so, every second counts."
Yes, but: While Apple is trying to create products with net zero carbon impact by 2030, it is still vulnerable to the charge that it promotes electronic waste by frequently making changes to its flagship products.
This can push technology forward, but also may render recently-purchased laptops or iPhones practically obsolete within just a couple of years, and drive consumers to buy new equipment.
This churn can contribute to the problem of electronic waste.
What to watch: Apple is pursuing e-waste recycling programs, including the use of financial incentives to customers who return their old equipment when purchasing something new.
Go deeper