Biden taps Oregon's Charles Sams to head the National Park Service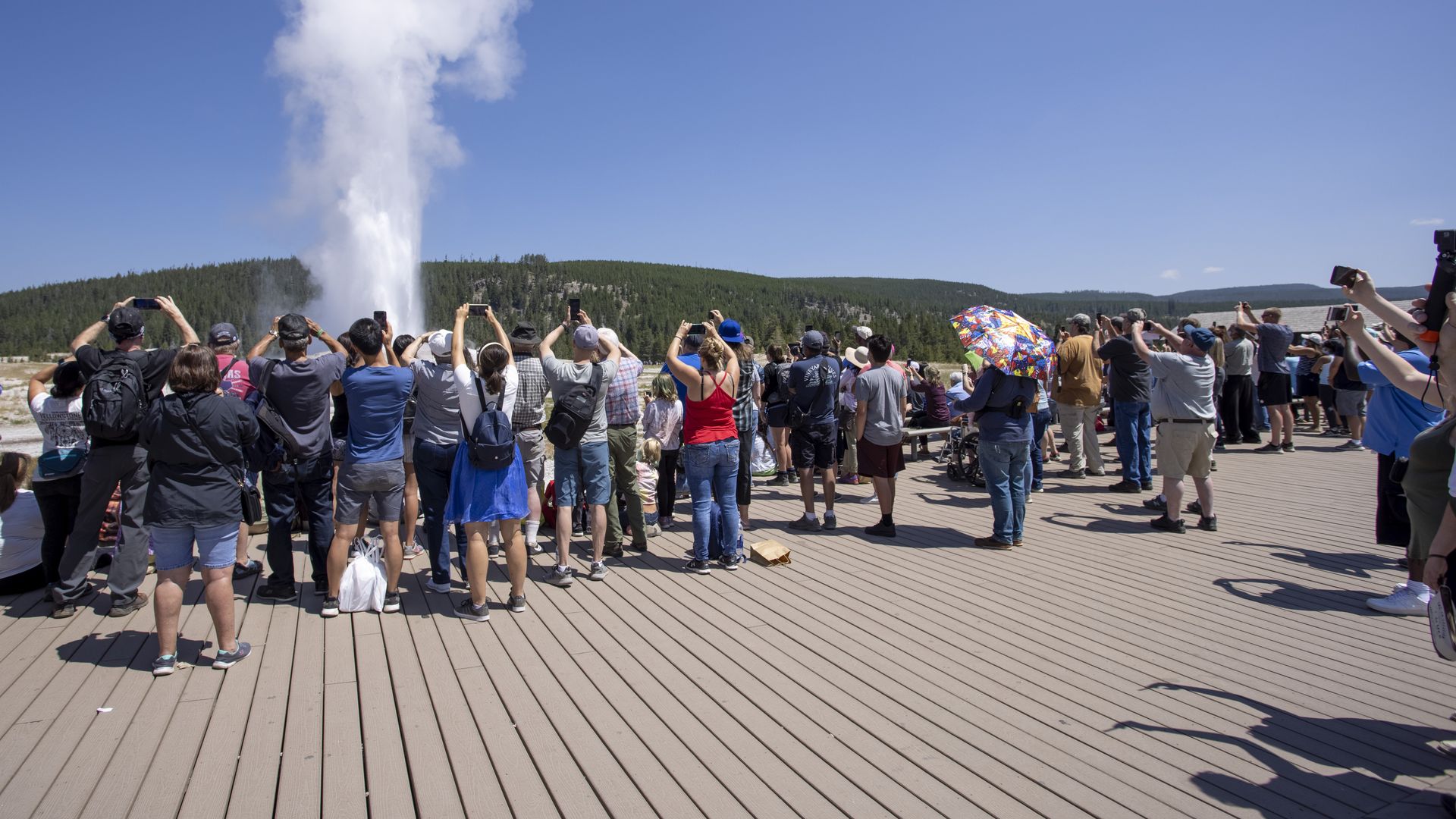 President Biden will nominate Charles F. Sams III to be the next director of the National Park Service, where, if confirmed by the Senate, he'll face the growing toll of global warming on the U.S. iconic park system, the White House stated Wednesday.
Why it matters: Sams is of Native American heritage, and the Park Service has never been led by an enrolled tribal member before. In addition, the Park Service has not had a Senate-confirmed leader since the Obama administration, with four people serving in that role in an acting capacity during the Trump administration.
In addition to managing the nation's national park system, the director also oversees a sprawling law enforcement agency that has come under intense scrutiny for its participation in a crackdown on protesters in Washington, D.C., last year, as well as the 2019 killing of an unarmed young man named Bijan Ghaisar following a car accident and police pursuit in Virginia.
Details: Sams currently serves as a council member to the Northwest Power and Conservation Council, a position to which Oregon Gov. Kate Brown (D) appointed him.
According to the East Oregonian, Brown also recommended Sams as a Park Service candidate to Biden in a Dec. 17 letter.
The Council helps manage regional power generation and distribution from the Columbia River as well as natural resource use, such as fishing.
Sams, who is a member of the Cayuse, Walla Walla, Cocopah and Yankton Sioux tribal nations, has extensive experience working in natural resource roles in state and tribal governments. He lives on the Umatilla Indian Reservation.
His Native American heritage may be a first for a Park Service director, and he'll be working for Interior Secretary Deb Haaland, who is the first Native American Cabinet member.
Context: The Park Service manages 423 areas that cover more than 85 million acres in every state, along with D.C., American Samoa, Guam, Puerto Rico and the U.S. Virgin Islands. President Biden has requested $3.5 billion for the Park Service in fiscal year 2022, which is a 12% increase from the previous year.
This money would go to hiring about 1,000 more rangers and other staff, improving the agency's ability to study and adapt to threats from climate change, and providing money for a Civilian Climate Corps, which would employ people to do climate adaptation projects at national parks.
Amid the coronavirus pandemic, national parks have seen an uptick in visitors, especially at some of the most iconic ones, such as Yellowstone, Yosemite and Glacier National Park.
If confirmed by the Senate, Sams would make decisions about how to implement money meant to reduce the Park Service's maintenance backlog, which was authorized by the Great American Outdoors Act that President Trump signed into law in 2020.
What they're saying:
"As a descendent of the original guardians of our lands, Sams brings a unique and powerful perspective that can help our national parks continue to evolve in the places and stories they preserve and share," said Theresa Pierno, President and CEO for the National Parks Conservation Association, in a statement.
"Chuck Sams is a visionary conservation leader with a deep demonstrated commitment to natural and cultural resources and the communities that depend on them,'" said Diane Regas, the CEO of the Trust for Public Land, in a statement.
Go deeper