Kochworld comes to Biden's defense on Afghanistan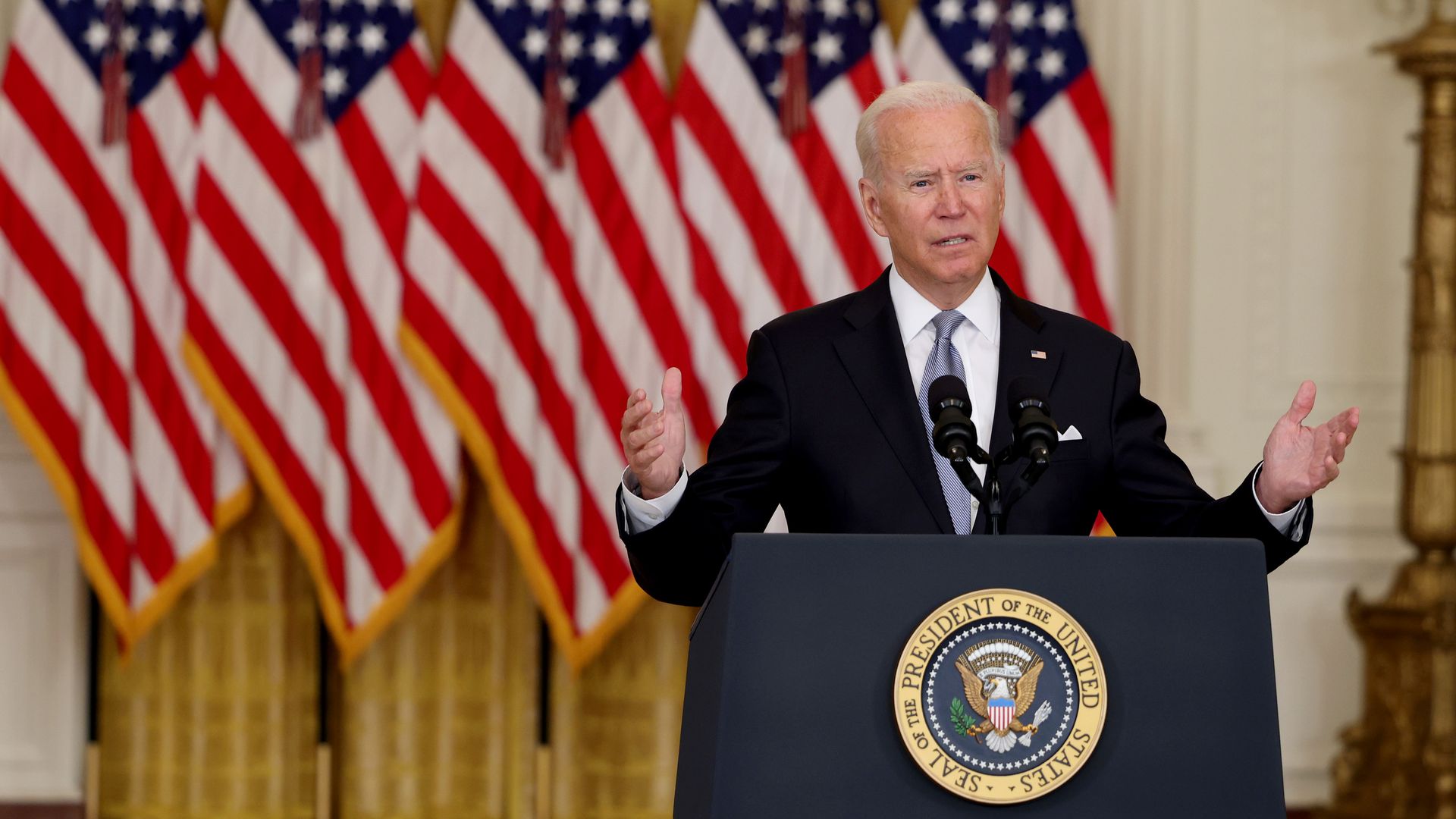 President Biden is getting some unlikely backing for his Afghanistan troop withdrawal from a longtime nemesis: the Koch political network.
Driving the news: Concerned Veterans for America, a foreign policy-focused arm of Charles Koch's Stand Together political and policy apparatus is coming to Biden's defense after the U.S. withdrawal handed control of the country to the Taliban this week.
The Koch political network was one of the foremost antagonists of the Obama administration in which Biden served as vice president.
What they're saying: "I think he made the right decision to withdraw," Dan Caldwell, a senior advisor to CVA and foreign policy campaign manager for Stand Together, told Axios in an interview.
Caldwell said there should be a thorough review of how the withdrawal was undertaken — and of the larger, two-decade war effort. But "I am frankly uncomfortable to Monday-morning quarterback decisions made around the withdrawal while it's ongoing," he said.
He also rebuked some Republicans for their Biden criticism: "It's incredibly disappointing to see people using the chaos in Afghanistan to score political points against their opponents, primarily against Joe Biden who, in many ways, just was following through on the plan set in motion by President Trump."
CVA plans to continue running digital ads supporting the Afghanistan withdrawal.
Late last week, the group also launched a $2 million campaign pushing for full U.S. withdrawal from Iraq.
"We think we've made a lot of progress over the past few years," Caldwell said. "We're going to stay committed to this regardless of short-term changes in the political landscape."
The big picture: Biden has faced bipartisan criticism over his handling of the Afghanistan withdrawal, making any public support crucial.
Some of that support has come from progressive groups such as VoteVets, which released a statement on Monday praising Biden's decision.
The Koch political network leans libertarian and noninterventionist, but CVA's backing is nonetheless a cross-ideological chit for the Biden administration as it seeks to minimize political fallout.
What we're watching: White House chief of staff Ron Klain on Monday retweeted Stand Together's vice president of foreign policy, who said Biden's decision demonstrates "real courage."
Biden also got some backing from the Quincy Institute for Responsible Statecraft, a think tank that receives financial support from the Koch network.
Editor's note: This story has been updated to include Dan Caldwell's correct titles with CVA and Stand Together.
Go deeper