COVID cases in kids are rising just as schools are coming back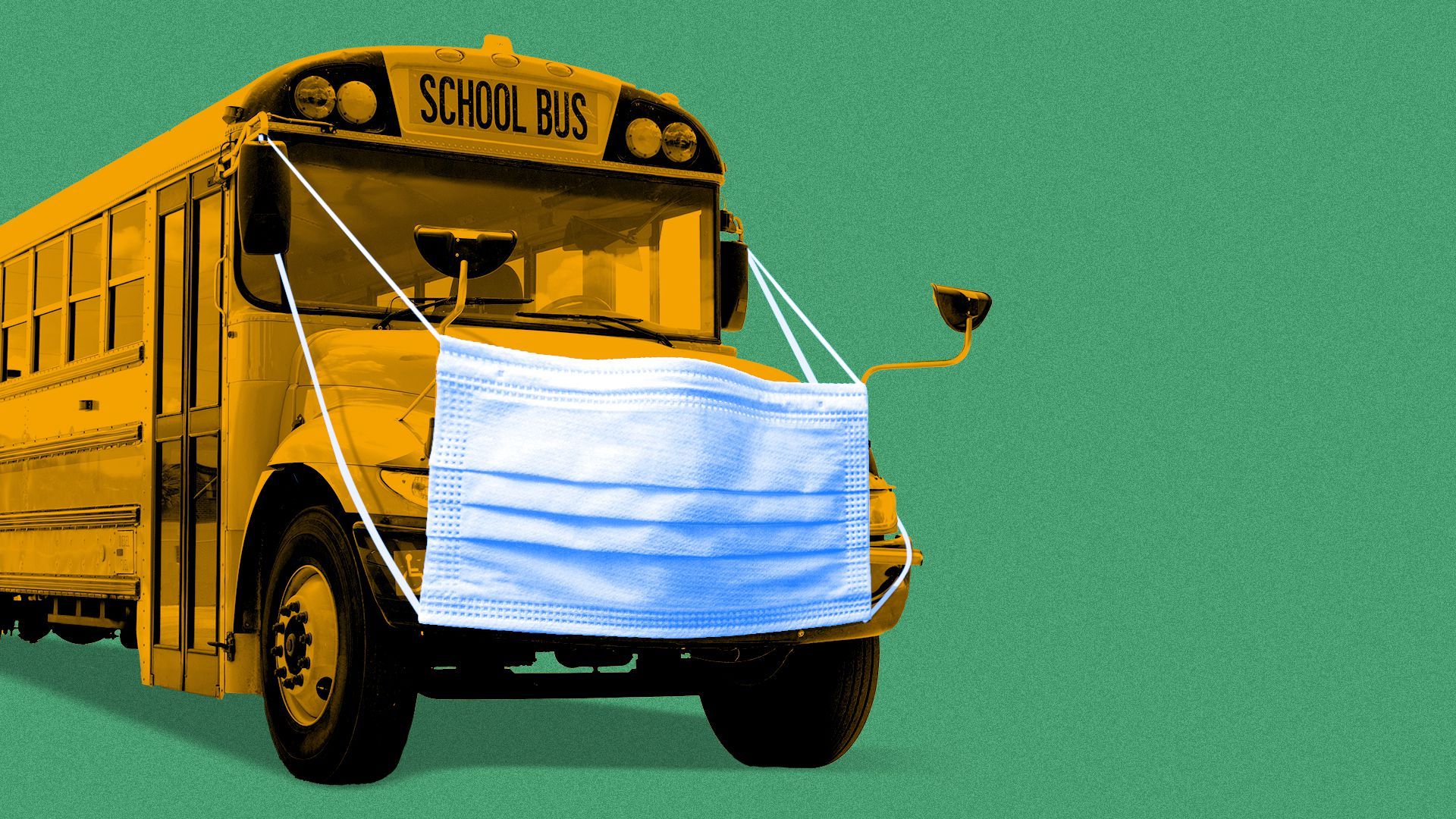 While schools across the U.S. continue their gradual return to in-person instruction, pediatric COVID surges across several states raise questions about what lies ahead for kids across the rest of the country.
Why it matters: As experts warn Delta may be more virulent in kids than previous versions of COVID and record numbers are hospitalized, it's raised new urgency around efforts to prevent rampant spread among kids and their families.
"The timing of the Delta variant is terrible. We were all geared up to go back to school, we thought, without much problem and then Delta showed up," Mark Sawyer, an infectious disease specialist at Rady Children's Hospital, told Axios.
By the numbers: Nearly 6,000 students and over 300 staff members tested positive or have been exposed to COVID-19 in a single Florida School District, officials announced Monday.
A record 1,900 children with a confirmed or suspected COVID-19 infection were hospitalized last week, mostly in the South, making up about 2.4% of the country's patients, according to HHS data from Saturday. 
More than 121,000 new COVID-19 cases were reported among kids in the week ending Aug. 12, or about 18% of all reported cases, according to a tally by the American Academy of Pediatrics. Children represented 15% of cases the week prior. 
"There's more questions than answers. We do know comparing the Delta variant to previous variants, people are sicker with the Delta variant from the earlier variants and that includes children as well," Andrew Badley, chairman of Mayo Clinic's COVID-19 research task force, told Axios.
What they're saying: There have been over 17,000 pediatric hospitalizations and 500 pediatric deaths in the U.S. due to COVID since the beginning of the pandemic, Sawyer said.
"People who discount COVID as a problem in children aren't really paying attention. Granted they don't get as sick as adults do, but plenty of kids are getting sick," he said.
Driving the news: A new study out Monday of more than 6,000 households shows that babies and toddlers may transmit COVID-19 more than teens.
Children do not appear to transmit infection as frequently as adults, but caregivers should be aware of the risk. 
Doctors are renewing their calls to parents to get their kids vaccinated if they're eligible and to make sure kids are wearing masks if they're not.
Plenty of schools around the country have taken measures to minimize the spread of COVID in their buildings including increasing air movement, spacing kids out and requiring masks, Sawyer said.
"Wearing masks is an essential part of that equation," Sawyer said. "Sending your kid to school without a mask really makes no sense. It's endorsed by the American Academy of Pediatrics, kids tolerate masks and other than vaccination, it's the next best thing we can do to prevent spread."
But, but, but: Back to school plans are even more confusing than last year as districts brace for full capacity for the first time in two years. Questions still remain on sports, extracurricular events and lunchtime. Quarantine and testing protocols remain district-by-district.
And mask mandates in schools are still under attack by leaders of several states. Both Florida and Texas governors are fighting schools over mandates while in Tennessee on Monday, Gov. Bill Lee ordered schools to allow mask opt-outs for students.
The bottom line: "If they take precautions, I think it'll be managable," Sawyer said. "If they don't wear masks and no one is immunized, then all bets are off."
Go deeper