Biden on Afghanistan: "I stand squarely behind my decision"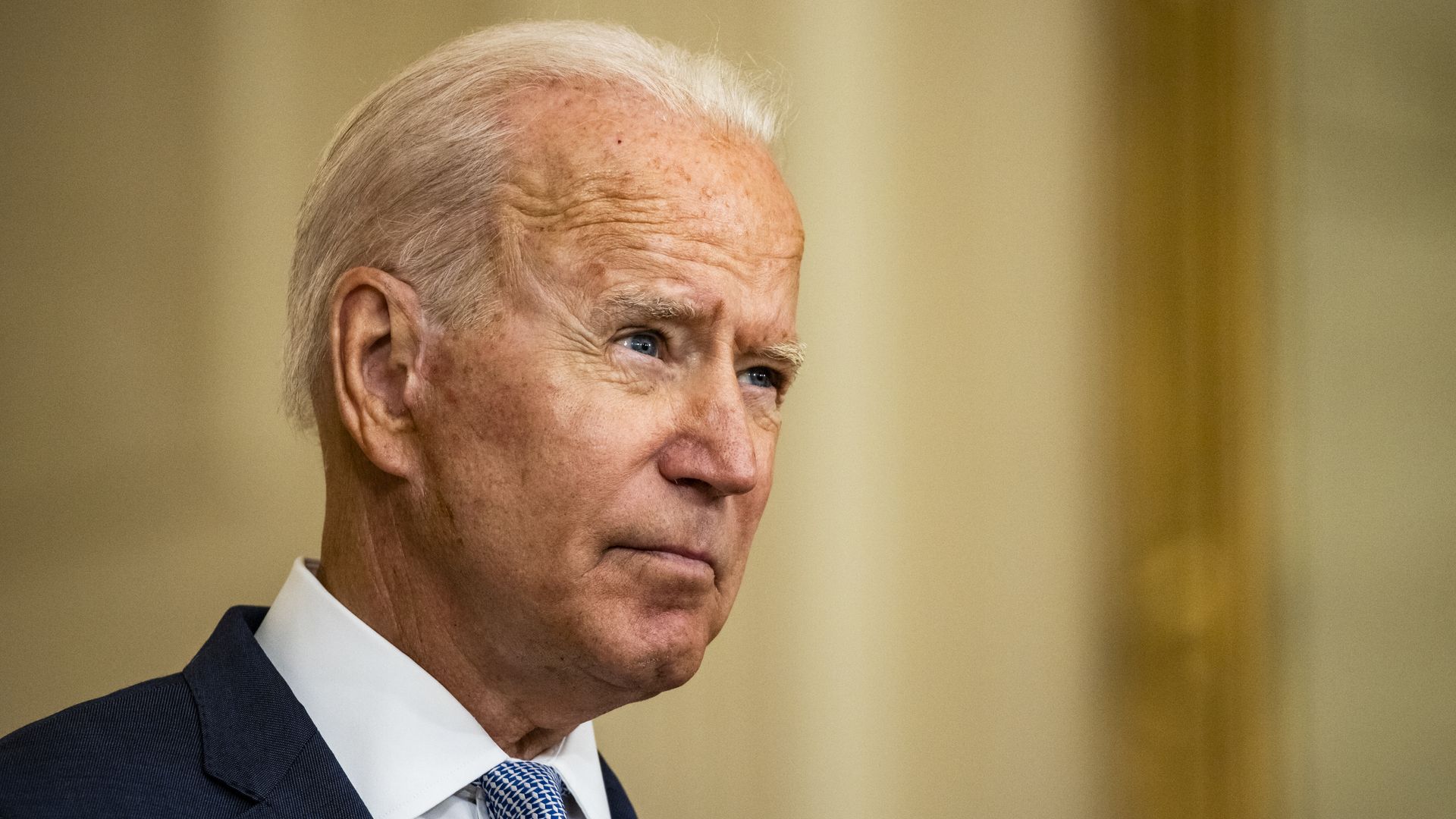 Amid rising fear and chaos in Afghanistan, President Biden staunchly stood by the decision to leave the country on Monday afternoon, saying the U.S. mission there was always "narrowly focused on counterterrorism, not counterinsurgency or nation-building."
Why it matters: Speaking from the White House's East Room, Biden said he will not pass on the conflict to a fifth U.S. president and that the U.S. would no longer fight a war that is "not in our national security interest." 
"It is not what the American people want. It is not what our troops who have sacrificed so much over the past two decades deserve."
"I know my decision will be criticized. But I would rather take all that criticism than pass this decision on to another president of the United States, yet another one, a fifth one."
Biden also said he did not move to evacuate people sooner to avoid a "crisis of confidence."
"I am President of the United States of America and the buck stops with me. I'm deeply saddened by the facts we now face. But I do not regret my decision to end America's war fighting in Afghanistan," he said.
Biden said the nation's rapid descent into Taliban rule serves as "proof that no amount of military force would ever deliver a stable, united, secure Afghanistan. ... What's happening now could just as easily happen five years ago or 15 years in the future."
Why it matters: The Biden administration has faced sharp criticism over its response to the rapid collapse of Afghanistan and the chaotic evacuation effort. Evacuation flights were suspended Monday after thousands of Afghans stormed a runway at the international airport in Kabul in attempts to flee the country.
At least seven people have been killed during the chaos at the airport, including several Afghans who plunged to their deaths after clinging on to a U.S. military jet that took off from the runway, according to AP.
Many Afghans who aided U.S. and coalition forces have yet to be evacuated from the country.
What he's saying: "This did unfold more quickly than we anticipated," Biden said, arguing that Afghan forces gave up and "we could not provide them with the will to fight for that future."
"We have made it clear to the Taliban. If they attack our personnel or disrupt our operation, the U.S. presence will be swift and the response will be swift and forceful." 
"How many more generations of America's daughters and sons would you have me send to fight Afghanistan's civil war when Afghan troops will not? How many more lives, American lives, is it worth, how many endless rows of headstones at Arlington National Cemetery?
I'm clear in my answer. I will not repeat the mistakes we've made in the past. The mistake of staying and fighting indefinitely in a conflict that is not in the national interest of the United States."
— President Biden
The big picture: More than 300,000 Afghans have been internally displaced, according to the UN's International Organization for Migration. Scores of migrants are undertaking dangerous journeys to seek safety.
In June, roughly 40,000 people fled to neighboring Iran per week.
Afghans who aided U.S. and coalition forces have yet to be evacuated from the country.
The Biden administration is still making attempts to secure temporary housing in other countries for those who risk retaliation from the Taliban.
Go deeper