Scoop: Joint Chiefs chairman moves up terrorist threat in Afghanistan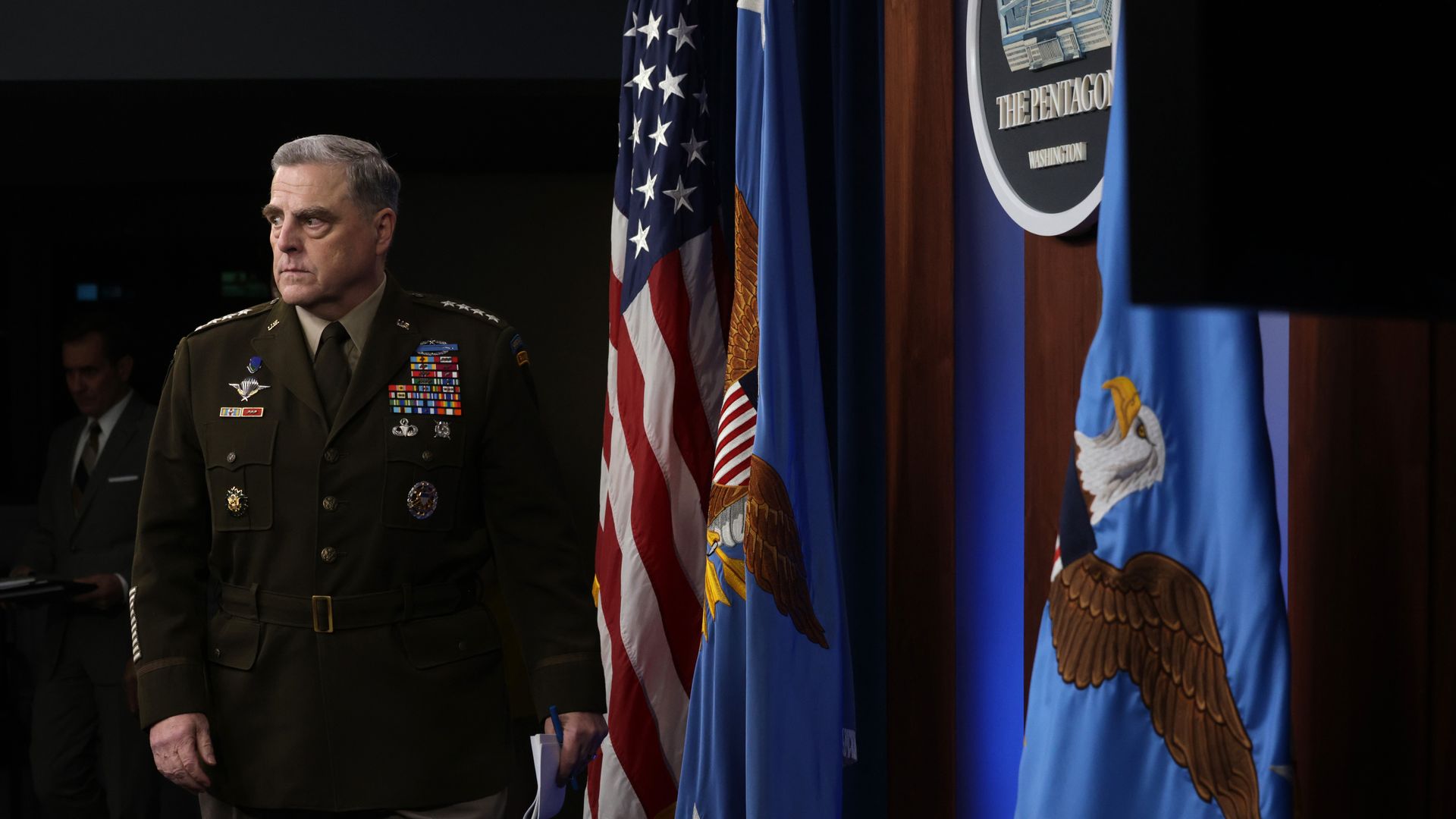 Chairman of the Joint Chiefs of Staff Mark Milley told senators Sunday that a previous assessment of how soon terrorist groups will likely reconstitute in Afghanistan will speed up because of what's happening there now, according to three sources on the phone call.
Why this matters: Protecting the U.S. against terrorist threats to the homeland was an original reason for engaging the U.S. in this 20-year war.
Afghanistan has fallen to the Taliban much faster than President Biden or his top military leaders predicted.
Behind the scenes: On a Sunday phone call between top Biden officials and senators from both parties, Sen. Lindsey Graham (R-S.C.) asked Defense Secretary Lloyd Austin and Milley whether, in light of recent events, they will revise an assessment to Congress in June of a "medium" risk of terrorist groups reconstituting in Afghanistan within two years.
Milley responded "yes" — that he would have to assume that timeline would get moved up and that he would be happy to brief senators in a classified setting.
The three Biden officials on the call were Secretary of State Antony Blinken — who had already been sent out to face tough questioning on the Sunday shows — alongside Austin and Milley. 
Between the lines: Sources on the call described a surreal experience, listening in on the Biden officials brief them on the situation while checking their cellphones and seeing real-time chaos unfolding in Kabul.
Reports were firing across Twitter of Afghan President Ashraf Ghani fleeing Afghanistan, while U.S. military scrambled to evacuate the embassy in Kabul. The chaos was the opposite of the orderly, safe withdrawal that Biden had promised.
Senators from both parties pressed Milley and Austin on efforts to evacuate U.S. personnel and the many thousands of Afghans who helped Americans in the war effort and are desperate to escape to save their lives from Taliban vengeance. 
A source on the call said the sad reality is there is no way they can evacuate by Aug 31 the more than 20,000 Afghans who want to escape the country. Many of them aren't in Kabul, the source said, and "if you're not in Kabul now, how do you get to Kabul?
"Two takeaways for me," the source said. "We're gonna leave tens of thousands of people behind ... and the timeline in terms of threats has accelerated."
This is a developing story ... more to come.
Go deeper