Blinken: "This is manifestly not Saigon" all over again in Afghanistan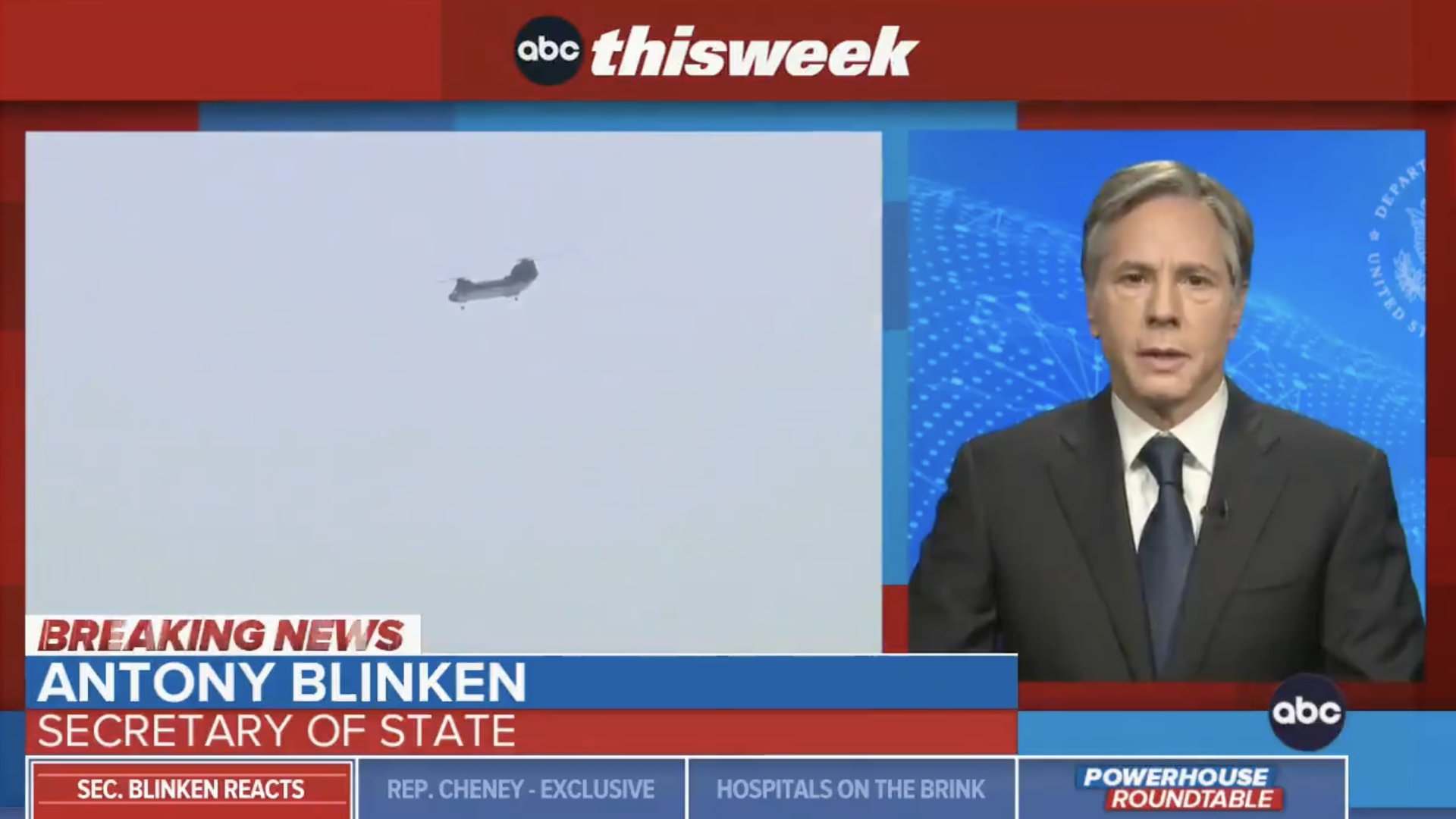 As video emerged on Sunday of military helicopters landing near the U.S. embassy in Kabul to rapidly evacuate U.S. personnel, Secretary of State Antony Blinken assured: "This is manifestly not Saigon."
Driving the news: Blinken made the rounds on the Sunday shows to defend President Biden's resolute withdrawal of the U.S. military as Kabul nears complete surrender to the Taliban.
Jonathan Karl, the host of ABC's "This Week," asked Blinken whether the U.S. evacuation was comparable to Americans being airlifted from the U.S. embassy in Saigon in 1975.
"Let's take a step back. This is manifestly not Saigon," said Blinken, who argued: "In terms of what we set out to do in Afghanistan, we've done it."
Biden announced Saturday that approximately 5,000 additional U.S. troops will be deployed to assist with drawdown of U.S. personnel and other allies as they evacuate the region. Of those, 3,000 were already announced, 1,000 were already in Kabul and 1,000 additional troops will arrive from the 82nd Airborne Division directly in Kabul.
What he's saying: When asked on NBC's "Meet the Press" why Biden didn't delay the deal struck by President Trump on a 2021 withdrawal, Blinken said: "Because we inherited a deadline. ... Come May 2, if the president had decided to stay, all gloves would have been off. We would have been back at war."
Biden blamed Trump, for empowering the Taliban and leaving them "in the strongest position militarily since 2001" but said in a statement that he had to make a choice and that he would not pass on the war to a "fifth" U.S. president.
Blinken also said on "Meet the Press" that the United States would have a "core diplomatic presence" in Kabul, adding: "In effect, an embassy at a location at the airport."
Go deeper: Behind the scenes of the Biden administration as the U.S. ditches Kabul
Go deeper