Afghans seek escape from Taliban siege as U.S. scrambles to secure refuge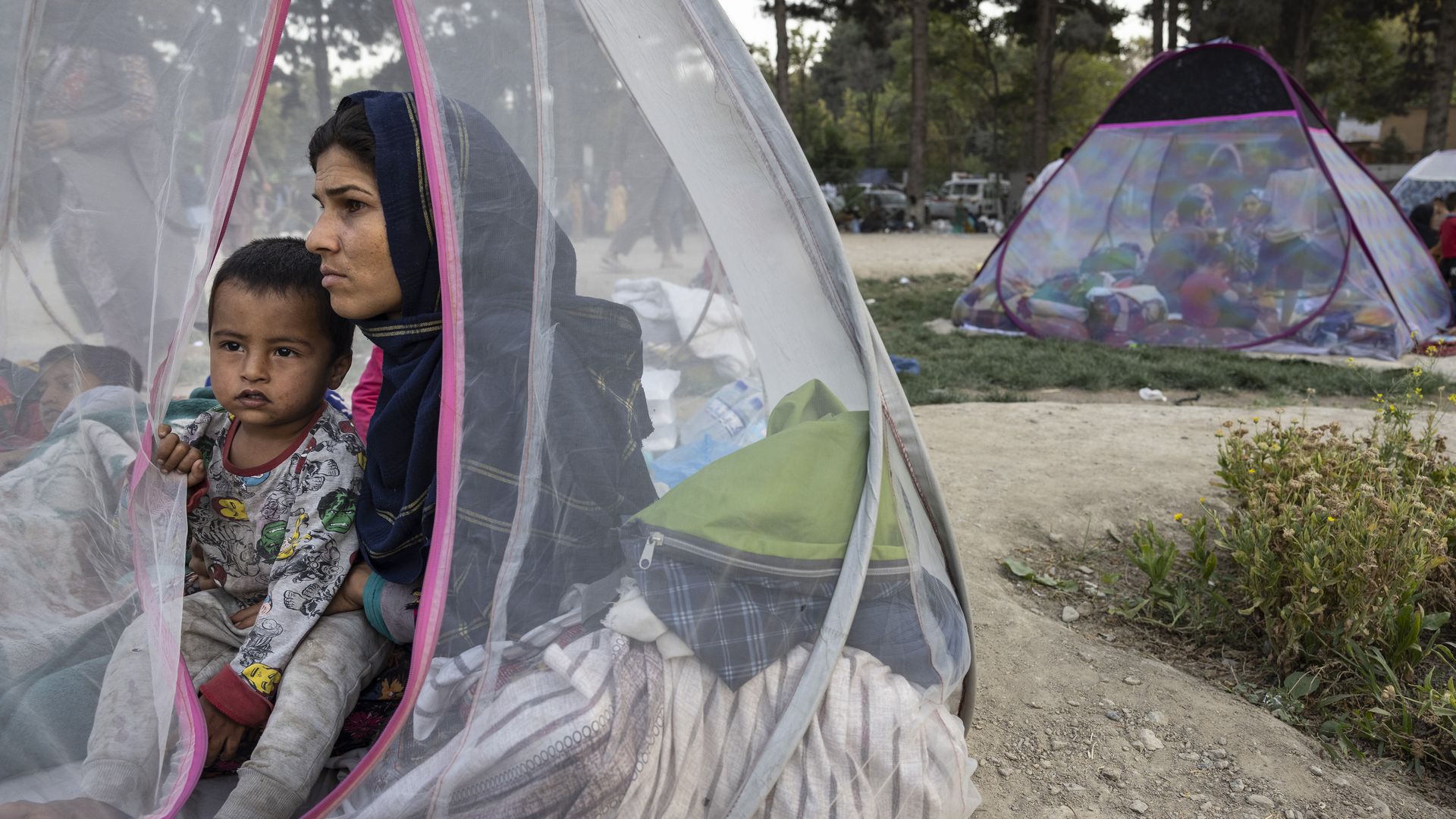 As the Taliban recaptures Afghanistan, Afghans are fleeing their homes to escape in desperation and fear.
Why it matters: The Taliban has pursued a lightning offensive to take over Afghanistan since the U.S.'s withdrawal of troops. Civilian casualties in Afghanistan have hit record highs, according to the UN.
State of play: Migrants have taken the risk of embarking on treacherous journeys across land to reach Turkey. Many have sought evacuation to the United States and Canada.
The United States has already evacuated roughly 1,200 U.S.-affiliated Afghans through the Special Immigrant Visa (SIV) pipeline, and aims to resettle a total of 3,500 in the coming weeks.
Canada on Friday announced plans to resettle over 20,000 vulnerable Afghans — including women leaders, human rights workers and reporters — to shield them from the Taliban's possible acts of retribution, per Reuters.
Meanwhile, migrants are paying upward of $1,000 per person to smugglers who transport them across eastern Turkey to safe houses while evading police, according to the Washington Post.
Yes, but: The Taliban is gaining ground, and its siege is driving fear among Afghans still awaiting processing for evacuation to the United States.
The United States said Thursday it would deploy 1,000 personnel to Qatar to accelerate the SIV process. The Biden administration is also in secret talks to secure temporary housing in other countries for at-risk Afghans who worked for the United States, Reuters reports.

Countries have dragged their feet, however, due to concerns about the coronavirus and security vetting.
"There's concerns that you might expect: 'Who are these people? How do you know these people? Can you assure that these people will get visas to the United States? Who's going to care for and feed these people. What happens if these people wander off this facility you've got them in?" a senior State Department official told Reuters.

Refuge in Turkey is also unlikely to last, with the Turkish government signaling its intent to bolster border security against Afghan asylum seekers.
The big picture: The Taliban have captured half of Afghanistan's provincial capitals over the last week. The insurgents show no sign of slowing their attacks as they threaten to isolate Kabul and topple the Afghan government.
On Friday, the Taliban swept through the capitals of Ghor and Helmand, the latter of which was at the center of operations for U.S., British and NATO troops over the last 20 years.
Many in the U.S. military see the race out of Afghanistan as a dishonorable withdrawal, and some State Department officials fear the United States may have to close the embassy in Kabul, Axios' Jonathan Swan writes.
Go deeper