Pentagon to send troops to evacuate embassy staff from Afghanistan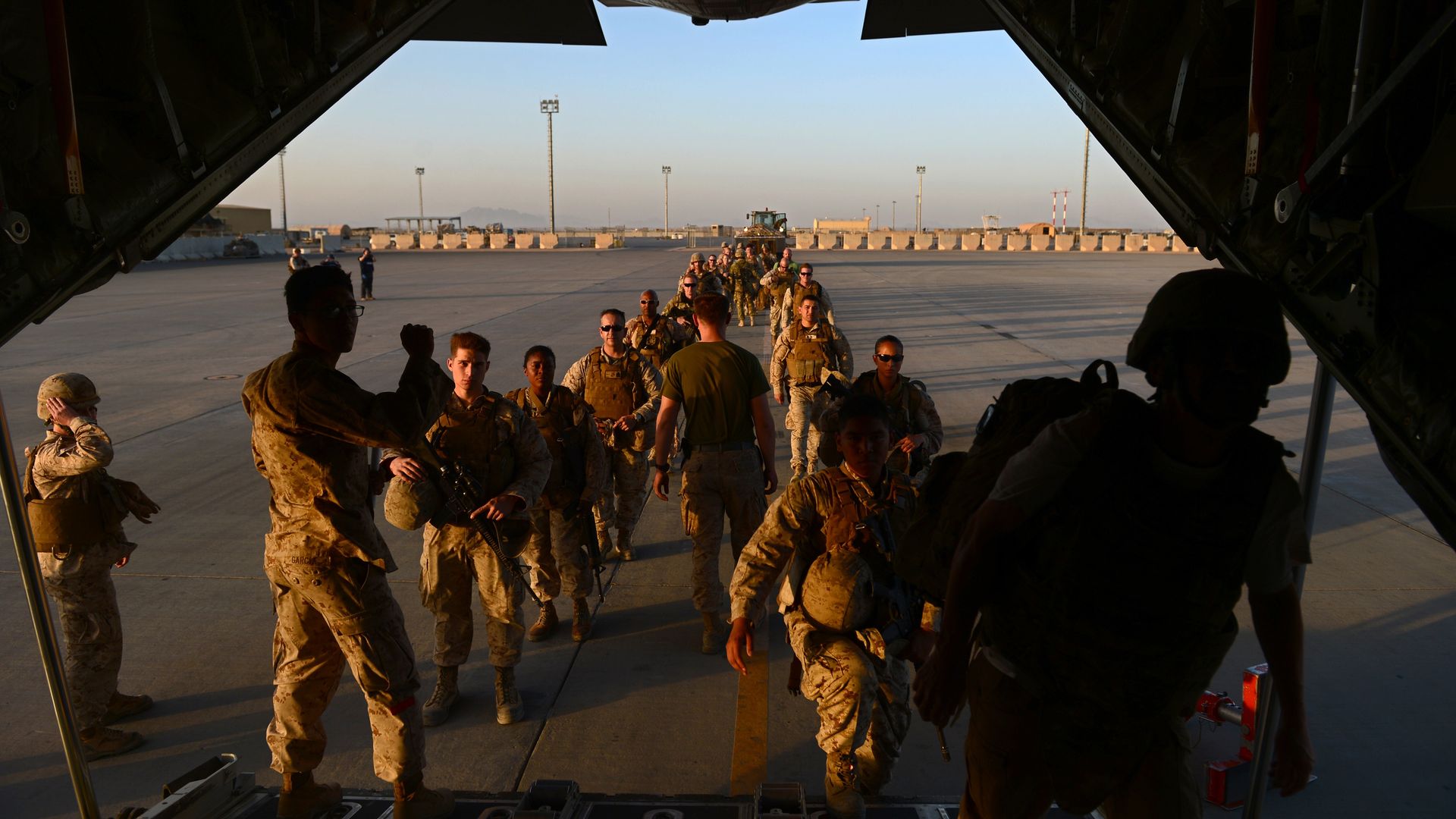 The Pentagon will send troops to Afghanistan's international airport to facilitate a partial evacuation of the U.S. Embassy in Kabul, the State Department announced Thursday.
Why it matters: The Taliban has captured 12 provincial capitals in the last week, stunning Biden administration officials who did not believe the country's security would collapse so quickly during the U.S. withdrawal.
A new U.S. intelligence assessment suggests that Kabul could fall to the Taliban within 30 to 90 days — a stark revision from a previous assessment that the capital could possibly fall six to 12 months after the U.S. military's full withdrawal.
The U.S. Embassy issued its second security alert in five days urging American citizens in Afghanistan to leave the country "immediately."
State of play: State Department spokesman Ned Price said the U.S. would be "further reducing our civilian footprint in Kabul" due to the deteriorating security situation, but that the embassy would remain open.
He declined to say how many staffers would remain, but said, "we expect to draw down to a core diplomatic presence in Afghanistan in the coming weeks."
Price said staff who could perform their duties from afar or who weren't needed for the embassy's "core functions" would be relocated.
Price attempted to downplay the significance of the announcement. "This is not abandonment. This is not an evacuation. This is not the wholesale withdrawal," he said, insisting that it "shouldn't be read as any sort of message to the Taliban."
What's next: The troops being sent to the airport will also help evacuate Afghans who worked with the U.S. military and have applied for special immigrant visas.
The Biden administration is trying to accelerate their withdrawal as the Taliban swiftly takes territory and begins to menace Kabul.
Kirby said the reduction in staff at the embassy would be completed by the end of this month.
Details: Pentagon spokesman John Kirby said 3 infantry battalions — about 3,000 personnel — that were already in the region would arrive at the airport in the next 48 hours.
Additional troops will be sent to Qatar to process SIV applicants, while a final infantry brigade will be sent from the U.S. to Kuwait to be prepared to provide "additional security at the airport" as needed.
What to watch: Pressed on whether the embassy would remain in its current location, Price said that it would for now but wouldn't say whether that could change in the near future. There have been reports that the embassy could be moved to a more secure location, like the airport.
This is a breaking news story and will be updated.
Go deeper