Robots are the new farmhands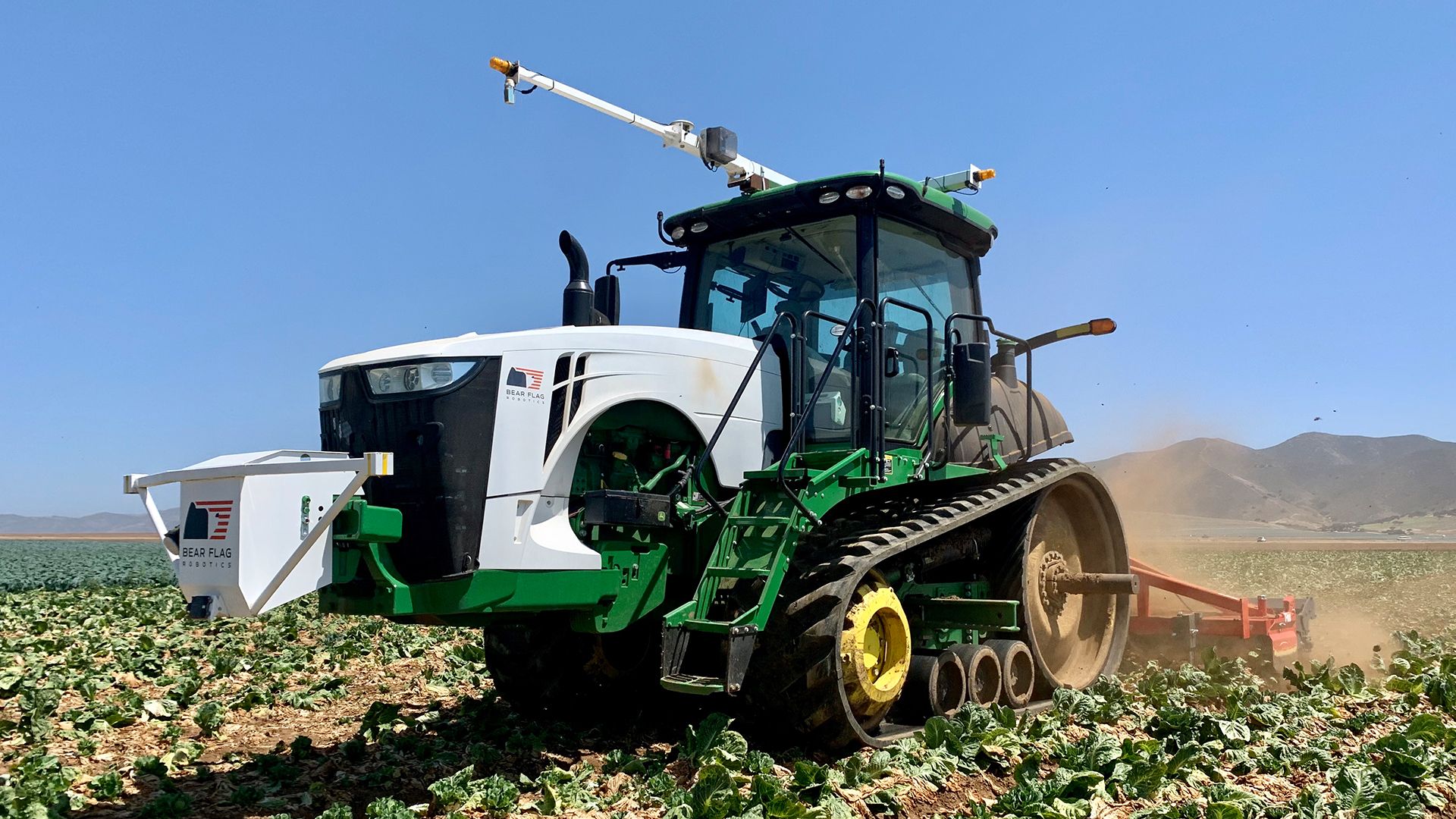 Artificial intelligence and automation are the new farmhands as growers try to boost productivity amid soaring global demand for food, biofuels and other agricultural products.
Why it matters: Farmers one day will be able to manage their fields from their kitchen table, using a smartphone or tablet to drive machinery, inspect plants and irrigate or treat crops with fertilizer or insecticides.
Driving the news: Agriculture machinery giant Deere & Company last week acquired Bear Flag Robotics for $250 million.
The 4-year-old Silicon Valley-based startup develops autonomous driving technology that can be retrofitted on existing machines.
It's the latest step in Deere's long-term effort to automate farming.
The big picture: With the United Nations predicting the world population will grow to 9.7 billion people by 2050, the agriculture industry says it will need to double the amount of food, feed, fiber and bioenergy it produces.
To boost output, the industry can either farm more land — putting more pressure on the environment — or farm the land it has more productively.
Yes, but: There aren't enough farmworkers. Agriculture jobs are projected to grow just 1% from 2019 to 2029, slower than other occupations, according to the U.S. Bureau of Labor Statistics.
Many farmers are turning to technology to fill the skilled labor gap.
Between the lines: Think of a farm as a huge outdoor factory with time-sensitive processes that need to run efficiently all year long.
Each step — preparing the soil, planting seeds, nurturing plants and harvesting crops — has a narrow window of opportunity.
"If you miss it because of a lack of labor or weather, it has a significant impact on the overall output of that crop," says Dan Leibfried, Deere's director of autonomy and automation.
"COVID-19 has highlighted how potentially fragile it can be," adds Bear Flag Robotics co-founder and CEO Igino Cafiero. "We're helping growers take variables off the table and increase output."
State of play: Deere first installed GPS technology in its machines in 1993 to create more precise maps of farmers' fields.
That led to self-guided tractors by 1999; farmers were still in the cab, but they could focus on other details, like planting.
By 2011, they started connecting those machines to the internet, giving growers access to telematics data to make better decisions, more quickly.
In 2015, Deere purchased Blue River Technology, whose cost-saving "see and spray" system uses cameras and deep learning to identify individual plants. If it sees a weed, it'll spray it with pesticide. If it sees an unhealthy plant, it can apply fertilizer.
Now, with the full autonomy that Bear Flag Robotics brings, farmers can till their fields with no one in the tractor.
What to watch: Despite the overall shortage of skilled farm labor, the BLS expects jobs for agricultural equipment operators to jump 11% between 2019 and 2029 — much faster than the average for all occupations.
As with automated trucks, it may well be a supervisory role.
Go deeper