Fewer workers worried about COVID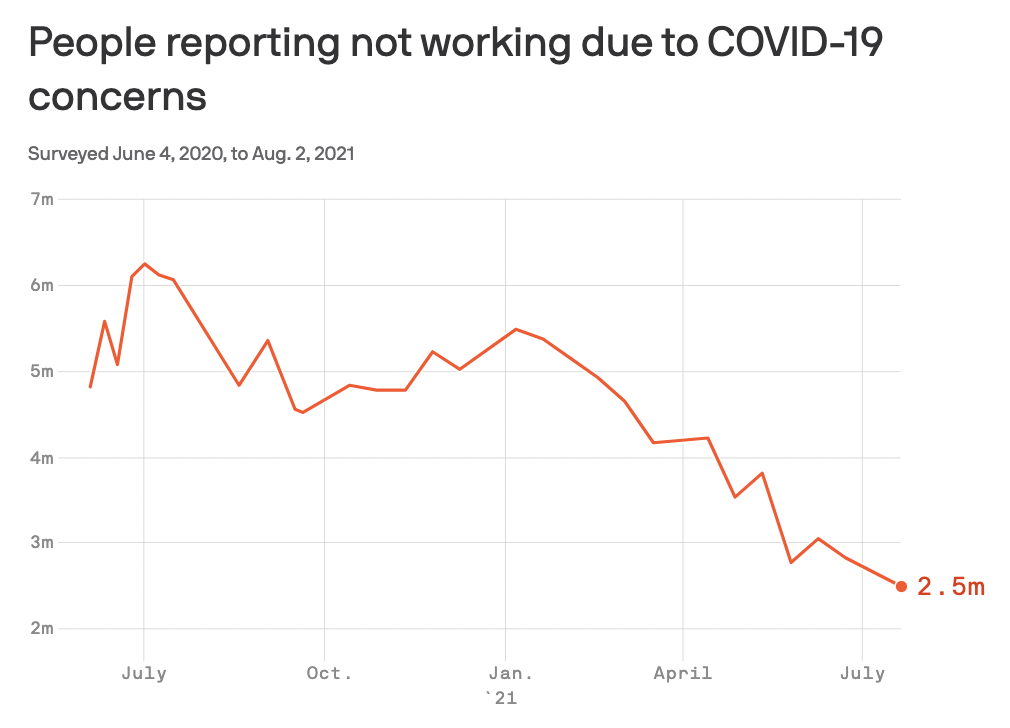 The rise in COVID-19 infections isn't motivating more workers to exit the workforce.
Why it matters: Fear of falling ill or spreading the virus has been the primary reason millions of Americans have either left their jobs or halted their job searches.
By the numbers: According to the Census' Household Pulse Survey (conducted July 21 to August 2) 2.48 million Americans said they were not working because they were "concerned about getting or spreading the coronavirus."
This is down from the 2.82 million print from the prior survey (June 23 to July 5).
This number peaked at 6.24 million in July 2020 but has trended lower ever since.
Zoom out: The recent month's decline comes at a time when more Americans got vaccinated.
From July 5 to August 2, the number of fully vaccinated people in the U.S. increased by 7.4 million to 164.9 million.
What to watch: Through July, the labor force participation rate was still below pre-pandemic levels. If fewer workers are concerned about the virus, labor force participation should be expected to rise.
The next update on this metric will come with the August jobs report, scheduled for Sept. 3.
Go deeper