Ethiopia's civil war spreads beyond Tigray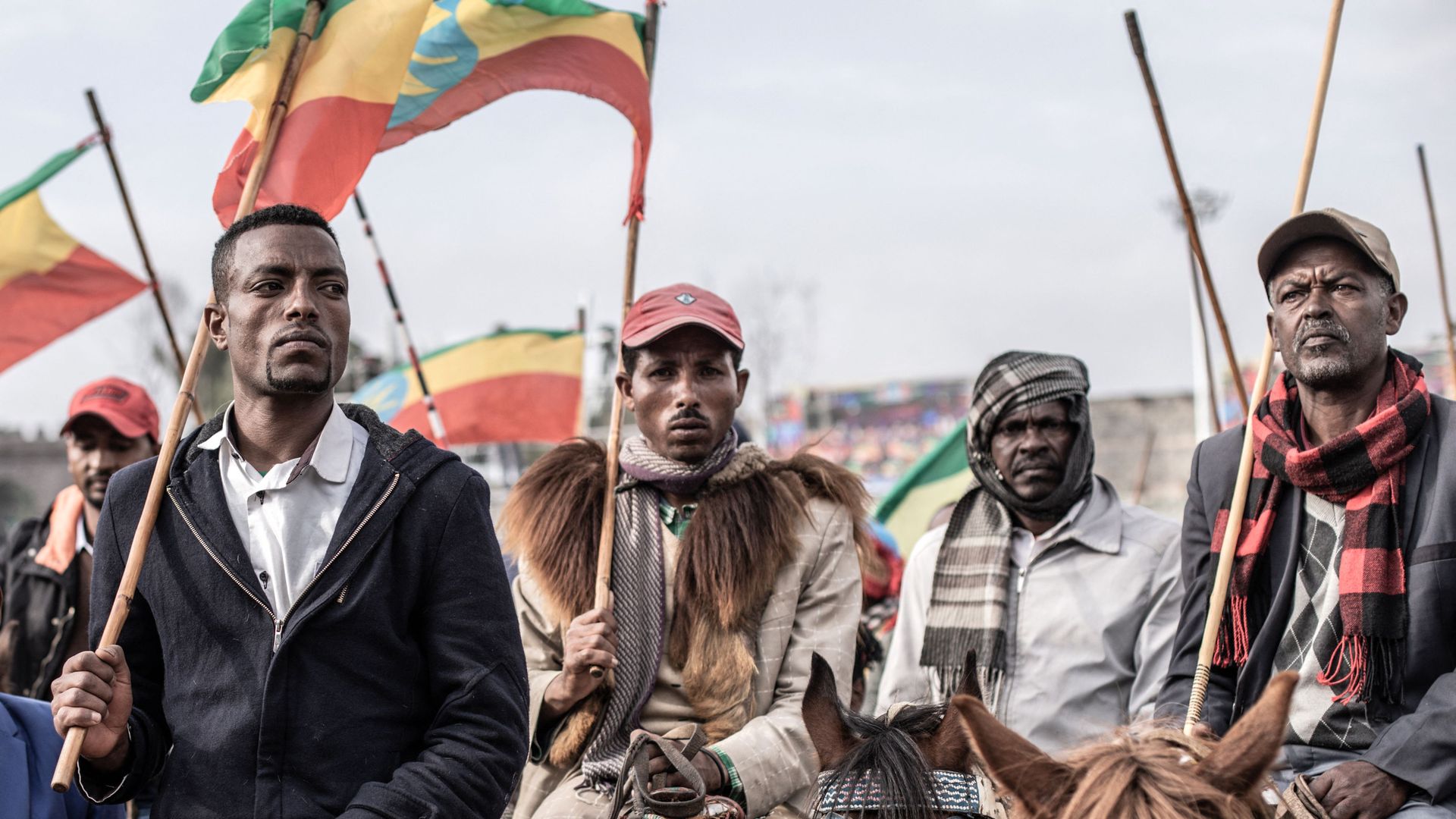 The civil war in Ethiopia is threatening to spread beyond the Tigray region, with Prime Minister Abiy Ahmed issuing a nationwide call to arms and his foes announcing a new military alliance.
Driving the news: On Tuesday, Abiy called on "all capable Ethiopians who are of age to join the defense forces, special forces, and militias and show your patriotism" by taking up arms against the Tigray People's Liberation Front (TPLF).
That announcement follows a stunning reversal in Abiy's war against the TPLF.
Flashback: The TPLF was the most powerful faction in national politics before Abiy took power, and it challenged his legitimacy after he delayed national elections last year.
The dispute spiraled into an armed conflict in which federal troops ousted the TPLF from their regional capital last November.
But the TPLF regrouped, recruited from the local population, and shocked the Ethiopian forces with a swift counteroffensive that saw them reclaim Mekelle, Tigray's capital, in June.
State of play: Abiy declared a unilateral ceasefire as his troops withdrew, but his forces have renewed a blockade of the rebel-held areas even as hundreds of thousands of people are facing famine conditions, says William Davison, the International Crisis Group's Ethiopia analyst.
Meanwhile, the TPLF has begun taking towns in neighboring regions, beyond Tigray's borders.
"The latest call to arms looks like a reflection of the weakness of Ethiopia's federal military, the current relative lack of support from Eritrea's military, and also of the failure of recently recruited regional security forces and militia to defeat the Tigrayan forces," Davison says.
It's far from clear that "deploying increasingly raw recruits into battle" will turn the tide, he adds, but "there is reason to believe there will be thousands of more deaths on the battlefield and increasing destabilization of Ethiopia."
Meanwhile, the announcement that the TPLF would be joining forces with insurgents from Ethiopia's largest ethnic group "increases the threat to Abiy's rule," Davison says. However, the capabilities of the group, the Oromo Liberation Army, aren't fully known.
There's a potential for this to be a complete catastrophe. The Tigrayan forces have shown their intent and capabilities, and these efforts to combat them look rather chaotic," Davison says.
The TPLF's ambitions have grown beyond retaking power in Tigray. They now want to force Abiy's removal from power.
But if they continue to push their offensive beyond Tigray they'll have to contend with more hostile local populations, Davison says.
Abiy does seem to retain the support of a large proportion of the population, as was underscored by his victory in a flawed election in June.
But in addition to the deteriorating military situation, the Nobel laureate also faces growing international criticism over alleged ethnic cleansing and mass sexual violence by troops in Tigray.
He declined to meet with USAID administrator Samantha Power when she visited Addis Ababa last week, Foreign Policy reports.
What's next: National security adviser Jake Sullivan tweeted Thursday night that Biden had asked the U.S. envoy for the Horn of Africa, Jeffrey Feltman, "to return to Ethiopia at this critical moment" and he called on all sides to negotiate.
Go deeper: People of Tigrayan ethnicity are being arbitrarily arrested across Ethiopia, WSJ reports.
Go deeper