Canadian PM Trudeau expected to call snap election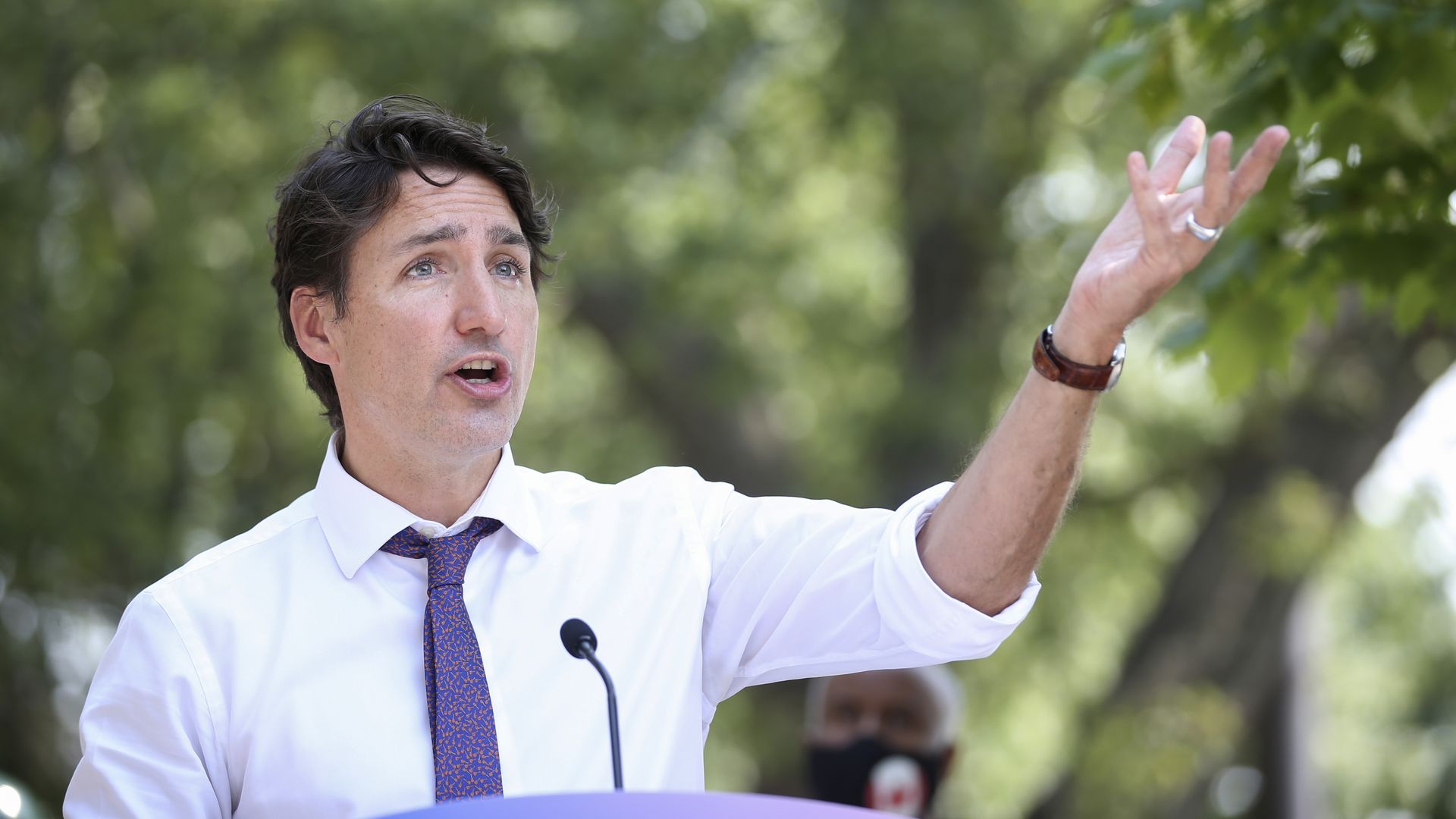 Canadian Prime Minister Justin Trudeau intends to announce Sunday a snap election for Sept. 20, Reuters reports, less than two years after the last national vote.
Why it matters: Trudeau currently leads a minority government and can only pass legislation with support from opposition parties. But his position has strengthened during the pandemic, and CBC's polling average shows his Liberal Party with a cushion of 6.6% over the opposition Conservatives.
An election isn't due for another two years, but early elections are common in Canada's parliamentary system. Still, even with a lead in the polls, calling one carries significant risks for Trudeau.
Per CBC, the Liberal's 35.6% makes "a majority government possible — but far from certain."
Flashback: The last election was waged amid an ethics scandal and revelations that Trudeau had worn blackface at least three times in his past. His personal approval ratings were in the high 30s.
They climbed as high as 62% earlier in the pandemic, as Canada fared better than its neighbor to the south, and currently sit at 48%, per Morning Consult's tracker.
He'll have to make the case not only for his government, but that the election itself is necessary. Opposition parties have called it reckless and unnecessary in the midst of the pandemic — though that's perhaps a signal that they expect the Liberals to win.
One issue that will come to the fore is Canada's approach to China, where two Canadians are in custody on espionage charges that appeared to come as retaliation for Canada's arrest of Huawei CFO Meng Wanzhou on a U.S. warrant.
One of the men, Michael Spavor, was sentenced to 11 years in prison on Wednesday. Trudeau's government condemned the "sham trial."
The Conservatives accuse Trudeau of going soft on China and have promised a tougher approach.
Go deeper