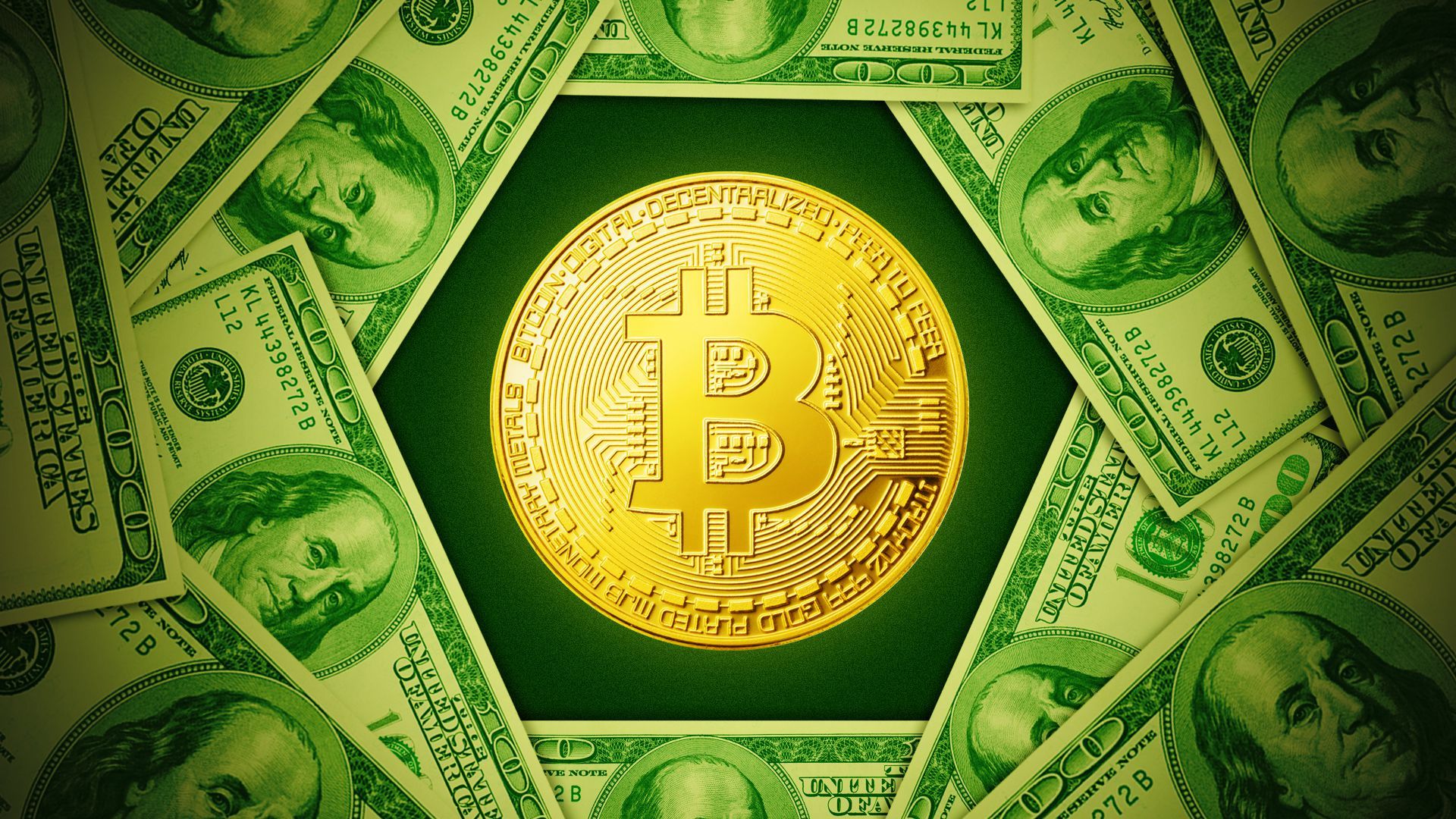 Bitcoin is becoming part of the dollar-based financial system it once sought to displace.
Why it matters: Cryptocurrency is beloved by people who want to transact outside the reach of any government. But it's gotten mainstream enough that politicians and regulators want to co-opt it and bring it squarely within their own fields of influence — even using it to help pay for an infrastructure bill.
The big picture: As crypto assets have grown to be worth well over $1 trillion, investors and financiers have increasingly wanted to get involved in the space — without taking any kind of legal risk.
They've been aggressively pushing for regulatory clarity, and often see their expensive compliance departments as a comparative advantage, differentiating them from the early true believers.
Regulation, however, would defeat much of the original purpose behind the desire to create cryptocurrency in the first place — the dream of being able to create a store of value that's untouched by government interference.
Context: When bitcoin first arrived on the scene, there was a chance governments would crush it, prosecuting anyone who used it.
Bitcoiners dreamed instead that it would thrive under the benign neglect of the government. While egregious fraud might be prosecuted, they mostly just wanted to be left alone.
They got their way, in some form or another, for many years. But those days are coming to an end, and we're now clearly at the beginning of the end of cryptocurrency as an anarcho-libertarian Utopia.
Cryptocurrency's future may be as an integral part of the existing financial system, regulated just as much as any other financial product.
Driving the news: SEC chair Gary Gensler — who previously taught a course on cryptocurrencies at MIT — gave an important speech last week laying out a maximalist vision for the degree to which his agency can and should regulate the asset class.
Crypto giant Circle has announced its intention to become a bank, fully regulated by the Federal Reserve, the Office of the Comptroller of the Currency, and the FDIC.
FTX, the fastest-growing crypto exchange, last valued at $18 billion, wants to become a regulated stock exchange where stocks can be traded on the blockchain.
Ethereum, the upstart rival to bitcoin, is in the process of moving to "Ethereum 2.0," a more centralized system that transfers power to the largest holders of the currency, including its founder, Vitalik Buterin.
How it works: A more regulated system would help solve problems like the difficulty of buying a home using the proceeds of crypto sales, or customers of NBA TopShot being unable to transfer their money to banks including JPMorgan and Wells Fargo.
The bottom line: The majority of crypto activity continues to take place outside the U.S., often in unregulated (and very risky) venues. But when the U.S. wants to regulate global financial activity, it generally finds it very easy to do so.
Go deeper