Why vaccine passports are still just a dream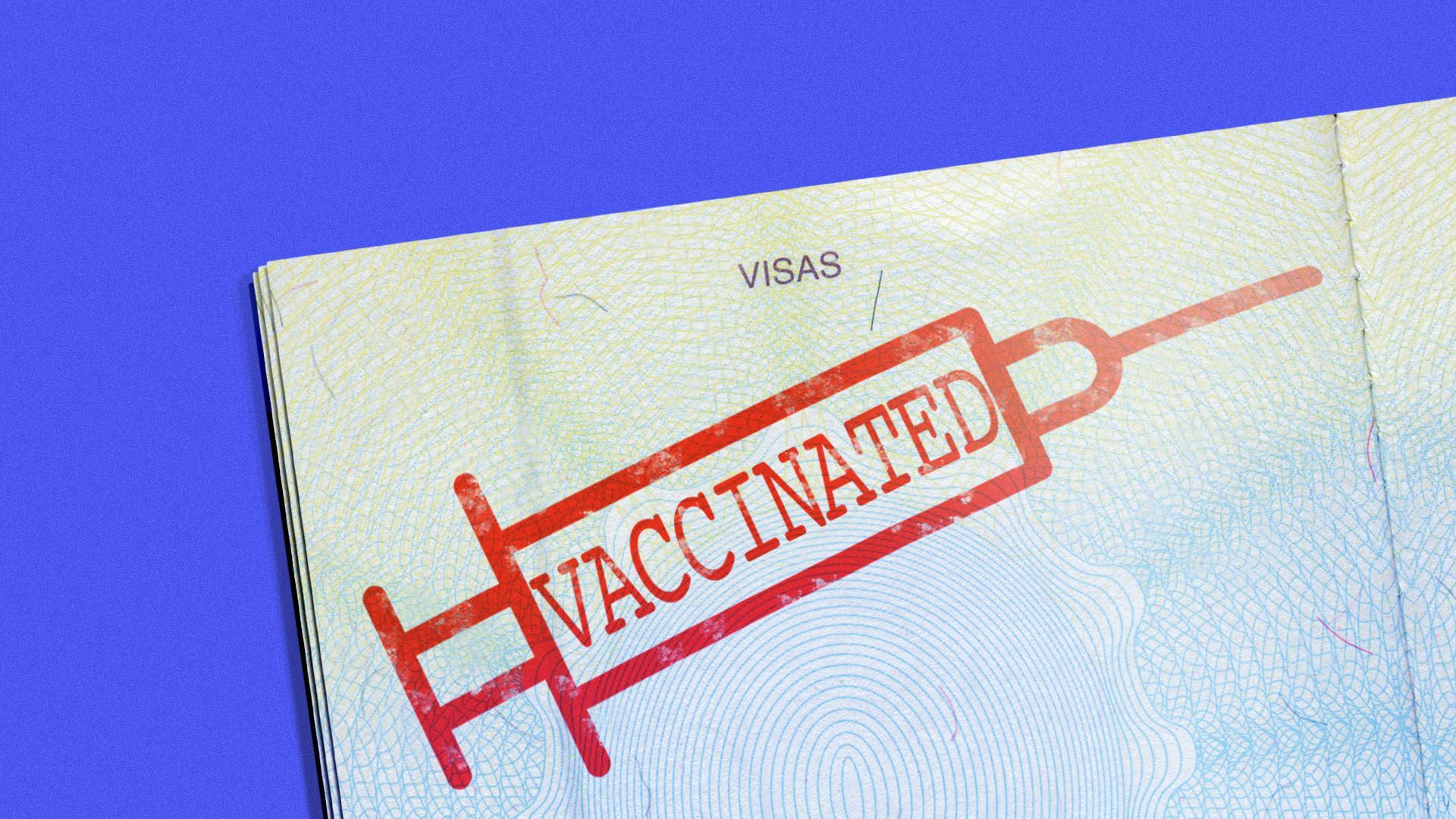 Several practical and technological hurdles will stand in the way of widespread "vaccine passports."
Why it matters: COVID-19 vaccine mandates are quickly gaining steam, reviving interest in an easy, electronic way for people to verify that they're vaccinated. But that technology in some cases is still far from perfected, and some experts question how much it could really accomplish.
The big picture: The CDC's paper vaccine cards may be the simplest way to prove that you've been vaccinated.
Driving the news: New York City, the first city in the country to impose a vaccine requirement for many indoor businesses, will accept Excelsior Pass, an app developed for New York state, to verify people's vaccine status.
Plenty of glitches have been reported with the Excelsior app, keeping many who are vaccinated from verifying their status.
The city also has its own passport app, called NYC Covid Safe, but it, too, has major technical limitations.
"#NYCCovidSafe is a terrible piece of technology. If you don't believe me, then my name isn't Mickey," tweeted Albert Fox Cahn, who runs the nonprofit Surveillance Technology Oversight project, who verified his vaccination on the NYC app with picture of Mickey Mouse.
It also places a relatively heavy burden on small businesses, said WebMD's Chief Medical Officer John Whyte. "How are owners, who don't have additional staff, expected to enforce it?"
Between the lines: New York also hasn't said how it will handle health or religious exemptions from the vaccination rules. Those same questions will dog any city or business looking to rely on vaccine passports.
Among the growing number of places showing interest in technology for vaccine verification are large companies looking for ways to quickly verify employees have been vaccinated or have a legitimate exemption, said Catesby Perrin, executive vice president of growth for biometric ID company CLEAR.
"The last few weeks have taught us that COVID, as much as we would have wanted for it to go completely away, is something that is here to be managed," Perrin said.
But mandates are politically untenable in many places.
What we're watching: Some experts fear that the idea behind vaccine passports will provide a false sense of security to the vaccinated, particularly as new variants emerge.
Testing and contact tracing shouldn't be lost in the conversation about vaccine mandates, Whyte warned.
"If we think about breakthrough infections, how does a passport protect against that?" Whyte said, particularly if future variants or reducing immunity make it more common for the vaccinated to get infected. "Does the passport provide the level of protection you need?"
Flashback: Americans will likely have to navigate a maze of vaccine "passports"
Go deeper