What it's like to go to an in-person conference during Delta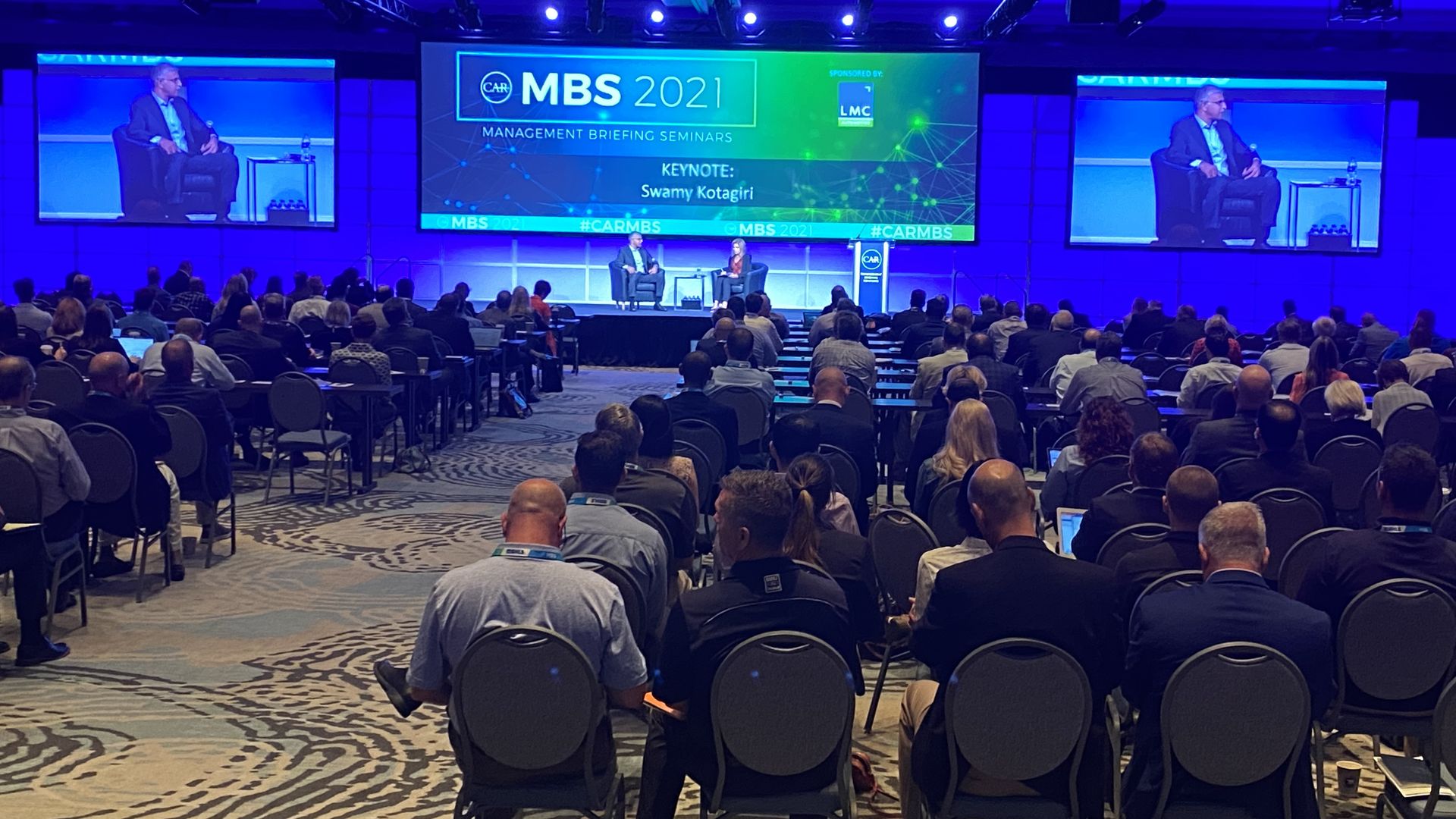 This week I'm attending my first professional conference in 18 months, but unfortunately, I'm afraid it might be my last for a while.
Why it matters: COVID-19 cases are surging again, driven by the highly contagious Delta variant, triggering a sudden tightening of corporate travel policies and raising serious doubts about in-person conferences and events.
Driving the news: Just yesterday, the twice-delayed New York auto show — which had been scheduled to open to the public on Aug. 20 — was canceled due to rising public health concerns.
The cancellation came just one day after New York Mayor Bill de Blasio announced that the city will require proof of vaccination for indoor dining and other leisure activities.
What to watch: Companies that had just begun to let employees travel again are now issuing new restrictions.
Cox Automotive, for example, which green-lighted travel for employees a few weeks ago, said Tuesday it would require prior approval for travel to certain counties coded "red" or "orange" for the level of community transmission by the Centers for Disease Control and Prevention.
What's happening: I'm in Traverse City, Michigan, this week for the annual Management Briefing Seminars sponsored by the Center for Automotive Research.
The CDC has coded Grand Traverse County "orange" — meaning "substantial levels of community transmission," which is no surprise since it is a popular tourist destination in northern Michigan.
"We feel really lucky with our timing," CAR spokeswoman Katie Ramsburgh told me. "With the COVID-19 Delta surge, if our event had been a few weeks later, we may have had to flip it to virtual."
As it is, the event is "hybrid," with about 500 attendees in person and 200 participating virtually, compared to 800-900 in-person during previous years.
I moderated a conversation on how automated vehicles could improve transportation equity. Three of the panelists were on stage with me, while the fourth Zoomed in remotely after deciding at the last minute not to travel.
What I'm seeing: The vast majority of attendees are not wearing masks, and there's no way to know whether they are vaccinated or not.
The check-in process was simple and almost contactless: I found my name on a tablet, clicked "check-in" and my name tag printed automatically.
Red and green stickers were available indicating "handshakes ok" or "not ready for handshakes." (I opted for "not ready.")
Lunch buffets were replaced with plated meals or boxed lunches for those who felt more comfortable eating separately.
A female vice president at a major auto supplier told me: "I'm feeling weirdly anxious. I don't know how to act around people. I'm wearing my first pants without elastic around the waist."
Go deeper