Biden offers temporary "safe haven" for Hong Kongers in U.S.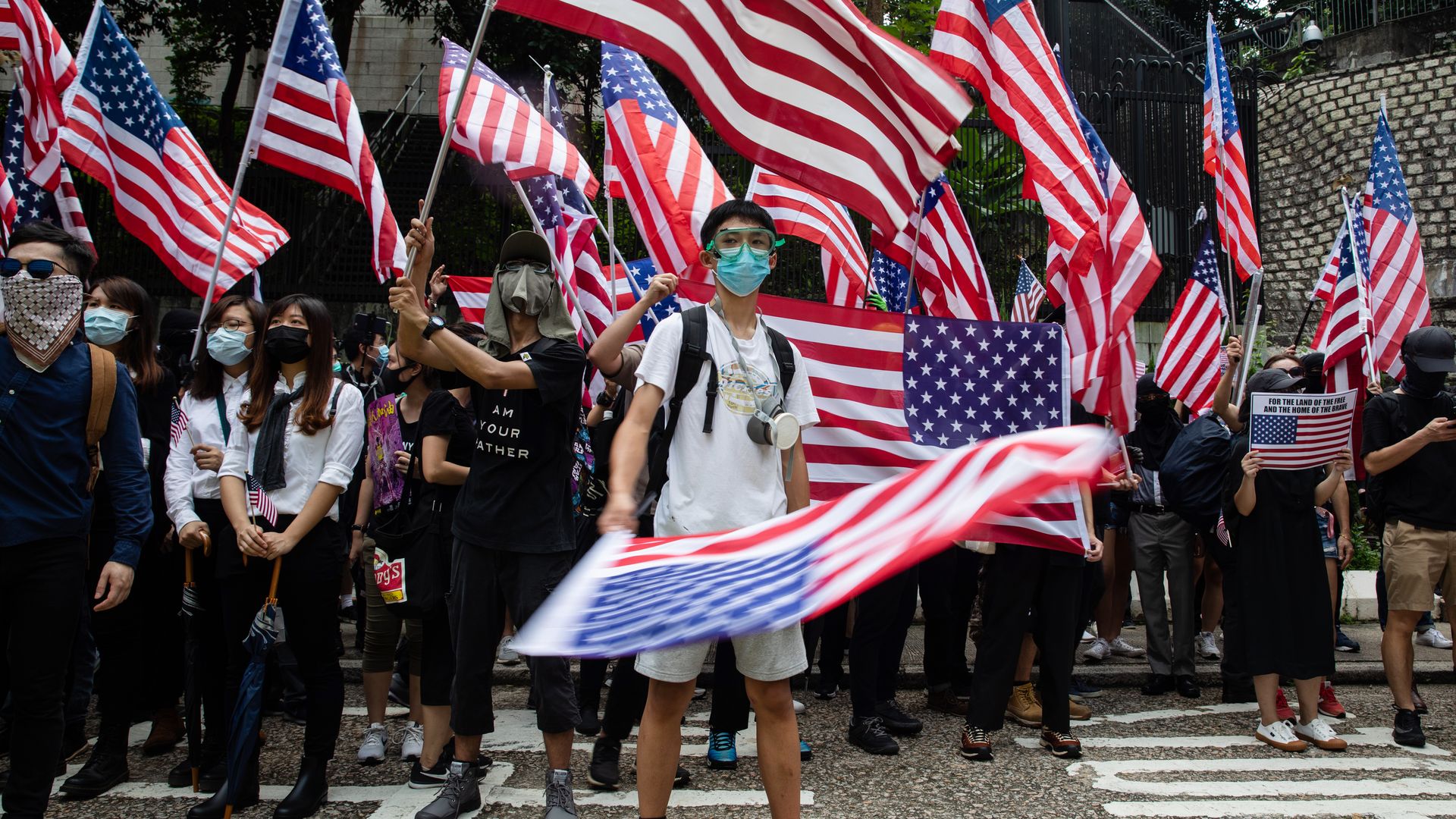 President Joe Biden on Thursday directed the Department of Homeland Security to defer the removal of Hong Kong residents currently in the U.S. for 18 months, offering a "safe haven" to those who fear returning home.
Why it matters: The move, which could potentially extend the stay of thousands of Hong Kongers in the U.S., is the latest step the Biden administration has taken in response to Beijing's crackdown on democracy in the semi-autonomous territory.
The program will be accessible to the vast majority of these residents and will allow them to seek employment authorization through U.S. Citizenship and Immigration Services, according to DHS.
Thousands of people have already left Hong Kong to travel to the United Kingdom — which once controlled the territory — after the British government offered a similar "safe haven" and path to citizenship for millions of Hong Kongers.
The big picture: The Chinese government imposed a sweeping national security law on Hong Kong last year after the eruption of pro-democracy protests, eroding the autonomy and political freedoms that its residents once enjoyed. The first protester convicted under the law was sentenced to nine years in prison last week.
The U.S. has retaliated by suspending its extradition treaty with Hong Kong and imposing sanctions on officials responsible for the crackdown.
Last month, the U.S. issued an advisory warning to businesses about the risks of doing business in Hong Kong. China sanctioned a number of Americans and organizations in response.
What they're saying: "Over the last year, the PRC has continued its assault on Hong Kong's autonomy, undermining its remaining democratic processes and institutions, imposing limits on academic freedom, and cracking down on freedom of the press," Biden said in a statement.
"Offering safe haven for Hong Kong residents who have been deprived of their guaranteed freedoms in Hong Kong furthers United States interests in the region. The United States will not waver in our support of people in Hong Kong," he added.
What to watch: Sen. Ben Sasse (R-Neb.) introduced a bill last year that would grant full asylum to certain Hong Kong residents.
"Today's move is a solid step, but we need to go further," Sasse said in a statement. "We need to offer full asylum to Hong Kongers who flee Chairman Xi's brutal oppression."
Go deeper