Biden, top automakers aim for 50% electric vehicle sales by 2030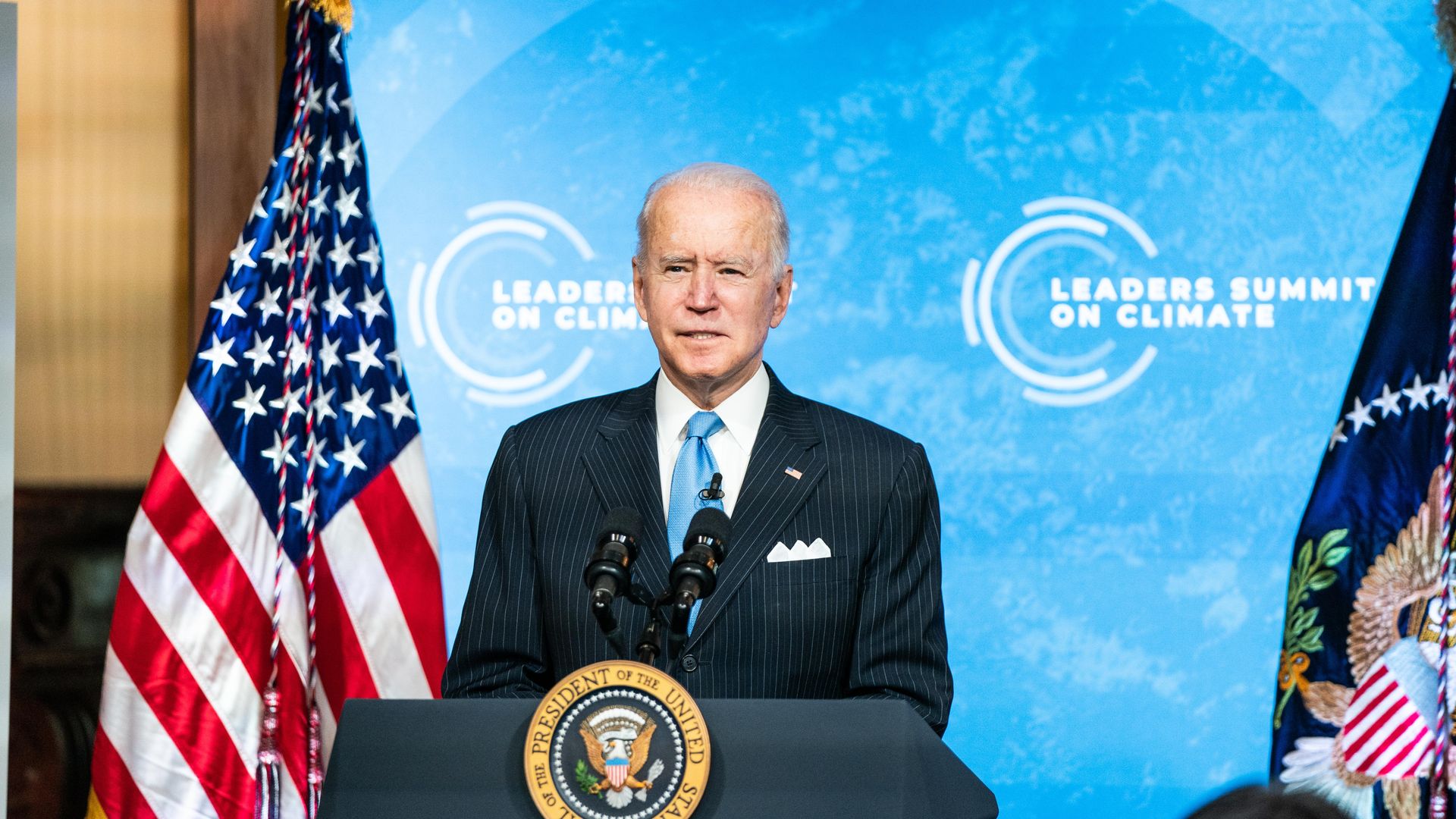 The White House on Thursday is unveiling draft mandates and aspirational targets aimed at drastically cutting vehicle carbon emissions and accelerating the shift to electric models.
Why it matters: Transportation is the largest source of U.S. emissions.
The rollout provides the most complete picture yet of how the White House hopes to reduce them, and the state of talks with huge automakers.
President Biden also hopes to juice domestic manufacturing of EVs, batteries and related supplies.
Driving the news: The main pieces of the announcement are...
An executive order that sets a non-binding goal of 50% of all new cars sold in 2030 to be zero-emissions models, including electric and hydrogen fuel cell models. The same order will instruct agencies to set binding emissions and efficiency rules beyond the mid-2020s for light-duty vehicles, but also medium- and heavy-duty vehicles like semi-trucks.
In a related move, auto giants Ford, GM, VW, Stellantis and others are announcing non-binding goals of having 40%-50% of their U.S. sales come from fully electric, fuel cell or plug-in hybrid vehicles by 2030.
Biden's order also kicks off the development of new draft mileage and emissions standards for light-duty vehicles — cars, pickups and SUVs — through model year 2026.
They're slated to be much tougher than Trump-era light-duty vehicle rules through the mid-2020s — per the New York Times, they will essentially restore Obama-era mandates through 2025, then go slightly further in 2026. The White House has not yet released details of these near-term rules.
What we're watching: The White House said the draft light-duty efficiency and emissions mandates that begin taking effect in model-year 2023 will "build on momentum" from the separate deal California reached with several automakers in 2019.
By the numbers: Transportation accounted for 29% of U.S. greenhouse gas emissions as of 2019, according to the EPA.
Electric vehicles represent a small but fast-growing share of car sales. Fully electric vehicles accounted for 2.2% of U.S. sales in the first half of 2021, up from 1.4% in the first half of last year, per Edmunds data.
Add in plug-in hybrid models and the share is higher — but overall, EVs remain a small slice of the market compared to White House and automakers' aspirations for 2030.
The auto industry overall is committed to investing over $330 billion to bring electric cars to market, per the Alliance for Automotive Innovation, a major trade group.
Major automakers, even before Thursday's announcements, have been rolling out various aspirational sales targets, like GM's goal of ending sales of gasoline- and diesel-powered light-duty vehicles by 2035.
What they're saying: Administration officials are casting the moves as a way to meet multiple goals around climate change, domestic jobs, and competing against China.
"What we are hearing across the board is a consensus about the direction where this industry is going, and a coming together around a recognition that this is the moment of truth, not just for climate action, for economic action as well," a senior official told reporters on a call Wednesday.
The other side: Dan Becker, a veteran advocate for tough mandatory rules, said the measures don't go far enough.
"Voluntary pledges by auto companies make a New Year's weight-loss resolution look like a legally binding contract," said Becker, who is with the Center for Biological Diversity.
The big picture: The executive steps come as the White House is seeking to push various new EV-related measures through Congress.
The bipartisan infrastructure plan includes $7.5 billion to fund the construction of EV charging stations.
Biden and Democrats want far more costly EV provisions in the larger bill they hope to move via budget reconciliation on a party-line vote. The administration's proposals include $100 billion worth of consumer incentives.
The intrigue: A joint statement from Ford, GM and Stellantis on their 2030 EV sales pledge says congressional action is key to dramatically moving the market toward cars with plugs, even as it touts their EV investments.
It says the shift requires a "full suite" of policies, including consumer incentives, a comprehensive network of charging stations, R&D investment and manufacturing incentives.
A separate statement that the White House released from four other auto giants — VW, Honda, Volvo and BMW — makes a similar point about the need for federal steps, including "broad consumer incentives."
What's next: Biden will promote the plan and sign the order at the White House Thursday afternoon, flanked by major auto executives and union officials.
Go deeper