CDC extends ban on evictions until October after protests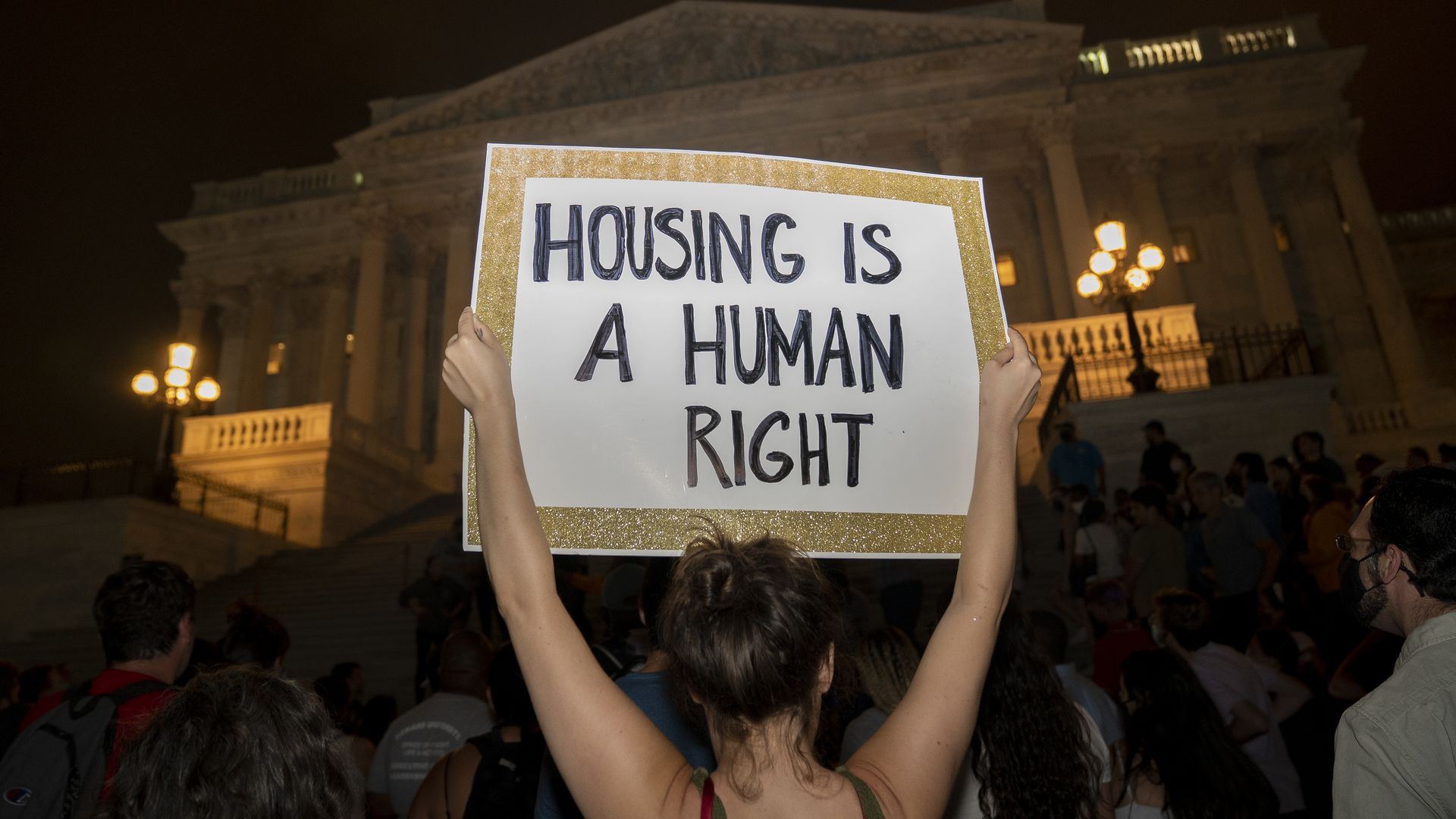 The Centers for Disease Control and Prevention issued an order on Tuesday barring evictions for most of the U.S. through Oct. 3.
The big picture: The moratorium will temporarily halt evictions in counties with "substantial and high levels" of coronavirus cases, which should cover areas where 90% of the U.S. population lives, per AP.
The fresh order comes after Rep. Cori Bush (D-Mo.) and other progressives protested outside the U.S. Capitol over the weekend.
The expiration of the CDC's previous ban led to finger-pointing among House leaders and the Biden administration. The White House insisted it lacked the authority to extend the moratorium past July 31, but growing pressure led to a win for Democratic lawmakers.
What they're saying: "The eviction moratorium allows additional time for rent relief to reach renters and to further increase vaccination rates," the CDC said in a statement.
"In the context of a pandemic, eviction moratoria—like quarantine, isolation, and social distancing—can be an effective public health measure utilized to prevent the spread of communicable disease," the agency added.
"Eviction moratoria facilitate self-isolation and self-quarantine by people who become ill or who are at risk of transmitting COVID-19 by keeping people out of congregate settings and in their own homes."
"The emergence of the delta variant has led to a rapid acceleration of community transmission in the United States ... This moratorium is the right thing to do to keep people in their homes and out of congregate settings where COVID-19 spreads."
— CDC director Rochelle Walensky
"On Friday night, I came to the Capitol with my chair. I refused to accept that Congress could leave for vacation while 11 million people faced eviction," Bush tweeted on Tuesday.
"For 5 days, we've been out here, demanding that our government acts to save lives," said Bush, who stayed on the steps of the Capitol for four nights. "Today, our movement moved mountains."
Between the lines: The extension is a sign that progressives can run the show in a historically fractured party.
Worth noting: President Biden had asked federal agencies to find other ways to stop evictions.
Go deeper