Other Dems join Rep. Bush on Capitol steps to protest end of eviction moratorium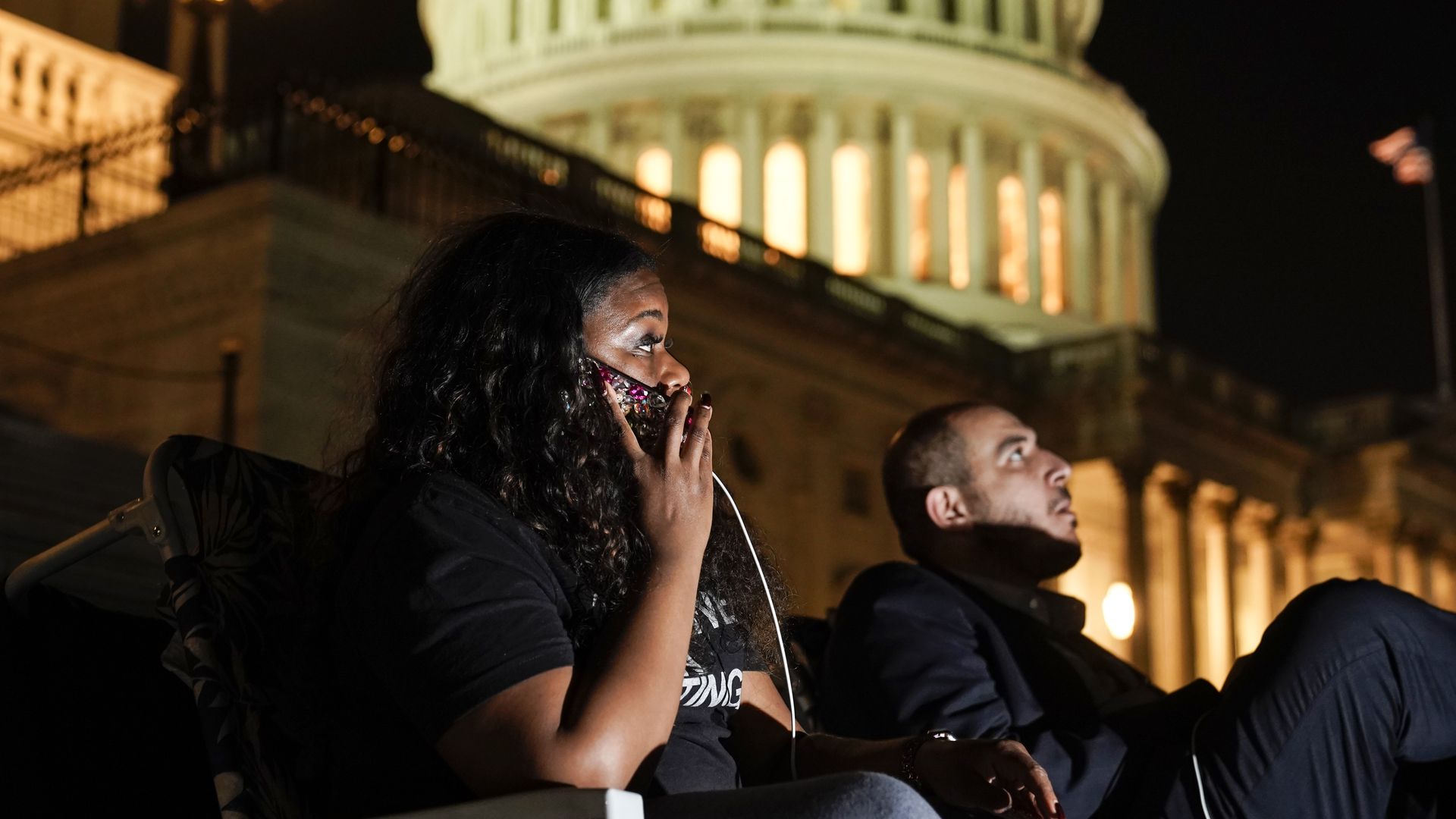 Rep. Cori Bush (D-Mo.) was back on the steps of the U.S. Capitol on Tuesday, continuing her calls for President Biden and his administration to renew and expand the eviction moratorium.
Driving the news: "Our movement is growing. Over the last five days, our movement has received support from many of our House and Senate colleagues," Bush said in a statement Tuesday.
Bush has spent the night at the Capitol since Friday night, only taking a break Monday night to "recharge," per her press secretary. It is not clear how long she plans to stay on the Capitol steps.
Reps. Ayanna Pressley (D-Mass.), Ilhan Omar (D-Minn.) Alexandria Ocasio-Cortez and others have joined Bush in sleeping on the steps of the Capitol to urge fellow Democrats to expand the eviction moratorium, which expired Saturday at midnight.
Sens. Bernie Sanders (I-Vt.) and Ed. Markey (D-Mass.), as well as Majority Leader Chuck Schumer (D-N.Y.) and others also showed up to lend their support.
"Especially as a formerly unhoused person, I am grateful to each and every one of them for recognizing and working to end this eviction emergency and for amplifying the call to extend the eviction moratorium," Bush said.
The big picture: The federal eviction moratorium expired Saturday at midnight after the House failed to secure enough votes to extend the ban.
Bush and other Democrats have since called on President Biden and his administration to immediately reinstate the protections as millions of Americans face the threat of eviction.
"What has become clear is that the quickest way to get this done is through the executive branch," Bush said Tuesday. "We urge President Biden to extend relief to our neighbors who right now face eviction."
The White House said on Monday that Biden has asked federal agencies to try and find ways to stop evictions after the Centers for Disease and Control Prevention (CDC) said it lacked the authority to extend its national eviction moratorium.
States including California and New York have extended their state eviction moratoriums, per CNN.
Go deeper: Evictions lead to rare clash between the White House and Dems
Go deeper