Smoke from intense Siberian wildfires reaches North Pole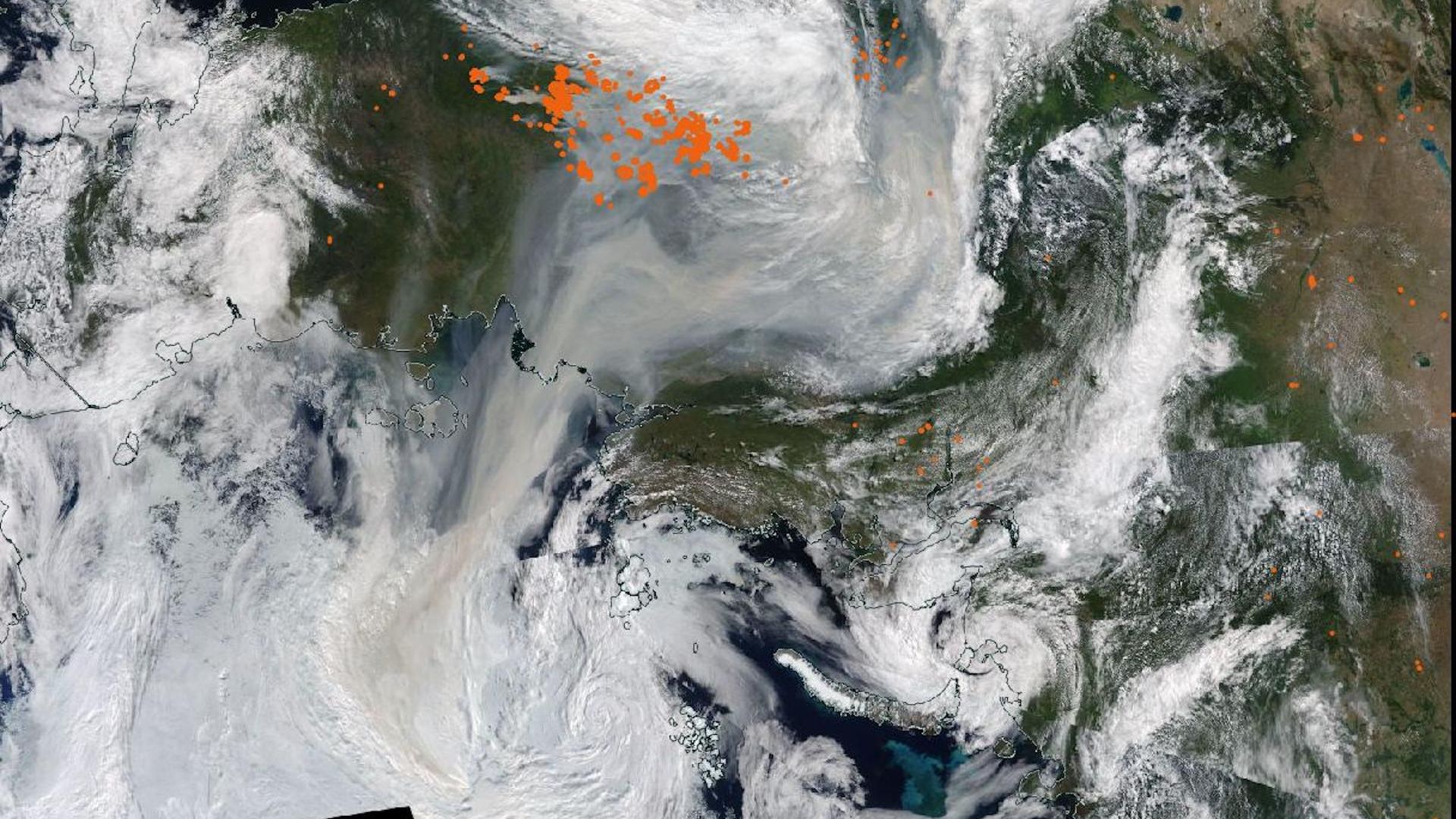 Intense wildfires burning across Siberia's Sakha Republic sent a plume of smoke all the way to the North Pole on Sunday into Monday, as seen by scientists tracking the blazes via satellite imagery.
Why it matters: The fires have been raging since early spring, and while this region is known for seasonal blazes, there are signs the fires are becoming more intense, starting earlier and lasting longer.
Driving the news: The wildfires in Siberia have been making headlines for months as they've enshrouded communities in hazardous levels of smoke.
The northernmost blazes have threatened to disturb the layer of permafrost that rings the Arctic.
This permanently frozen soil holds enormous quantities of greenhouse gases, which could be released if it were to melt due to wildfire activity nearby.
Details: According to Mark Parrington, who monitors global fire activity for the Copernicus Atmospheric Monitoring Service (CAMS), the Sakha Republic wildfires have set a record for estimated carbon emissions for the period from June 1 to Aug. 1.
By burning biomass such as trees and grasses, fires release carbon dioxide as well as other pollutants that can increase global temperatures, constituting a positive climate feedback.
However, wildfires are also historically common in this part of Siberia. What's new is how long the fire season is becoming, and how intense and far north some of the blazes have been burning. Similar trends have been observed in the U.S. and Canada so far this summer.
In total, wildfire-related carbon emissions here have already surpassed total seasonal emissions seen during the record summer fire season of 2020, eclipsing 100 billion tons of carbon, Parrington tweeted Monday.
"Two-thirds through, this season is already the highest seasonal total for [the] Sakha Republic," Parrington told Axios via email, cautioning that this is not yet an annual record for wildfire emissions in that region. "I expect that a new record for the annual total will be set this year the way it is continuing," he said.
He also noted that weather systems carried a thick plume of wildfire smoke straight across the Arctic Ocean and over the North Pole.
While it's not unusual for smoke to be transported across large distances, the polar transport is relatively rare. Depending on the altitude of the smoke, it's possible that smoke from Siberian fires could enhance Arctic sea ice melt by depositing tiny dark particles of soot onto the ice, thereby lowering its ability to reflect incoming solar radiation from the sun.
Siberian fires are a key source of black carbon, or soot, transport into the Arctic.
The bottom line: The wildfires in Siberia are likely to continue for another two to possibly three months in some spots, and their intensity during this period will determine how unusual this season's carbon emissions look in hindsight.
Meanwhile, the people living in the region will continue to suffer from health ailments caused by smoke exposure.
Go deeper