Nigerian doctors go on strike as country grapples with COVID-19 surge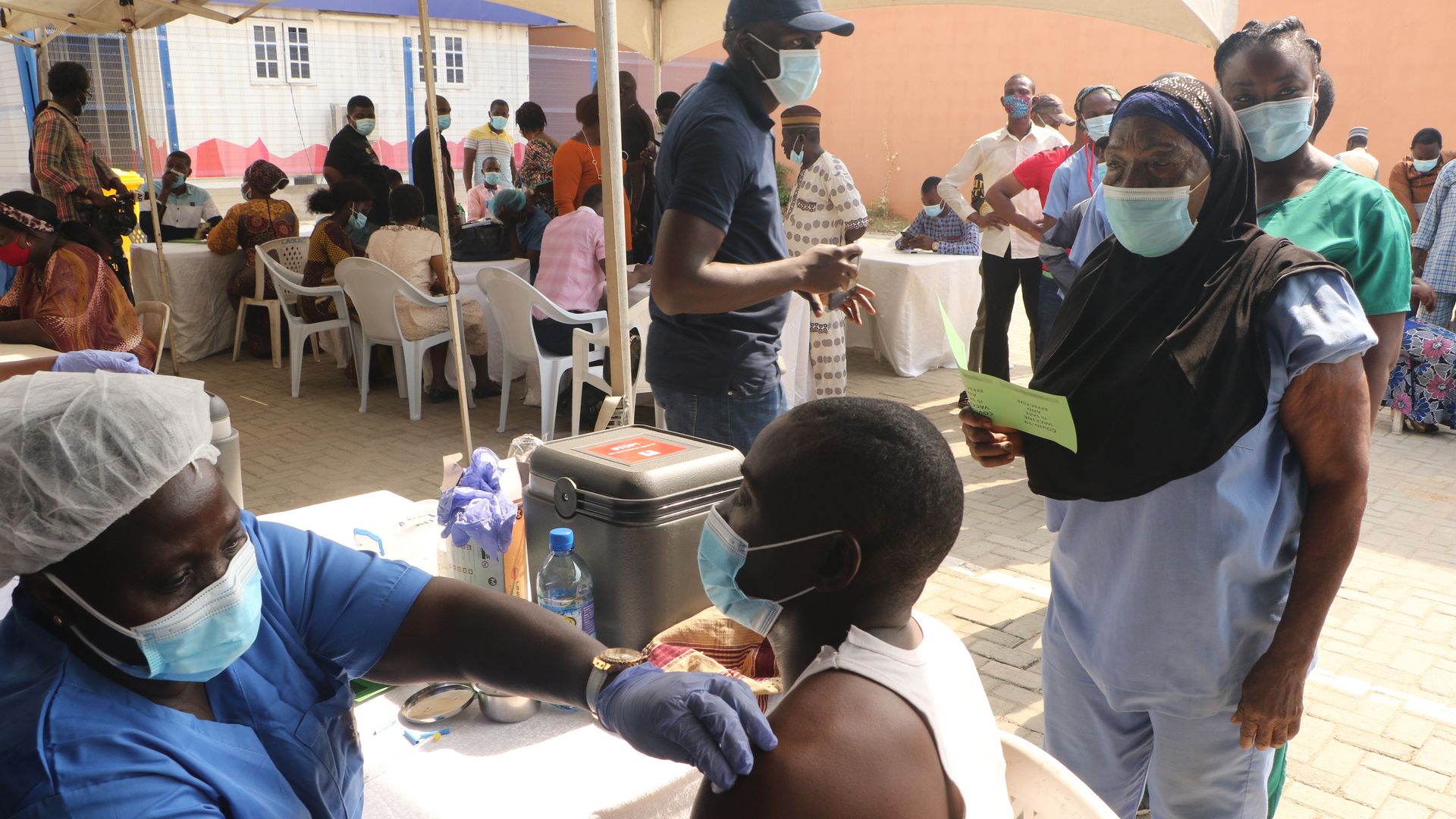 Doctors at Nigeria's state-run hospitals began an indefinite strike Monday to protest low pay and inadequate facilities many doctors say they are working in.
Why it matters: The strike comes as COVID-19 cases numbers surge in Nigeria, Africa's most populous country. July saw the nation's highest case numbers since March, sparking fears of a third wave, Bloomberg reports.
State of play: The National Association of Resident Doctors (NARD), which called for the strike, represents more than 90% of doctors in Nigeria's teaching hospitals, per Bloomberg.
Resident doctors are pivotal to frontline care in Nigeria, as many work in hospital emergency wards, according to Reuters.
The big picture: NARD called the strike over unpaid salaries, COVID-19 hazard allowances, and insurance benefits to families of doctors who died of coronavirus, Al Jazeera reports.
NARD said some of its members are owed as much as 19 months' worth of salary pay by state governments, and that some hospitals have failed to give doctors the hazard stipend promised to those helping fight the virus, per Bloomberg.
The families of 19 doctors who have died of the virus have not received benefits from the government, Jerry Isogun, the general secretary of NARD, told Bloomberg.
NARD president Uyilawa Okhuaihesuyi also decried the state of Nigeria's underfunded poorly equipped state-run hospitals, dubbing them "deplorable," in an interview with AFP, per Al Jazeera.
The Nigerian government has called the strike "hasty" and "appealed for restraint from NARD doctors," per Reuters.
What they're saying: "The nationwide strike started at 8am. It's an indefinite strike," NARD president Uyilawa Okhuaihesuyi told the AFP news agency, per Al Jazeera. "There will be no exemption for doctors handling COVID-19 cases."
"We appeal to Nigerians to bear with us. Doctors and their families are suffering," Okhuaihesuyi added. "We can no longer pay our bills because of [the] government's insensitivity and neglect of our welfare."
Go deeper