Rep. Cori Bush and others sleep outside U.S. Capitol to protest end of federal eviction ban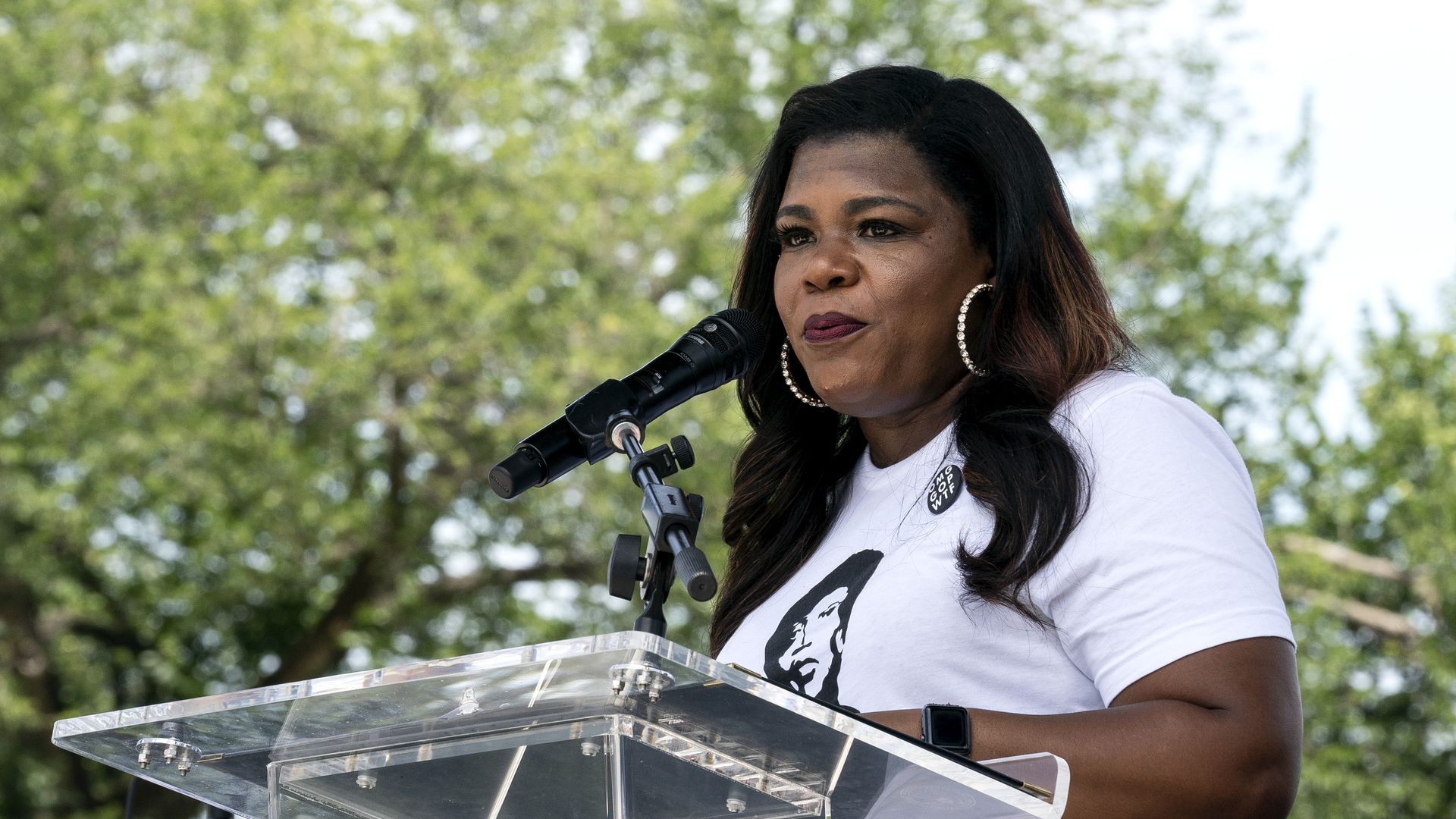 Rep. Cori Bush (D-Mo.) slept outside the U.S. Capitol on Friday night to urge her Democratic colleagues to return to Washington and vote to expand the eviction moratorium, which expires Saturday at midnight.
Driving the news: "Many of my Democratic colleagues chose to go on vacation early today rather than staying to vote to keep people in their homes," Bush tweeted Friday. "I'll be sleeping outside the Capitol tonight. We've still got work to do."
Bush, who has been evicted three times, sent multiple letters throughout the day on Friday to push House Democrats to return from adjournment and vote on the Protecting Renters from Evictions Act.
What they're saying: "I know firsthand the trauma and devastation that comes with the violence of being evicted, and we have a responsibility to do everything we can to prevent this trauma from being inflicted on our neighbors and communities," Bush wrote.
"I cannot in good conscience leave Washington tonight while a Democratic-controlled government allows millions of people to go unhoused as the Delta variant is ravaging our communities," Bush wrote.
Reps. Ayanna Pressley (D-Mass.) and Ilhan Omar (D-Minn.) also showed up at the Capitol on Friday night in support of Bush's push to extend the eviction moratorium.
Sen. Elizabeth Warren (D-Mass.) also showed up outside the Capitol on Saturday in support of extending the eviction moratorium.
"I urge [Congress] to join me now in continuing this life-saving protection as states distribute assistance to keep renters housed, to keep landlords paid and most of all, to keep families safe," Warren said, speaking on the Senate floor Saturday morning.
The big picture: House Democrats did not secure enough votes Friday to pass an extension of the eviction moratorium via unanimous consent.
As many as 15 million people could face evictions, per estimates from the Aspen Institute.
Go deeper: Finger pointing starts after House fails to extend federal eviction ban
Go deeper