How American sprinter Allyson Felix could make Olympic history in Tokyo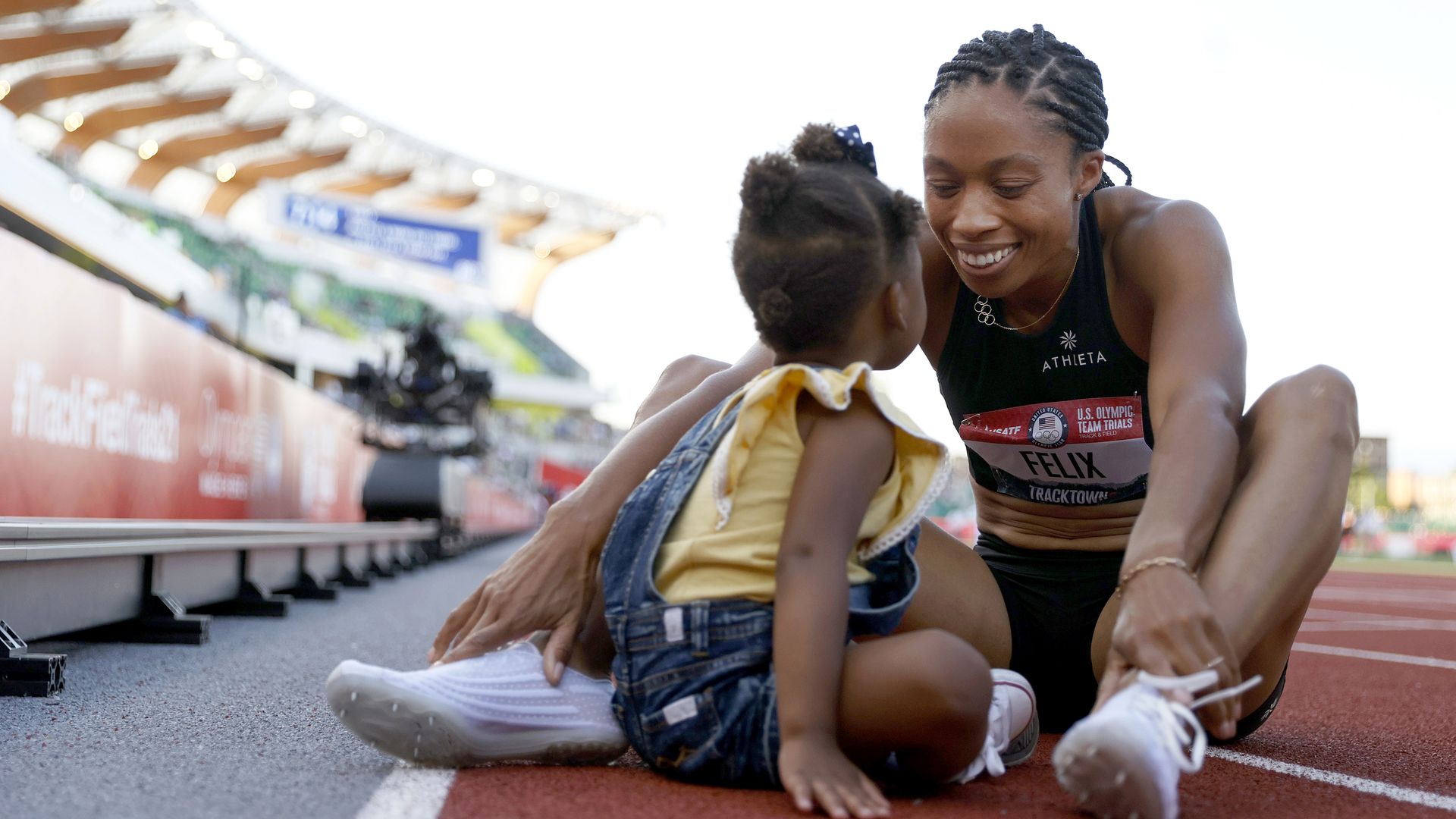 When sprinter Allyson Felix steps on the track at the Tokyo Olympic Games, she'll be thinking of her proudest accomplishment and what motivates her most: her two-year-old daughter Camryn.
The big picture: The 35-year-old enters her fifth, and likely last, Olympic Games in Tokyo with nine medals already under her belt. If Felix wins just one more medal, she will become the most decorated Olympian female track athlete from any country.
The Tokyo Olympics are the first Summer Games Felix has competed in since the birth of her daughter. There times she wasn't sure she'd ever get back on the track after a life-threatening pregnancy complication.
Felix has been open about her daughters birth and her longtime-sponsor Nike's attempt to cut her pay 70% during her pregnancy. Public outcry prompted the company and others to change their maternity policies for athletes.
She ultimately ended her relationship with Nike and signed with Athleta. She has since become an advocate for gender equality for women and a champion for athlete mothers.
When to watch...
Women's 400m:
Round 1- Aug. 2, at 8:45 a.m. ET
Semi-finals - Aug. 4, at 6:30 a.m. ET
Finals - Aug. 6 at 8:35 a.m. ET
What she's saying:
"It's really hard to balance being a mom and a professional athlete, and the reality is that there's a certain level of financial support and security that's necessary to be able to do it," Felix told CNBC.
"I really want my legacy to be one of someone who fought for women," Felix told CNN.
Olympics medals...
2016 Rio Games:

🥇 - 4x100m
🥇 - 4x400m
🥈 - 400m

2012 London Games:

🥇 - 200m
🥇 - 4x100m
🥇 - 4x400m

2008 Beijing Games:
2004 Athens Games:
Impressive facts:
Time listed Felix as one of the most influential people of 2020.
Felix has been vocal in advocating for the increased risks Black women face during pregnancy and is determined to seek change.
Felix has her own footwear brand, Saysh, which she launched in June.
Go deeper