First look: Lawmakers form bipartisan Uyghur caucus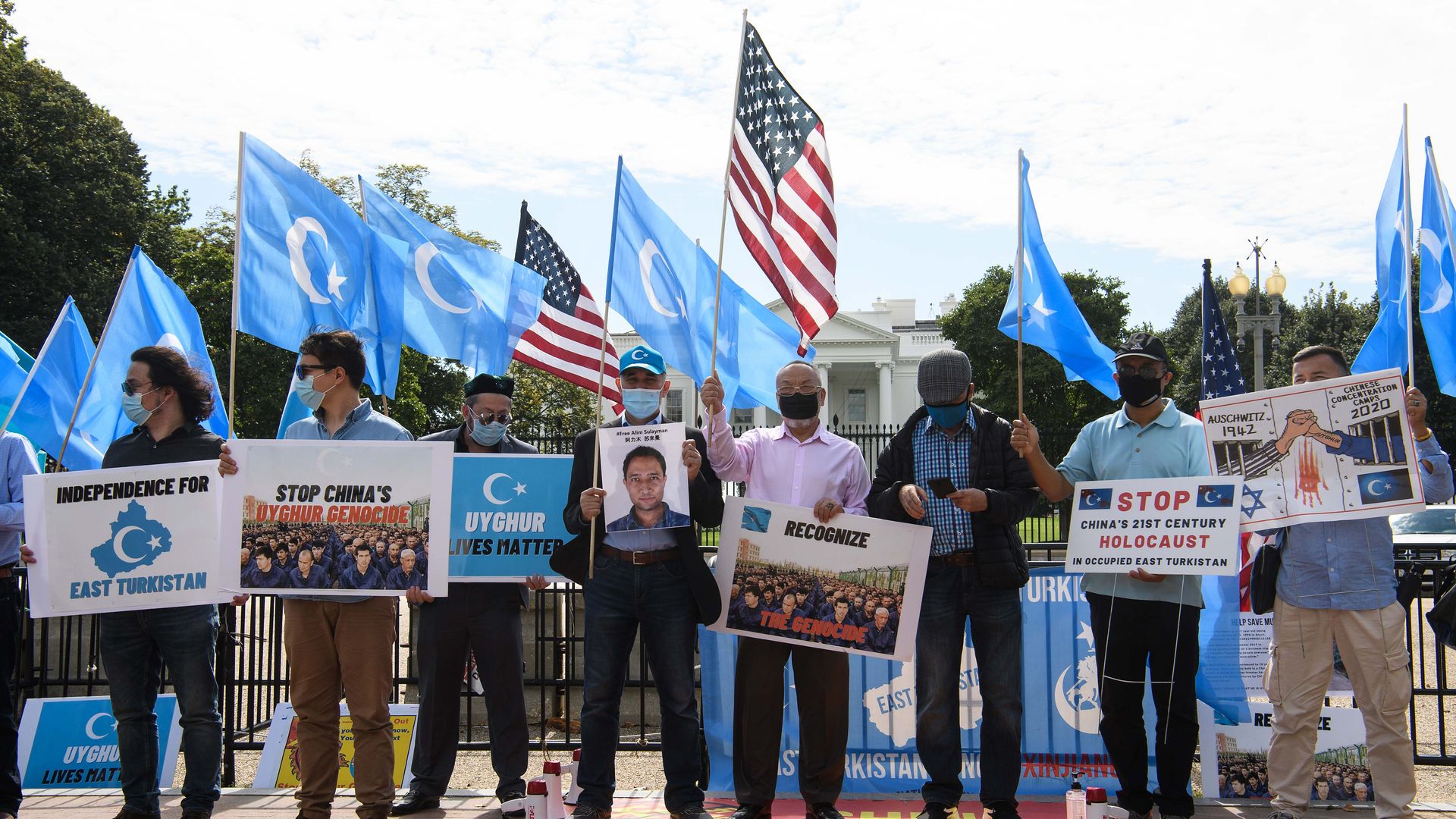 House lawmakers are forming a bipartisan caucus to hold the Chinese Communist Party accountable for its human rights violations against Uyghurs in the Xinjiang region, Axios is first to report.
Why it matters: While the United States economy relies heavily on trade with China, relations between the two global powers are tense. The Chinese Communist Party's human rights violations are at the center of many complications.
The details: Democratic Rep. Tom Suozzi of New York and Republican Rep. Chris Smith of New Jersey are leading the formation of the caucus.
Its goal is to "support legislation aimed at addressing the largest coordinated human rights abuse campaign of the 21st century," according to a release being distributed by the group.
What they're saying: "Products you buy from China that were manufactured with forced labor are cheaper," Suozzi said during an interview with Axios. "So, people are gonna say, 'Oh my gosh, if we don't do business with Xinjiang, the cost of products go up.'"
"Well, that's too damn bad," he added. "This should shock everyone's conscience."
"The ongoing genocide and mass internment of Uyghurs and other predominantly-Muslim ethnic minorities like the Kazakhs are egregious crimes perpetrated by the Chinese Communist Party," Smith said in a statement.
Background: The Chinese Communist Party has imposed heavy restrictions on Uyghurs, a Turkic-speaking group, and other majority-Muslim ethnicities in Xinjiang province.
The Chinese government has placed hundreds of thousands of Uyghurs into extrajudicial mass detention camps.
The New York Times reported recently that activists overseas who denounced the Chinese Communist Party's repression of Uyghurs have found their relatives back home were imprisoned or even killed.
The Chinese government has said its measures in Xinjiang are intended to fight terrorism and extremism, but academics and human rights groups say what's happening is a cultural genocide on a scale not seen since World War II, Axios China reporter Bethany Allen-Ebrahimian writes.
What's next: The Congressional-Executive Commission on China is pushing Congress to pass the Uyghur Human Rights Policy Act and the Uyghur Forced Labor Prevention Act.
The former would require government bodies to report human rights abuses.
The latter would create a "rebuttable presumption" goods produced in the region have been made with forced labor and, therefore, are prohibited from entering the U.S. without clear evidence otherwise.
Go deeper