More startups are offering boozy desserts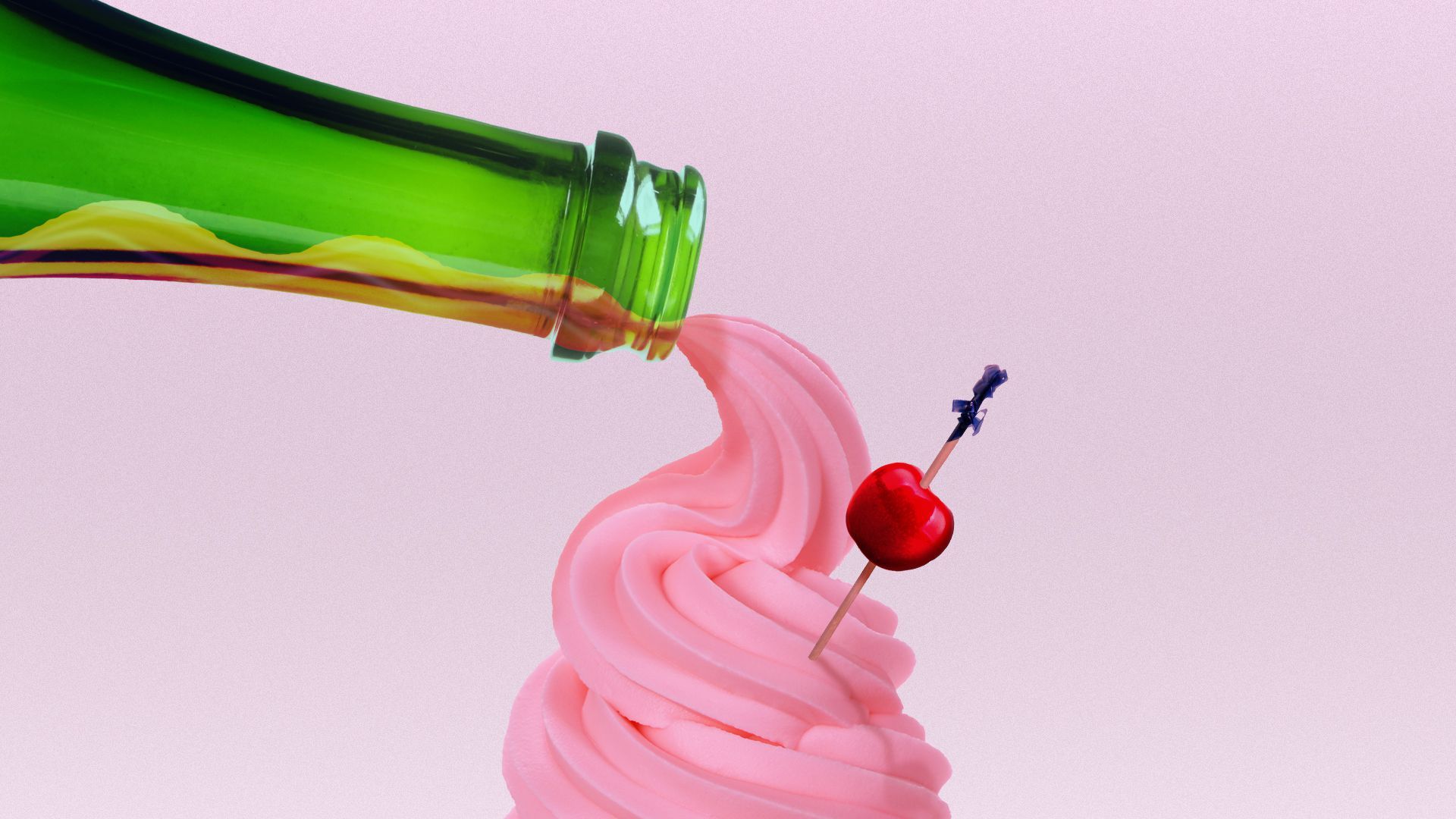 Eating ice cream on a hot summer day is one of the simplest pleasures in life. For those 21 and older, adding a little bit of booze might make it even better.
The big picture: Several startup companies across the country are infusing alcohol into delicious frozen desserts, creating one of this summer's hottest trends, Bloomberg reports
Some states, including New York and California, allow alcoholic ice cream to reach 5% alcohol by volume (ABV) — the same alcohol percentage as a White Claw Hard Seltzer and a Truly Hard Seltzer.
The intrigue: Alcohol freezes at a much colder temperature than water, giving ice cream a much softer consistency — you do not have to wait to eat it after taking it out of the freezer.
By the numbers: The total revenue for alcohol-infused ice cream is expected to reach more than $450 million by 2025, after it exceeded $335 million in 2019, per Bloomberg.
In New York, Tipsy Scoop — which entered the international ice cream market, valued at $65.8 billion in 2020, a few years back — requires that customers verify that they are 21 or older to try their flavors, such as Cake Batter vodka Martini and Tequila "Hot" Chocolate Ice Cream.
Founder Melissa Tavss told Bloomberg that her customer base is comprised of largely "the 30-ish crowd," adults in search of a light buzz.
Clementine's Naughty & Nice Creamery in Missouri offers ice cream flavors that can reach 18% alcohol by weight, according to Bloomberg.
"Too little alcohol — what's the point?," CEO Tamara Keefe told Bloomberg.
As alcohol-infused desserts continue to gain popularity, alcohol companies have started to venture into the business.
The makers of Truly Hard Seltzer created Truly Lemonade Freeze Pops, which contain 5% ABV. Flavors range from regular lemonade to strawberry and mango lemonade.
Together, they work better: Some ice cream companies have started working along alcohol brands in order to offer frozen boozy desserts.
OddFellows Ice Cream Co. — known for its unique creations — partnered with six bars to create "The Boozy Capsule" collection, six ice cream flavors inspired by cocktails.
Ice cream maker Salt & Straw, based in Oregon, created the Cold Ones Pack, which includes several ice cream pints flavored by local breweries. The company's products reach an ABV of 0.5%.

In 2016, the company partnered with Aviation American Gin — owned partly by actor Ryan Reynolds — to make a gin-and-tonic ice cream.
Of note: Will Rogers, owner of the company Below Zero, created a special ice cream dispenser that allows you to turn alcoholic beverages into ice cream cones, per the Milwaukee Journal Sentinel.
The bottom line: Don't choose between treating yourself or getting tipsy, get "chocolate wasted" this summer.
Go deeper