Conservative media's gold diggers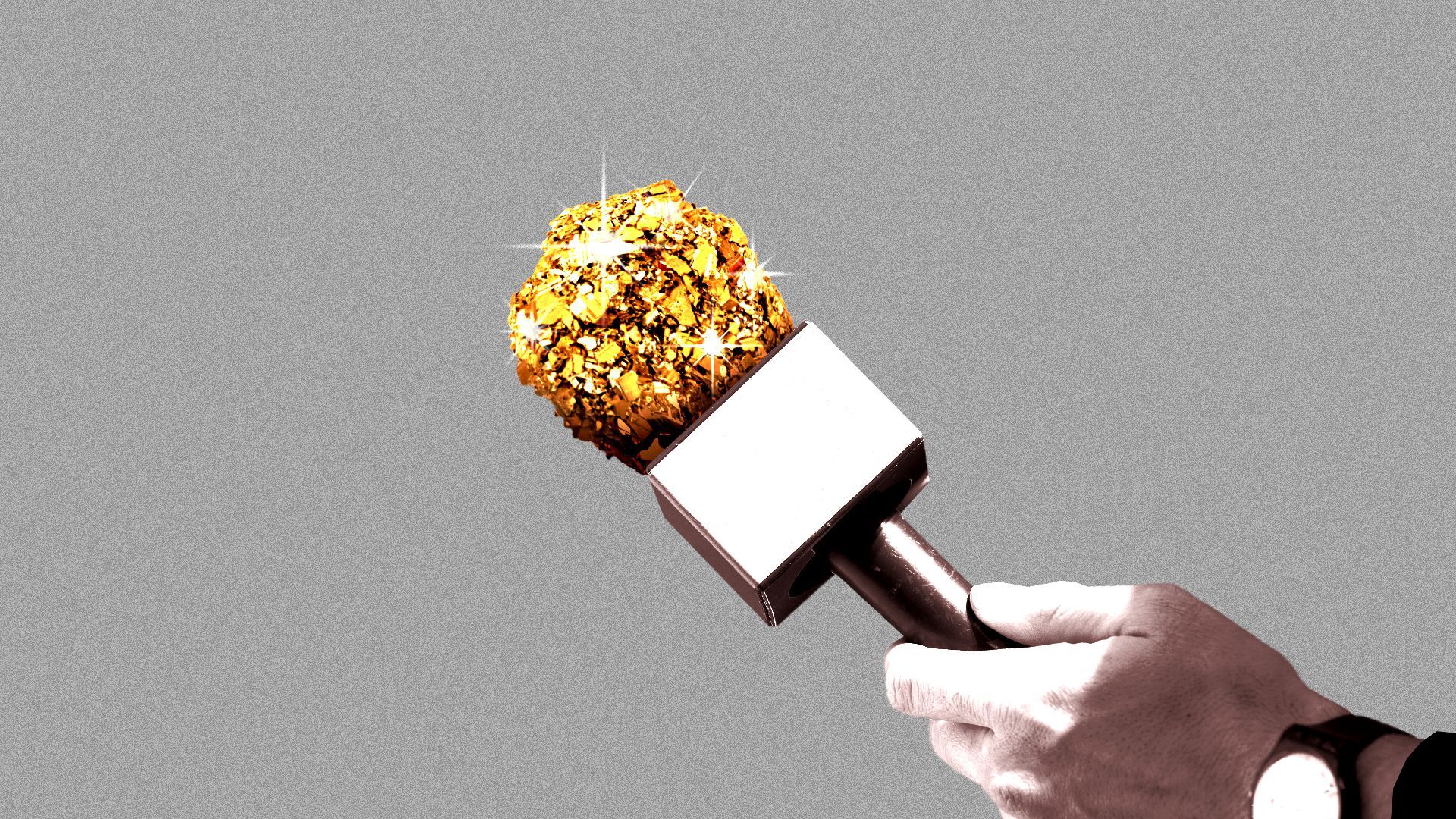 With inflation rising and Congress pumping out massive spending bills, conservative media have focused renewed attention on financial issues — and lent significant airtime to some of the very companies underwriting their shows.
Why it matters: Politics is bleeding into financial advice, and all incentives are to play up impending economic disaster.
"Buy gold" ads have been a cable news and talk radio staple for years. But the present focus on precious metals as a hedge against rising prices is aligning pundits' ideological and financial interests.
The result is a blurred line between political commentary and paid advertising.
Prominent conservative voices such as Ben Shapiro and Steve Bannon have hosted interviews this year with Phillip Patrick, a "precious metals specialist" with the company Birch Gold.
Birch Gold sponsors Bannon's and Shapiro's shows, as well as those of other prominent conservative talkers such as Larry Elder and Hugh Hewitt.
Patrick and Shapiro discussed the rising rate of inflation and Biden administration spending plans in a March interview, and plugged gold and silver as ideal offsets to a devalued dollar.
Bannon interviewed Patrick on Monday for his "War Room" podcast, shortly after a recorded Birch Gold ad in which Bannon told listeners they "must have precious metals in [your portfolio], gold and silver."
He and Patrick discussed an impending vote on the federal debt limit and the potential collapse of the dollar. Bannon recommended "crypto and precious metals" as potential safe havens.
They're not the only players with significant skin in the game.
Another is precious metals guru Peter Schiff, a frequent guest on cable news channels, including ratings leader Fox News, where he recently warned that inflation is going to get "a lot worse" this year.
What they're saying: "I don't advertise products I don't believe in," Shapiro told Axios in an email.
"I diversify my portfolio; I think others should too," he added. "That's particularly true when the federal government actually engages in both short-term and long-term fiscal policy that threatens the value of the dollar, as it is right now."
Bannon said his focus on monetary policy is central to a Biden-era conservative agenda. "You're gonna have to be as sophisticated about that as you are about [critical race theory]," he told Axios in an interview.
Gold, Bannon said, "was the MyPillow of its day," meaning an old-school sponsor of virtually every major conservative talk show. But he said he's leaned on Birch Gold's Patrick for expertise because "the audience loves him."
Schiff has been predicting runaway inflation for years — and using the predictions to hawk precious metals — even as consumer prices remained fairly steady. Now, with inflation rising, opportunities to plug products like his abound.
"I guess you can say I am in the economic and financial gloom-and-doom business," Schiff told a House committee in 2011.
The big picture: Fed Reserve Chairman Jerome Powell said Wednesday that inflation "could turn out to be higher and more persistent than we expect."
Conservative media's focus on rising bills for gas, groceries and other consumer items shows they recognize the issue's resonance against a Democratic administration.
Go deeper