Self-driving technology reaches a crossroads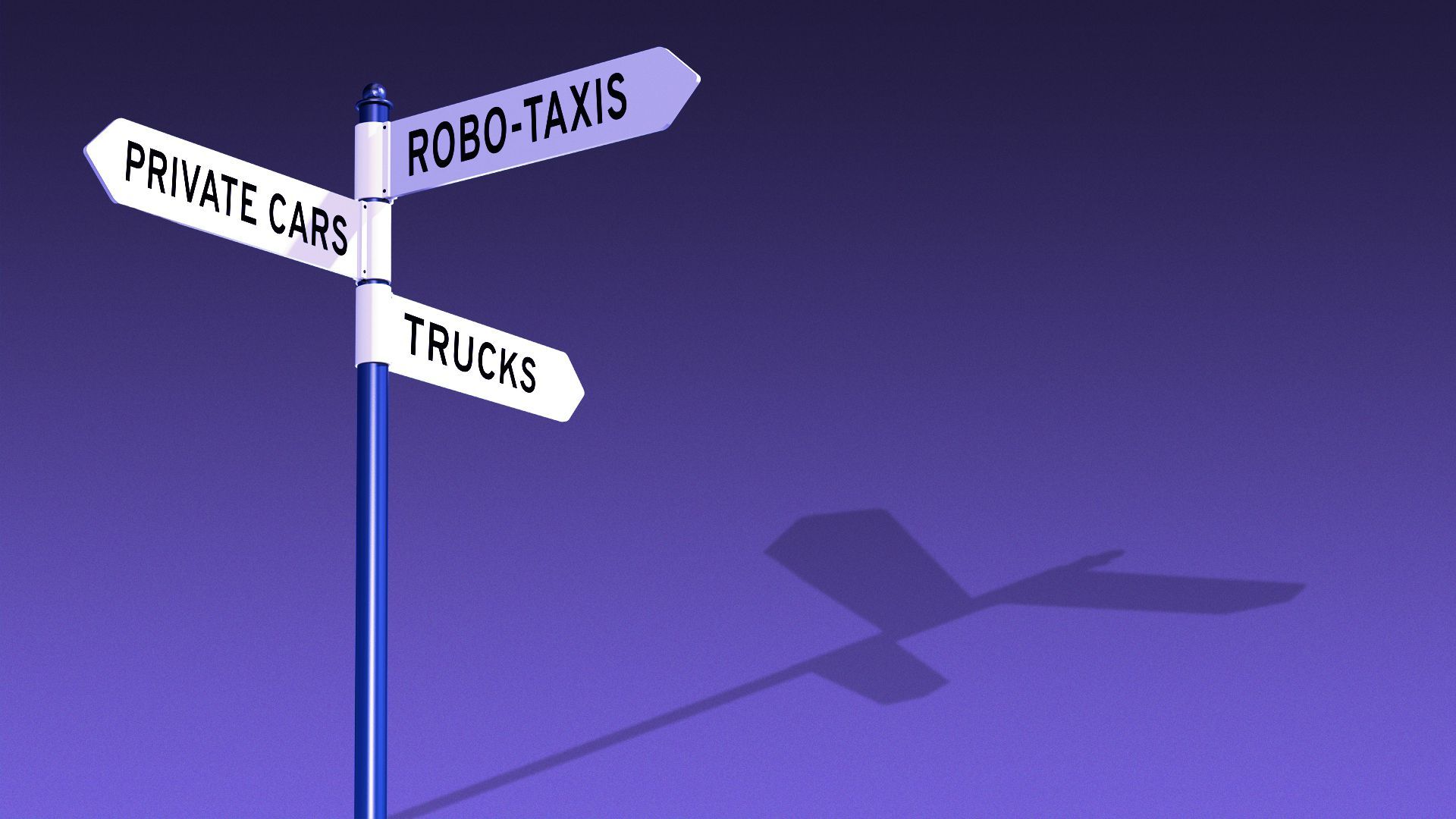 The autonomous vehicle race is turning into a marathon, and the competitors are splintering off in different directions in search of the fastest, safest and most profitable road to self-driving technology.
The big picture: It's boiled down to a three-way contest among autonomous trucks, driverless robotaxis and privately owned cars that sometimes drive themselves.
Wall Street loves self-driving trucks at the moment. And the leading robotaxi developers are still able to raise private capital and borrow billions while fetching huge valuations.
The underdogs making surprising gains are suppliers of advanced driver-assistance systems (ADAS) like adaptive cruise-control and lane-keeping tech. They're taking a bottom-up approach, gradually adding new features until they can achieve full self-driving capability.
The intrigue: ADAS suppliers have built-in advantages over companies pursuing those other strategies. They already make money selling their tech to carmakers, and because millions of cars are already equipped with some form of driver-assistance technology, they have the potential to scale more quickly.
Why it matters: At stake are billions of dollars in sunk investment, which for some companies could wind up being wasted.
The worry for robotaxi hopefuls, as the FT reported (subscription), is that the evolutionary approach by ADAS companies will succeed before they do.
"There's no more dispute around whether robotaxis are real: they are real today," Karl Iagnemma, CEO of self-driving company Motional, told the FT. "The question is whether the other guy can come along and do the same service, the same product, but at half the price. If you've got a competitor who's in that position, you're in big trouble."
The state of play: Autonomous trucks are likely to beat self-driving cars to market because the economics are more favorable.
The pandemic showed how important trucking and logistics are to the economy, but companies are struggling with a shortage of drivers.
Leading AV truck players like TuSimple, Plus, Embark and Kodiak Robotics are preparing to launch self-driving rigs, while traditional truck manufacturers like Freightliner and PACCAR are signing deals to add AV tech from companies like Waymo and Aurora into their cabs.
Robotaxis, meanwhile, are inching closer to deployment. Companies like Waymo, Cruise and Amazon-backed Zoox are building their own ride-hailing networks. Others, like Argo AI and Motional, aim to deploy cars equipped with their tech on existing ride-hailing networks.
Yes, but: Robotaxis won't be deployed at scale for years, if not decades. Instead, they'll be limited to small, slow-moving fleets in specific urban neighborhoods.
ADAS suppliers aren't aiming for the moon, but they're making significant progress toward autonomy.
One example is Mobileye, whose camera sensors are already in millions of cars today.
Those sensors are collecting data that is used to create crowd-sourced maps that will enable AVs to drive anywhere. Last week, Mobileye began testing AVs in New York City.
What they're saying: "If you can conquer New York City, if you can conquer Tokyo, if you can conquer Tel Aviv, it opens up a very, very big part of the world to autonomous driving," Mobileye CEO Amnon Shashua tells Axios.
What to watch: Mobileye plans to launch a robotaxi service by next year, and says it plans to offer fully self-driving personal cars by 2024.
Go deeper