The Delta variant doesn't want you back in the office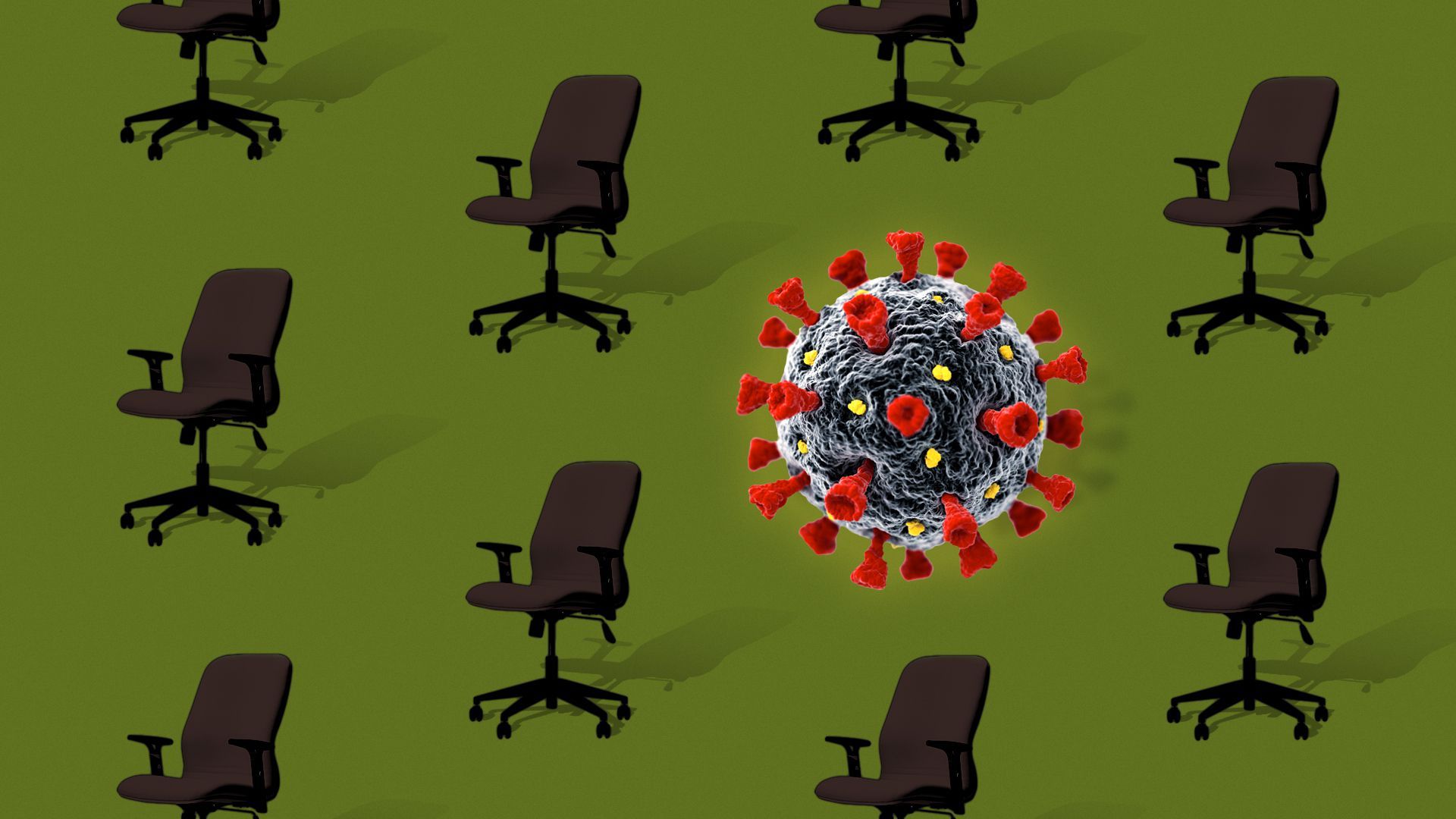 Resurgent outbreaks — including breakthrough infections among vaccinated people — could throw a wrench in plans to bring workers fully back to offices in September.
The big picture: A number of companies and the federal government have targeted the end of summer as the time to bring in-person offices fully online. But rising numbers of COVID-19 cases from the Delta variant could render that goal unrealistic.
Driving the news: The daily average of confirmed coronavirus cases in the U.S. has roughly quadrupled during July, rising from about 13,000 per day to over 43,000 now.
New projections released Wednesday by the COVID-19 Scenario Modeling Hub, a consortium of researchers working in consultation with the CDC, predict that the current coronavirus surge will accelerate through the summer and fall.
The surge is predicted to peak in mid-October, with daily deaths triple the level they are now.
Why it matters: Those projections directly clash with both school reopenings and corporate plans to staff up offices in September.
A recent survey of 1,000 HR professionals by the Society for Human Resource Management and Lucid found that half of U.S. organizations are worried about the more contagious Delta variant and will encourage employees to get a booster shot when one is available.
"There's a renewed anxiety that maybe started to dissipate in the spring — but it's back," Joseph Allen, an associate professor at the Harvard T.H. Chan School of Public Health, told The New York Times.
What's happening: The rising case counts and breakthrough infections are already beginning to set back private and public reopening plans.
Yes, but: The percentage of Americans returning to the office kept ticking upward during July, hitting 34.5% as of July 14, according to the Kastle Back to Work Barometer, which measures office occupancy in 10 major cities.
Despite breakthrough infections, the vaccines remain extremely effective, and the surge is worst in states with low vaccination rates — which also happen to be the states that have been most resistant to instituting restrictions.
Scott Gottlieb, former head of the FDA, predicted on CNBC that the Delta surge would peak faster, by late August — though he also noted that October rather than September would be a more "prudent" time to bring employees back to the office.
What to watch: Whether the Delta variant complicates in-person school reopenings in the fall.
Children under 12 still aren't eligible to be vaccinated, and growing reports of outbreaks at summer camps point to the challenge of keeping young children in schools safe in the midst of a more contagious variant.
If schools can't reopen as planned in September, working parents may not be able to return to offices even if they are opened.
The bottom line: Flexibility has been the corporate watchword throughout the pandemic, and Delta means companies will need to remain flexible for the foreseeable future.
Go deeper