Tunisian president ousts prime minister, suspends parliament amid unrest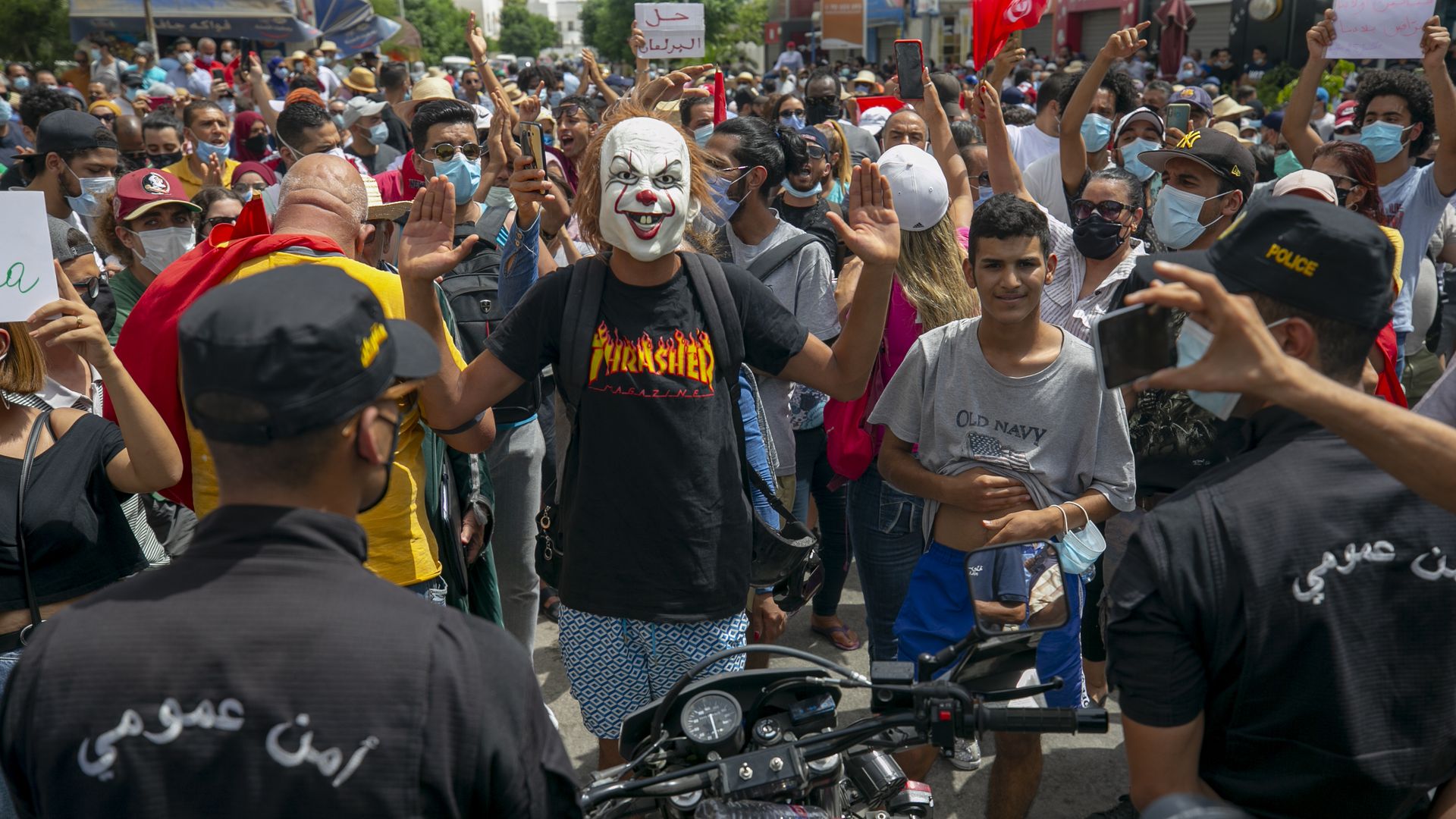 Tunisian President Kais Saied announced Sunday that he had dismissed the country's prime minister and frozen the parliament amidst mass protests in the country, Reuters reports.
Why it matters: The move, which comes on the 64th anniversary of Tunisia's independence, escalates Saied's longstanding feud with Prime Minister Hichem Mechichi and poses a challenge to the 2014 constitution that "split powers between president, prime minister and parliament," per Reuters.
The latest: The State Department released a statement Monday saying it is monitoring the situation and that it has been in contact with Tunisian government officials to "stress that solutions to Tunisia's political and economic troubles should be based on the Tunisian constitution and the principles of democracy, human rights, and freedom."
"Tunisia must not squander its democratic gains. The United States will continue to stand on the side of Tunisia's democracy," the statement concludes.
The big picture: Saied defended his decision as in line with the constitution and said he would assume executive authority alongside a new prime minister, per Reuters.
Saied also suspended the legal immunity of members of parliament.
State of play: Hours earlier, Tunisia was rocked by mass protests in several cities that were fueled by public dissatisfaction with the government's handling of the coronavirus and a worsening economic crisis, Reuters reports.
In several cities, protesters and police clashed violently, as crowds stormed the offices of Ennahda, the biggest party in parliament, while demanding the prime minister's resignation and the dissolution of parliament, according to Al Jazeera.
Sunday's protests were the largest in months and the biggest to target Ennahda in years, per Reuters.
What they're saying: "Many people were deceived by hypocrisy, treachery and robbery of the rights of the people," Saied said in a statement on state media, per Reuters.
"I warn any who think of resorting to weapons... and whoever shoots a bullet, the armed forces will respond with bullets," Saied added.
The speaker of Tunisia's parliament and the leader of the Ennahda party, Rached Ghannouchi told Reuters that the president had launched a "coup against the revolution and constitution."
Editor's note: This story has been updated with new information.
Go deeper