Haitian president's funeral takes place amid violent protests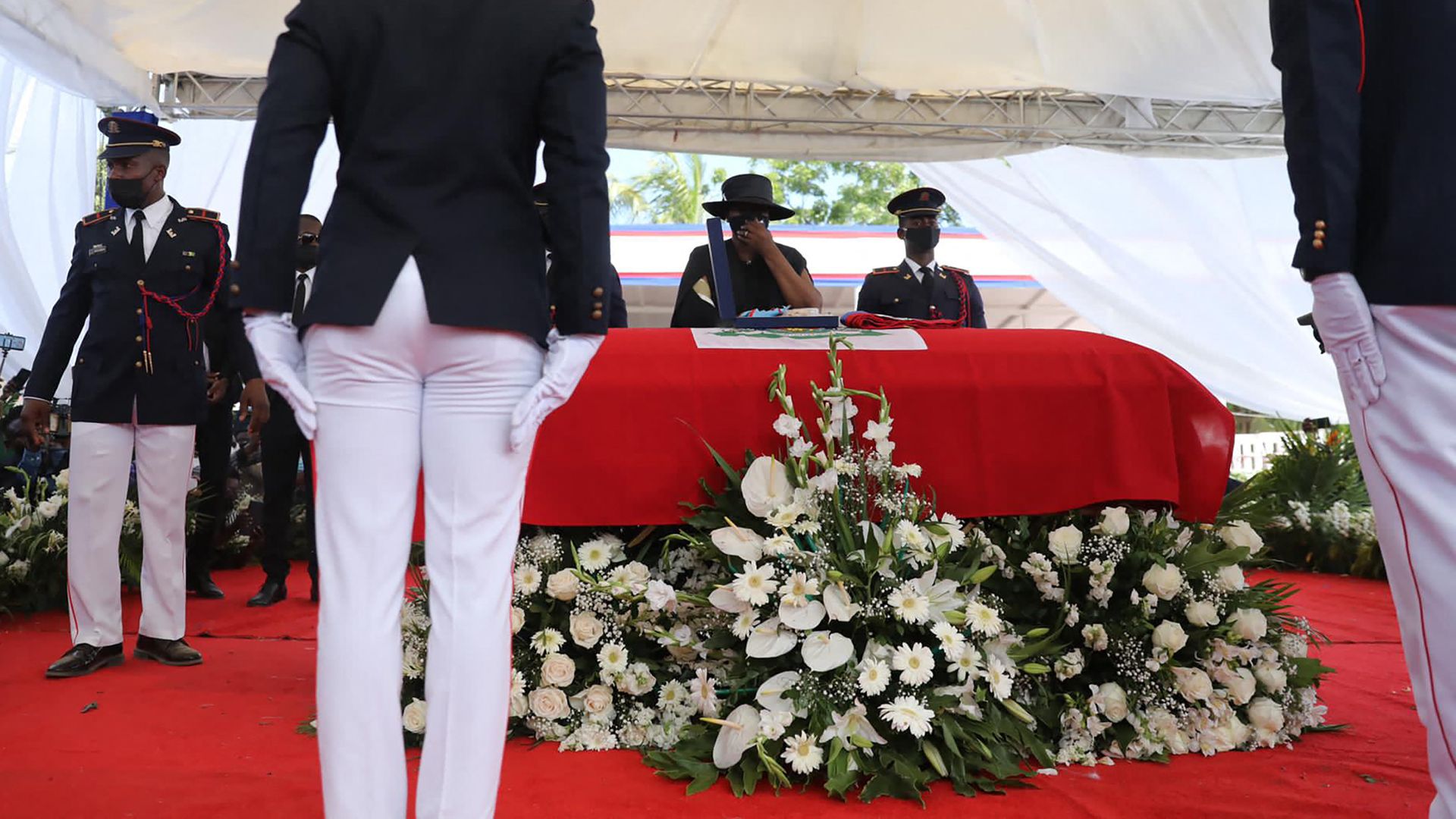 The private funeral for assassinated Haitian President Jovenel Moïse took place on Friday as protests continue to erupt in the country, AP reports.
State of play: At the start of the ceremony, several Moïse supporters stood outside, the residence, shouting, "Justice for Jovenel!" and "Justice! Justice!" as politicians arrived. When León Charles, Haiti's national police chief, arrived, people surrounded him, calling him an "assassin," per AP.
Protesters clashed with police outside the event, and shots were fired into the air, U.S. officials told AP. There were no immediate reports of injuries and funeral guests were not put in danger, Reuters notes.
U.S. Ambassador to the United Nations, Linda Thomas-Greenfield, was in attendance, but departed less than a half hour into the funeral, per the New York Times.
"[T]he presidential delegation is safe and accounted for in light of the reported shootings outside of the funeral," White House press secretary Jen Psaki said at a press briefing on Friday.

"They're on their way back to the United States, we are deeply concerned about unrest in Haiti, and this critical moment, Haiti's leaders must come together to turn a united path that reflects the will of the Haitian people."
"We remain committed to supporting the people of Haiti in this challenging time."
The big picture: The funeral comes two weeks after Moïse's assassination and the investigation into what happened remains ongoing. Some protesters "were angry that the president would be buried before the investigation into his assassination was completed," the Times writes.
Several suspects have been arrested in connection to the killing.
Haiti's Ambassador to the U.S. Bocchit Edmond told CNN earlier this month that "there is no doubt" the assassins had inside help.
What they're saying: "They're watching us, waiting for us to be afraid," said Martine Moïse, wife of the late president.
"We don't want vengeance or violence. We're not going to be scared."
Go deeper