California's recall circus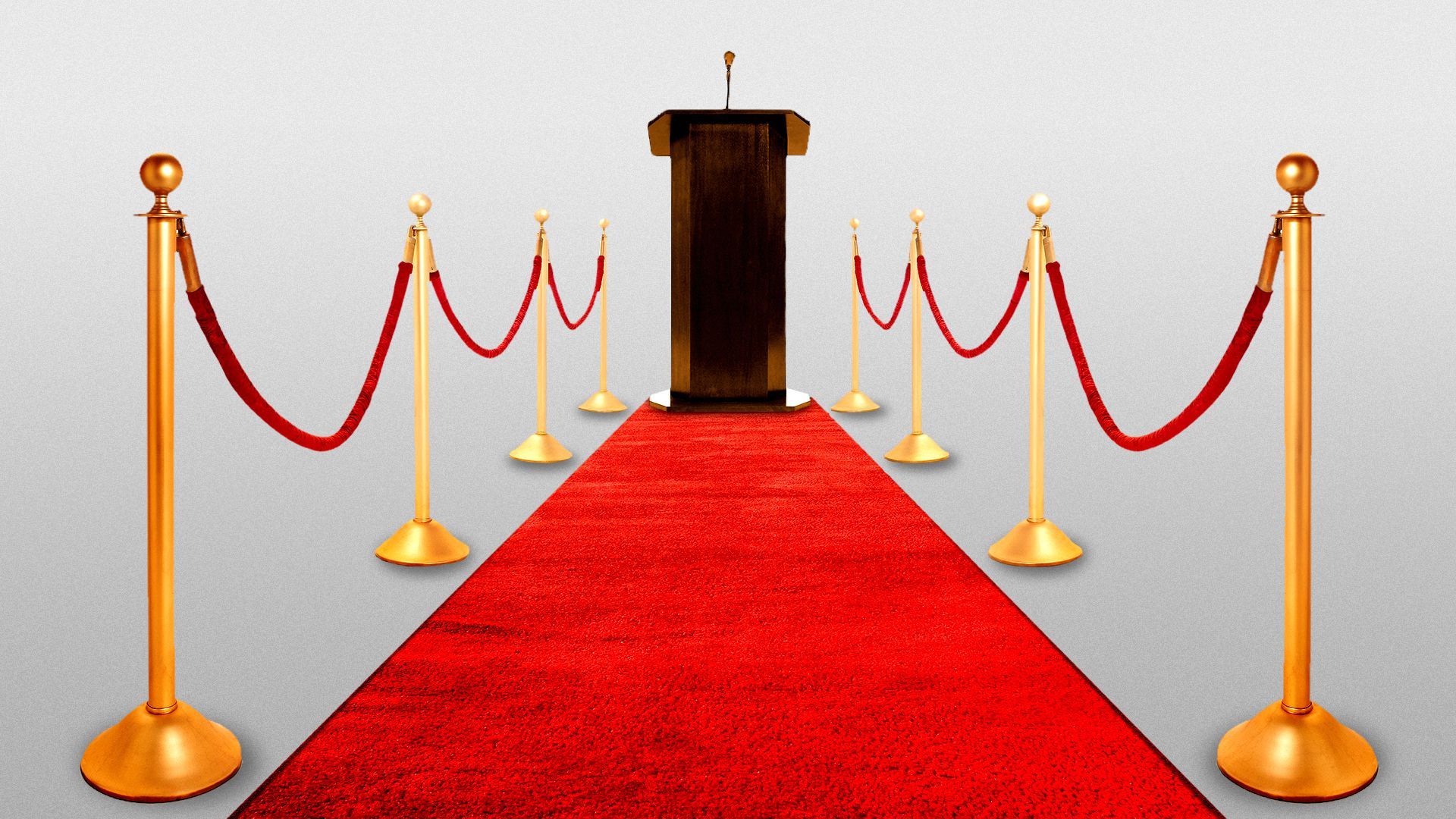 California's gubernatorial recall election has become a casting call for wannabes seeking a giant earned-media opportunity.
Why it matters: Some possible challengers to Democratic Gov. Gavin Newsom are barely mounting a serious campaign. But politics as show business was a winning approach for Donald Trump, and marginal political aspirants appear to be following his lead.
For social influencers and others, the media spotlight is the Holy Grail — not Sacramento.
All it takes is a bit of paperwork and some lofty-sounding rhetoric about taking on the political machine.
The big picture: As the fight to recall Newsom heated up, California Republicans split on whether to get behind a single candidate. That reticence, insiders say, opened the door to long-shot candidates appearing to be using the race as a personal promotion vehicle.
"If it wasn't for this recall ... these candidates would be nobodies," Yolo County GOP co-chair Ray Perez said in describing some of the lesser-knowns.
Perez said he generally agrees with the state party's "free market, let-the-best-candidate-win" approach, but "it hasn't been producing us results, and something needs to evolve to get a better, robust candidate selection."
Between the lines: In a series of tweets this week, Perez singled out one candidate as emblematic: former Pasadena mayoral contender Major Williams.
Williams, a Republican, failed to qualify for the recall ballot, which the California secretary of state's office officially released last weekend.
State records show he hadn't even filed much of the paperwork required to earn a spot. Williams' campaign, which raised nearly $300,000, was "almost borderline fraudulent," Perez wrote.
In a series of Instagram posts this week, Williams blamed the paperwork errors on his staff and what he described as the forced closure of the campaign's bank account. He also announced his intention to run as a write-in candidate.
What Williams has already won is extensive earned media, particularly from conservative outlets. He even landed a coveted interview on the Fox News morning program "Fox & Friends."
Williams has continued asking for donations, even after being cut off by the online payment processor Anedot. "Our Accounts team became aware of certain information and closed the account," an Anedot spokesperson told Axios.
Williams' campaign referred questions to statements on his Instagram account, in which he's denied he's in the race to boost his personal profile. "I don't want to be this social media influencer," he said in one video this week.
But he's turned to the influencer monetization platform Monytize, where Williams is now steering his social media followers. He's also selling merchandise at the website AmerciaForever.com, which says in a disclaimer, "This is a private, for-profit business. No allifiation [sic] with" the Williams campaign.
It's not just Republicans using the race to build a brand. The recall contest was sprinkled with other, more established social media personalities too.
Democrat Kevin Paffrath, a real estate agent, sued the California secretary of state to let him list the name of his popular YouTube channel, Meet Kevin, on the recall ballot. A judge shot down the request Wednesday, ruling that Meet Kevin was a "brand," not a name for legal purposes.
Mary Carey, a former adult film actress, built a huge Instagram following off of fame derived from her 2003 gubernatorial recall run. She ran again as an independent this year but failed to secure a spot on the ballot.
Even more serious contenders in the race have faced speculation they're using the recall to generate media interest.
Olympic gold medalist and reality TV star Caitlyn Jenner was recently reported to be campaigning with a film crew in tow, fueling speculation she could market her effort as a documentary series.
"As with any candidate that has done [so] in the past, there are cameras filming Caitlyn at certain big political events like CPAC," a campaign spokesperson told Axios. "There is no deal for any television show or documentary."
Conservative radio host Larry Elder entered the race just last week. When he failed to make the ballot, Elder sued California's secretary of state.
Meanwhile, he continued soliciting campaign contributions — and casting his exclusion from the ballot as political persecution.
"The radical Left is desperate to keep Gavin Newsom in charge. They are trying to rig the recall election by keeping me off the ballot for Governor of CA!" Elder declared in a round of social media ads this week.
On Wednesday he prevailed, and will have a spot on the ballot in September.
Go deeper