Interview: Belarus opposition leader calls on U.S. to be "braver"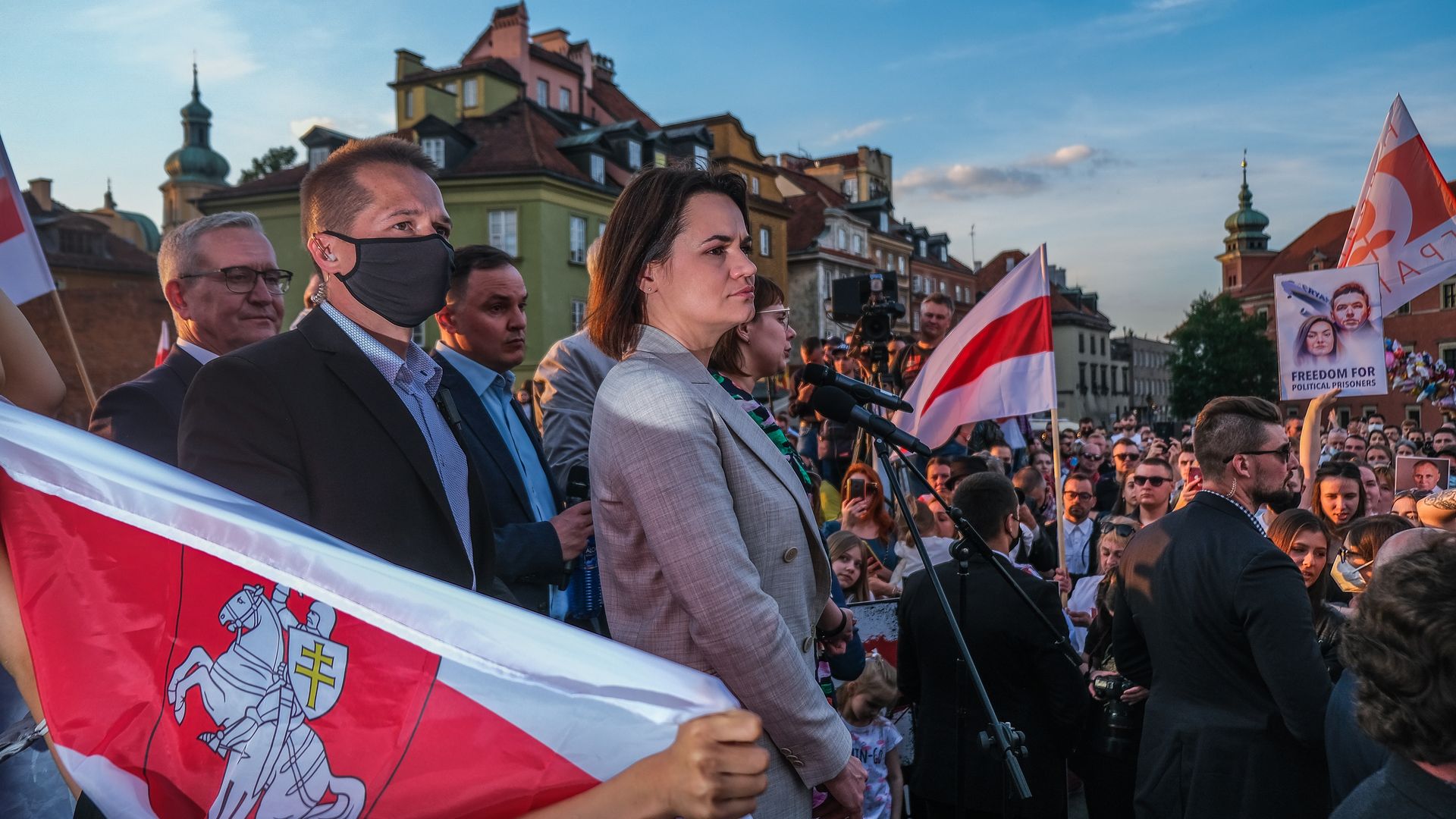 Belarusian opposition leader Sviatlana Tsikhanouskaya asked top U.S. officials this week to be "braver" and "stronger" in challenging Aleksandr Lukashenko's regime, she told Axios in an interview on Wednesday.
Driving the news: Tsikhanouskaya met with officials including Secretary of State Tony Blinken and national security advisor Jake Sullivan, urging them to apply new sectoral sanctions and attempting to revive some international momentum nearly a year after massive protests first broke out in Belarus.
What she's saying: Tsikhanouskaya says that when she proposed sectoral sanctions on government-controlled industries — potash, petroleum, steel, lumber — U.S. officials responded with concern about how such sanctions would affect the people of Belarus.
She argued that the people were already suffering and that stronger action earlier, particularly from the EU, could possibly have struck a decisive blow against Lukashenko.
Now, she says, the U.S. has a "moral obligation" to stand with Belarusians who are on "the front lines of this world struggle between autocracy and democracy."
State of play: The unprecedented demonstrations that began after a rigged election last year — in which Lukashenko claimed a landslide victory over Tsikhanouskaya — endured for months before fading amid a brutal crackdown from Lukashenko's security forces. Hundreds of Belarusian activists are in jail and many more have fled the country.
Tsikhanouskaya acknowledges that the eyes of the world, and those of Washington and Brussels, have shifted onto novel crises since then.
"My task when I'm doing these official visits is to say, 'Look, I understand the picture disappeared. You were all inspired by our people in those days. But the processes are still going on. People are not going out onto the street not because they gave up, but they were repressed with violence and guns."
— Sviatlana Tsikhanouskaya
The backstory: Tsikhanouskaya only entered politics shortly before the election, after the arrest of her husband, a blogger and activist who had intended to run.
His trial began last month and is taking place in secret, Tsikhanouskaya says, "because Lukashenko is really afraid of those unbroken people who were the leaders of the movement, who gave inspiration to people."
"For me, it's rather difficult to be at this place knowing that my husband is a hostage and so are the other people. Of course, he is my beloved person and first of all, I am thinking of him, but all those other people are in my heart as well," she says.
"Moreover, I am an inexperienced person and there is such a high responsibility on me at the moment," she says, before quickly adding that the ordinary Belarusians risking prison every day are facing just as much.
What's next: Tsikhanouskaya says Lukashenko's government is a stool resting on three legs: money, violence and Russia. Coordinated Western sanctions could cut out the financing leg and cause regime insiders to turn on Lukashenko, she argues — though he is no stranger to surviving under sanctions.
She also says there will be another nationwide workers' strike, but it's not clear when.
Tsikhanouskaya paints a dark picture of what Belarus will become if Lukashenko hangs on. The country could become "a second North Korea, where nobody has a voice" or be swallowed up by the Kremlin, which has proposed a Belarus-Russia commonwealth.
"We really don't know what's going on beyond the curtain — what Lukashenko is selling to buy loyalty of Kremlin," she says. "Enterprises, banks ... maybe even our independence."
Go deeper