The underdogs from Latin America vying for Olympic gold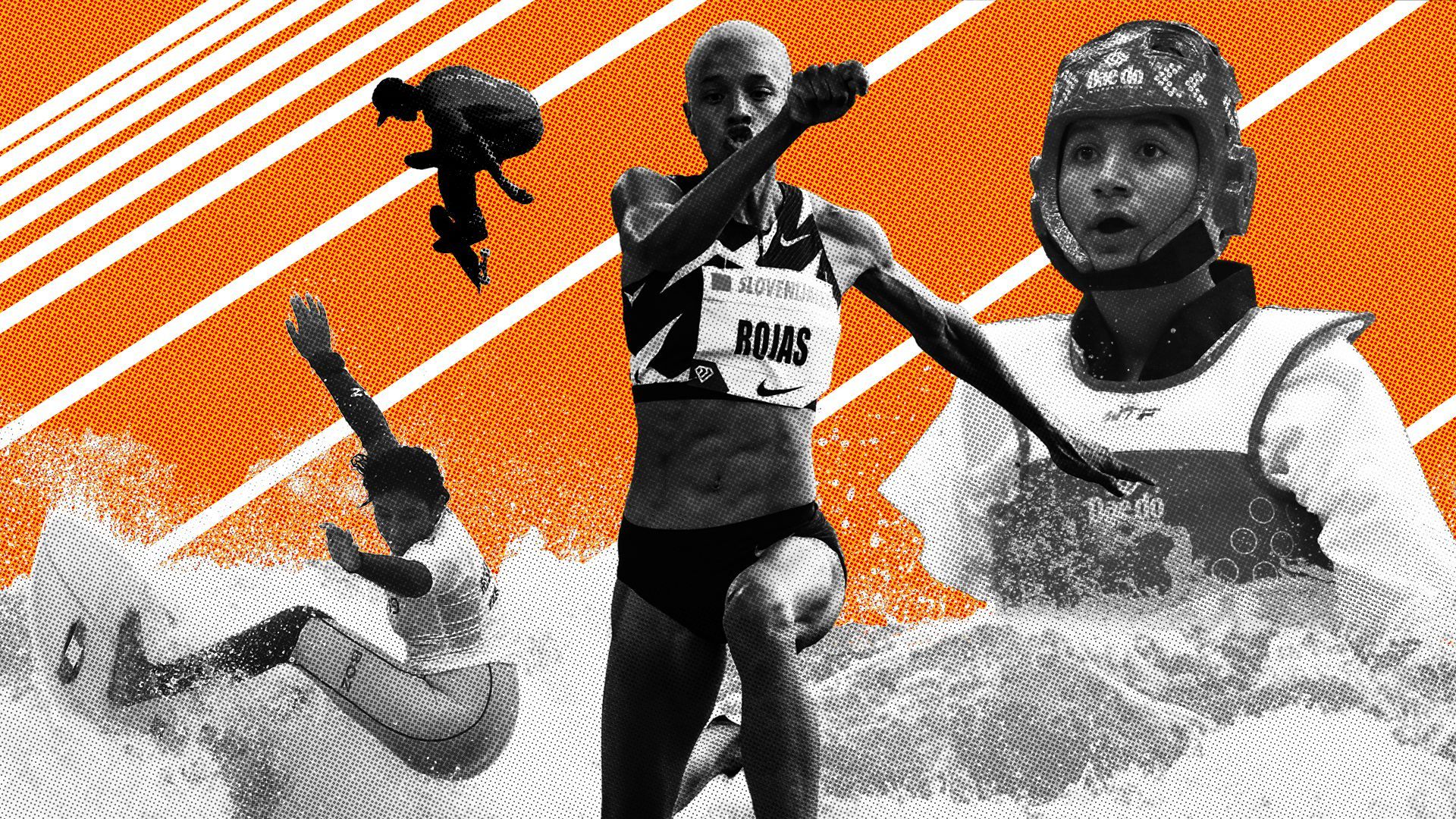 Athletes from more than 20 countries in Latin America and the Caribbean are primed to compete in Tokyo — some making their Olympic debuts, and others overcoming obstacles like lack of training facilities, money for equipment or violence at home.
Why it matters: The athletes come from countries where most Olympic sports are underfunded and sponsorships were hard to come by even before the pandemic. Add a new challenge this year: The coronavirus continues to run rampant in their countries.
They have pushed ahead undaunted, preparing to take on the best athletes in the world through sheer hard work, moxie and ingenuity.
What they're saying: "We can hardly fulfill our ambitions when we are not given tools with which to prepare," Mexican boxer Esmeralda Falcón said in 2019. "But we're still giving our best and would die trying."
Falcón will be her country's first female boxer at the Olympics.
Yes, but: Not all athletes feel the same straits when dedicating themselves to their sports.
Dominican equestrians Yvonne Losos and Héctor Florentino live in Florida, where they train daily and compete.
First timers: Athletes worth watching in their sports' debut on the biggest international stage include:
Surfing makes its Olympic debut with a third of the male and female roster hailing from Latin America. Look for Pan American surfing champion Lucca Mesinas, from Peru.
Also looking to ride the pocket all the way to the medal stand are Peruvian teen Daniela Rosas; Costa Rican Brisa Hennessy, and the top three ranked men: Brazilians Gabriel Medina, Italo Ferreira and Filipe Toledo.
Current para-taekwondo world champion Juan Diego García, from Mexico, is looking to win on a bigger stage, in his sport's first games entry.
Chilean teen skateboarder Josefina Tapia nabbed a spot for her sport's Olympic premiere, even though her country doesn't even have a skate park that fits the international competition standards.
Puerto Ricans Steven Piñeiro and Manny Santiago will also show off their tricks in Tokyo. Though they're U.S. citizens, the island is considered a separate country by the IOC.
The veterans and the refugees: Jumpers Yulimar Rojas of Venezuela and Caterine Ibargüen, the flagbearer of Colombia, are rekindling their rivalry while hoping to repeat their medal-winning performances from past Olympics.
Ibargüen had to relocate to Portugal to train this past year, while Rojas has been living in Spain for years, away from her country's many economic and humanitarian crises.
Her compatriot Rubén Limardo is a former fencing gold medalist who will compete in the men's epée starting Sunday. He represents Venezuela but now lives in Poland, where he works as a food app deliveryman to scrape by.
Boxer Eldric Sella Rodríguez is also among the 5 million Venezuelans who have left the country to seek political asylum. He is competing as part of the Refugee Olympic Team, formed to give displaced people like a young Syrian swimmer or South Sudanese runners a chance to participate when they have no other sponsoring federation. It is the second time such a team will exist.
The bottom line: The pandemic hit all sports and federations worldwide, but some, like the Latin American and Caribbean associations, were already lagging. Now the hope is that athletes who have qualified despite the odds can still go from underdogs to Cinderellas.
Go deeper