Tucker Carlson calls Black Capitol Police officer "angry left-wing activist"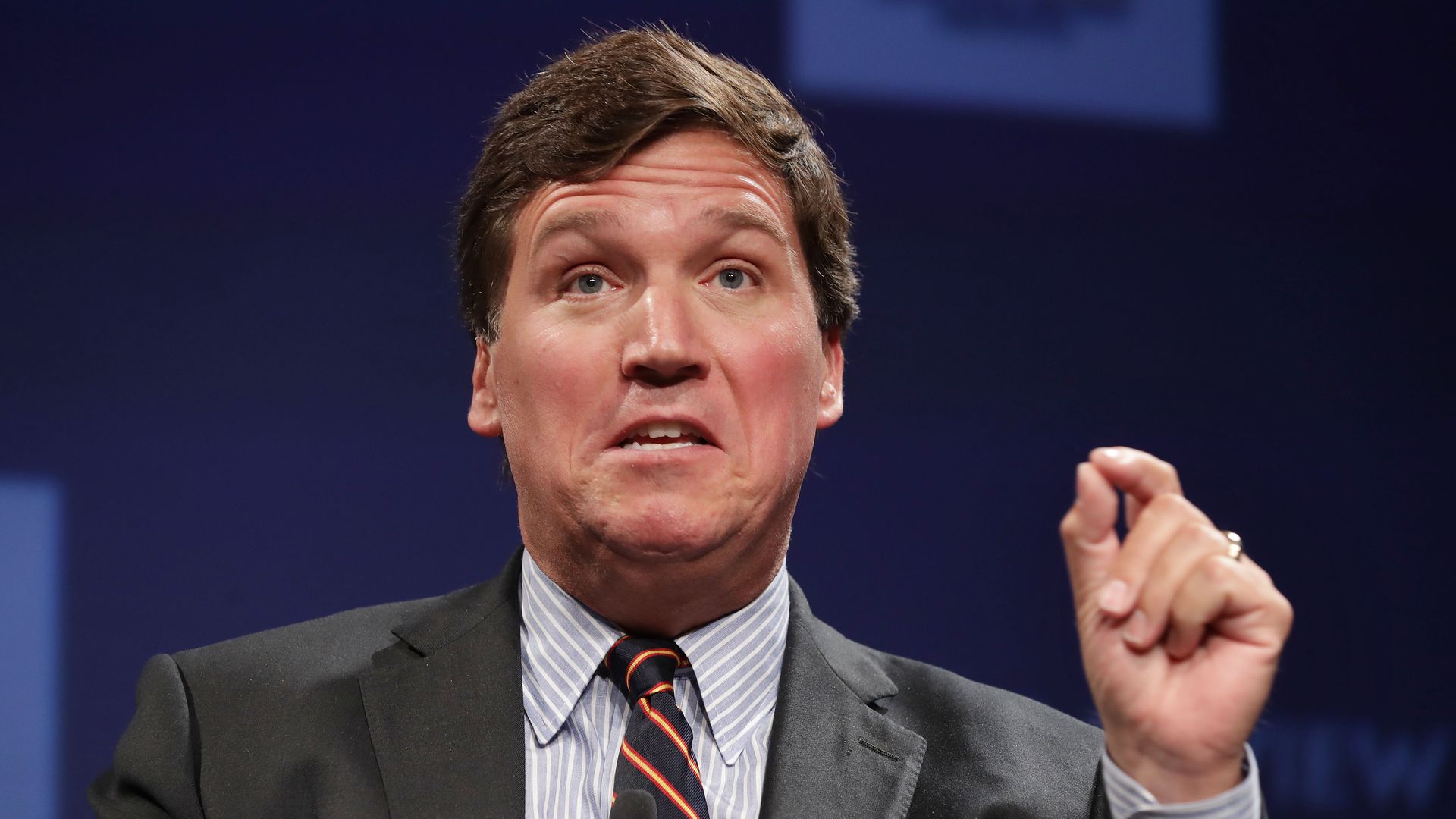 Fox News host Tucker Carlson is facing backlash after attacking a Black Capitol Police officer who said he was called the n-word while defending the Capitol during the deadly Jan. 6 insurrection.
Driving the news: Carlson on his show Wednesday called Capitol Police officer Harry Dunn an "angry left-wing political activist" who "has very little in common with your average cop." 
Dunn, a vocal advocate for a congressional investigation into the the Jan. 6 Capitol riot, previously told the Washington Post that Black officers endured additional attacks during the insurrection, saying he was called the n-word more than a dozen times.
What they're saying: "Tonight Fox News allowed its host Tucker Carlson, who has not served a day in uniform, whether military or law enforcement, to criticize the heroism and service of African-American U.S. Capitol Police Officer Harry Dunn," the officer's attorneys said in a statement late Wednesday.
"Our client has served 13 years in law enforcement and on January 6, 2021, fought against an insurrectionist violent crowd — no doubt many of them Carlson's supporters — to protect the lives of our elected officials," the lawyers continued.
"Frankly, the last thing Carlson wants is for the truth to emerge of what happened that day and why."
Rep. Eric Swalwell (D-Calif.) in a tweet posted after Carlson's remarks thanked Dunn and other officers who protect the Capitol.
"He put his body between lawmakers and an armed mob," Swalwell said.
Fox News did not immediately respond to Axios' request for comment.
The big picture: Dunn is expected to testify before the House select committee examining the Capitol attack on July 27.
Efforts to form a bipartisan committee fell apart on Wednesday after House Speaker Nancy Pelosi rejected Reps. Jim Jordan (R-Ohio) and Jim Banks (R-Ind.) as two of the five Republican appointments over past statements that "make it impossible for them to exercise judgement."
House Minority Leader Kevin McCarthy responded by threatening to pull the five Republicans off the committee and instead pursue his own investigation.
Go deeper