Exclusive: New polling shows support for Biden clean energy goals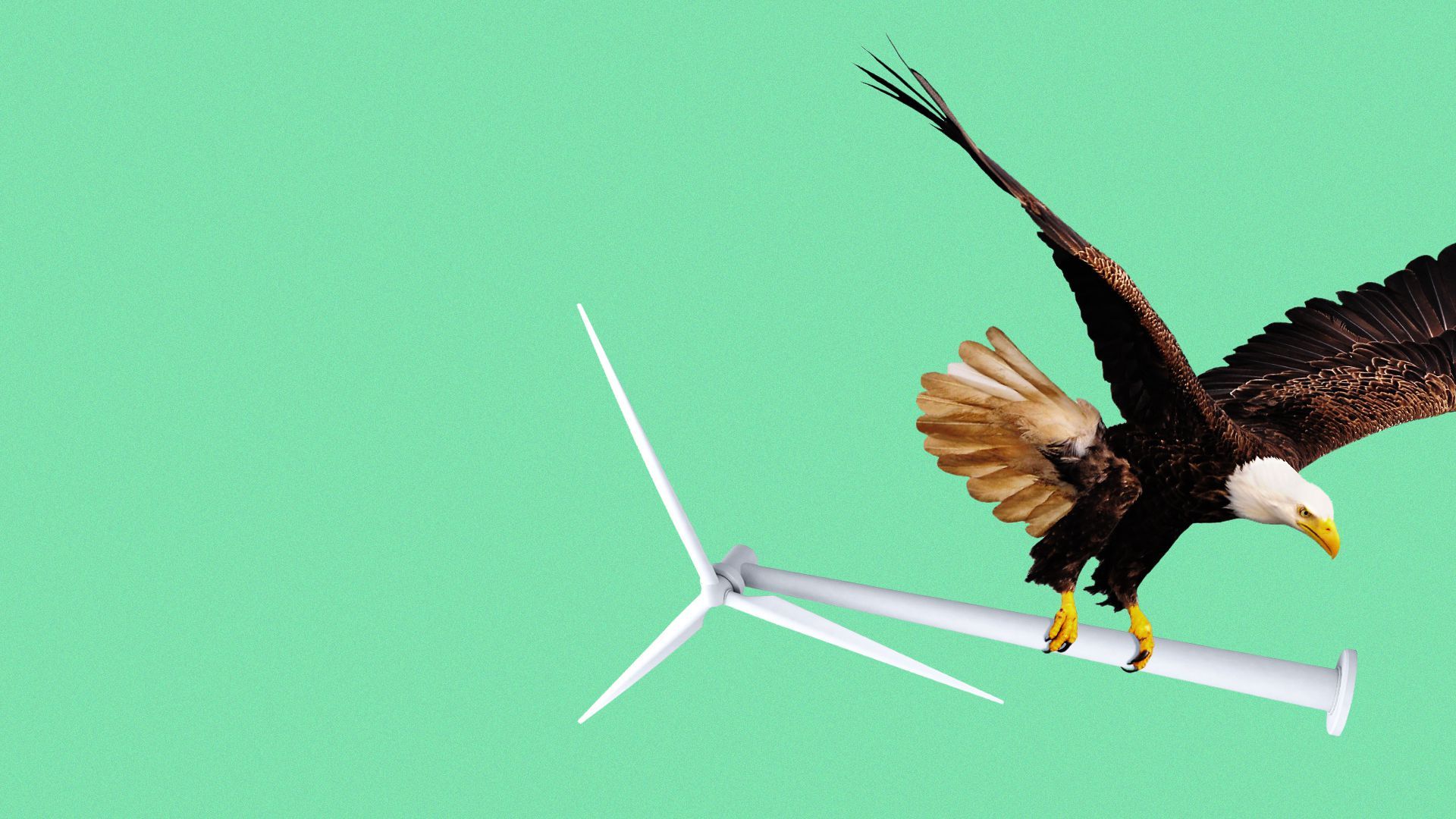 A majority of Americans say they are in favor of transitioning to 100% clean energy by 2035, regardless of whether they're living in a blue or red state, according to new polling provided first to Axios.
Why it matters: The polling, presented in the form of a national map broken down by states and congressional districts, shows how popular the idea of the clean energy transition can be. It could serve as a warning sign for lawmakers opposing clean energy provisions in the infrastructure bills under negotiation on Capitol Hill.
What they did: Researchers from Third Way and the University of California at Santa Barbara used a statistical model to analyze survey results from 20,455 individuals. Each person was asked the same question: "Would you support or oppose the government moving the country to a 100% clean energy electricity grid by 2035?"
They then used peer-reviewed techniques to take the data and "downscale it" using demographic data from the Census to see how it may apply regionally, state-by-state, and congressional district-by-district.
What they found: Support among likely voters for President Biden's clean energy goal is surprisingly broad, the poll found.
The majority of voters in every state and in all but six congressional districts endorsed the goal of a 100% clean energy grid.
Even deep red states such as Mississippi and Alabama showed clear majority support for Biden's goal. And coal-producing states, such as Wyoming and West Virginia, showed narrow majority support (52% and 53%, respectively).
The policy goal was also popular in states featuring midterm election campaigns, like Arizona, Georgia, and Ohio. 
Matto Mildenberger, an associate professor of political science at the University of California, Santa Barbara, and a co-author of the new report, has found that the techniques used in this study match the true values of independent polling data to within 3 percentage points.
They also match views at the congressional district level to within 7 percentage points or less, he said.
What they're saying: "It shows us that there is a base of support for federal action to move the country to 100% clean electricity in every single state across the country, and that's all blue, all red states, swing states," Lindsey Walter, the deputy director of Third Way's climate and energy program, told Axios.
Yes, but: The polling did not ask any follow-ups about potential consequences of the move to clean energy technologies, such as increased energy costs, which is possible but not definite since it depends on how policies are designed and implemented.
It also did not identify the goal as being associated with President Biden, which could've skewed the results.
Also, Third Way has an agenda in pushing for Biden's climate policy, as a group that researches and advocates for center-left thinking.
The polling is limited since it does not tell us what policies voters prefer in order to reach the goal of 100% clean electricity by 2035. 
The bottom line: Nevertheless, the polling provides insights on the breadth of support among Americans for the energy transition at a critical period of policymaking on this issue.
Go deeper