Argo, Lyft to launch self-driving Ford vehicles in Miami and Austin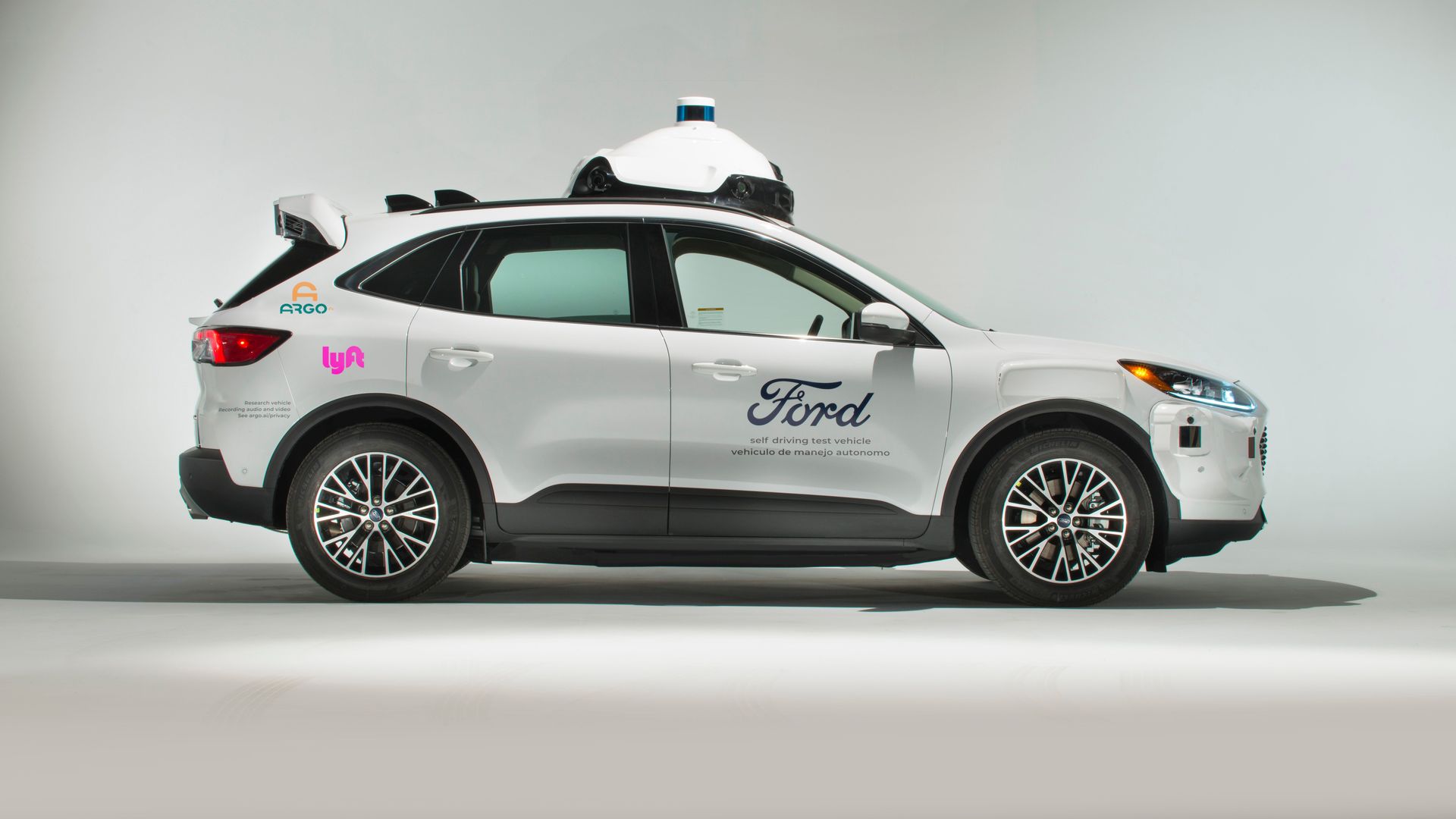 Ford and its self-driving technology partner, Argo AI, plan to deploy robotaxis on the Lyft ride-hailing network later this year, as autonomous vehicles inch closer to reality.
Why it matters: The AV technology race has narrowed to a half-dozen major players, including Pittsburgh-based Argo, which is backed by Ford and Volkswagen. But it has long been unclear how any of them will turn AVs into a viable commercial service.
Today's announcement offers one potential pathway to deploying robotaxis "at scale," Argo CEO Bryan Salesky said.
What's happening: Ford will produce the fleet of vehicles, Argo will provide the autonomous technology and Lyft will supply the riders through its ride-hailing network.
"This collaboration marks the first time all the pieces of the autonomous vehicle puzzle have come together this way," said Lyft co-founder and CEO Logan Green. "Each company brings the scale, knowledge and capability in their area of expertise that is necessary to make autonomous ride-hailing a business reality."
Details: The autonomous ride-hailing service will launch in Miami later this year and in Austin, Texas, early in 2022.
Those initial services will lay the groundwork for deploying at least 1,000 autonomous vehicles across multiple markets over the next five years, the companies said in a joint press release.
The intrigue: The deal includes a unique "equity for data exchange" that will give Lyft a 2.5% stake in Argo in exchange for access to data about its network that will help validate Argo's commercialization strategy.
That stake is worth about $181 million, based on Argo's $7.25 billion valuation a year ago.
Yes, but: Argo plans to go public in the next year or so and is likely to fetch a higher valuation, which would make Lyft's stake worth even more.
Between the lines: As part of the agreement, Argo will use anonymized service and fleet data from Lyft to identify the markets where self-driving cars could have the biggest impact.
Argo will also learn about the safety risks within each market.
"We've already been building a database of public local collision data from multiple sources in order to measure the performance of our technology versus human drivers on a street-by-street basis," Salesky wrote.
"Our partnership with Lyft will add a critical layer of knowledge about the safety, or lack thereof, of our streets."
That will enable Argo to measure the performance of its self-driving system on specific streets and to create what it calls a "geonet," or a network of streets where it can operate safely.
Go deeper