Resources pushed to limit as wildfires burn across U.S. and Canada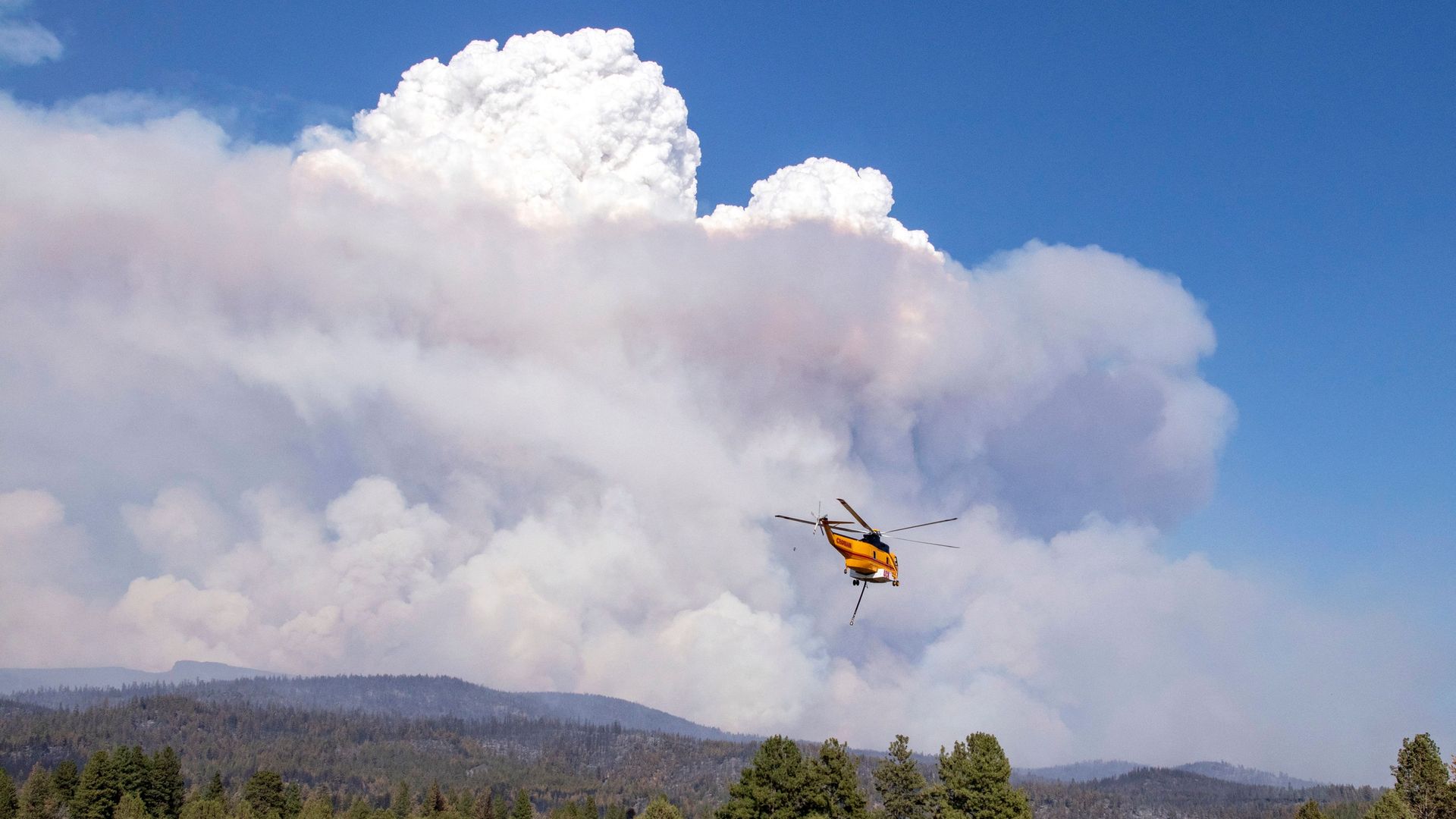 Fire officials are seeing resources stretched to the limit as scores of wildfires burn across the U.S. and Canada amid hot, dry conditions.
Threat level: In Oregon, officials have called in firefighting support from outside the Pacific Northwest — as the biggest blaze in the U.S., the Bootleg Fire, swelled to 537 square miles Monday.
The potential for more "dry lightning" has left the Oregon officials concerned that more wildfires could ignite. So they've turned to authorities in Arkansas, Nevada and Alaska for equipment including fire engines, according to a statement by Rogue River-Siskiyou National Forest officials Monday.
In California, the massive Beckwourth Complex fire, comprising two blazes in the Plumas National Forest, was 88% contained Monday, so firefighters were "recovering equipment" from burn areas and preparing for the potential of new wildfires, officials told the Los Angeles Times.
In Canada, evacuees from fires in British Colombia's interior were struggling to find vacant accommodation.
By the numbers: 80 large wildfires have burned nearly 1.2 million acres across 13 U.S. western states — including 18 in Montana, 17 in Idaho, and nine in California, according to the National Interagency Fire Center.
"At least 2,000 homes" in Oregon have been evacuated from the Bootleg Fire at some point, as it swells by miles every day — with a further 5,000 properties threatened, per AP. "At least 70 homes and more than 100 outbuildings have gone up in flames," the agency notes.
In California, evacuation orders were in effect in Alpine County, near the Nevada state line, as the Tamarack Fire that's razed 23,000 acres continued to burn uncontained.
Canadian firefighters are battling hundreds of wildfires in British Columbia — including 150 new fires that erupted over the weekend, Canadian Interagency Forest Fire Center data shows.
Hundreds of new evacuation orders were issued in the province, as the Inkaneep Creek Fire swelled to more than 1,700 acres Monday night, CBC notes.
Driving the news: Many of the wildfires started amid an unprecedented heat wave that scientists say was made far worse by human-caused climate change. In addition, climate change is driving an increase in large wildfires in the West over time, especially this year given drought conditions.
Go deeper: FEMA chief heads West as large wildfires rage, heat wave peaks
Go deeper