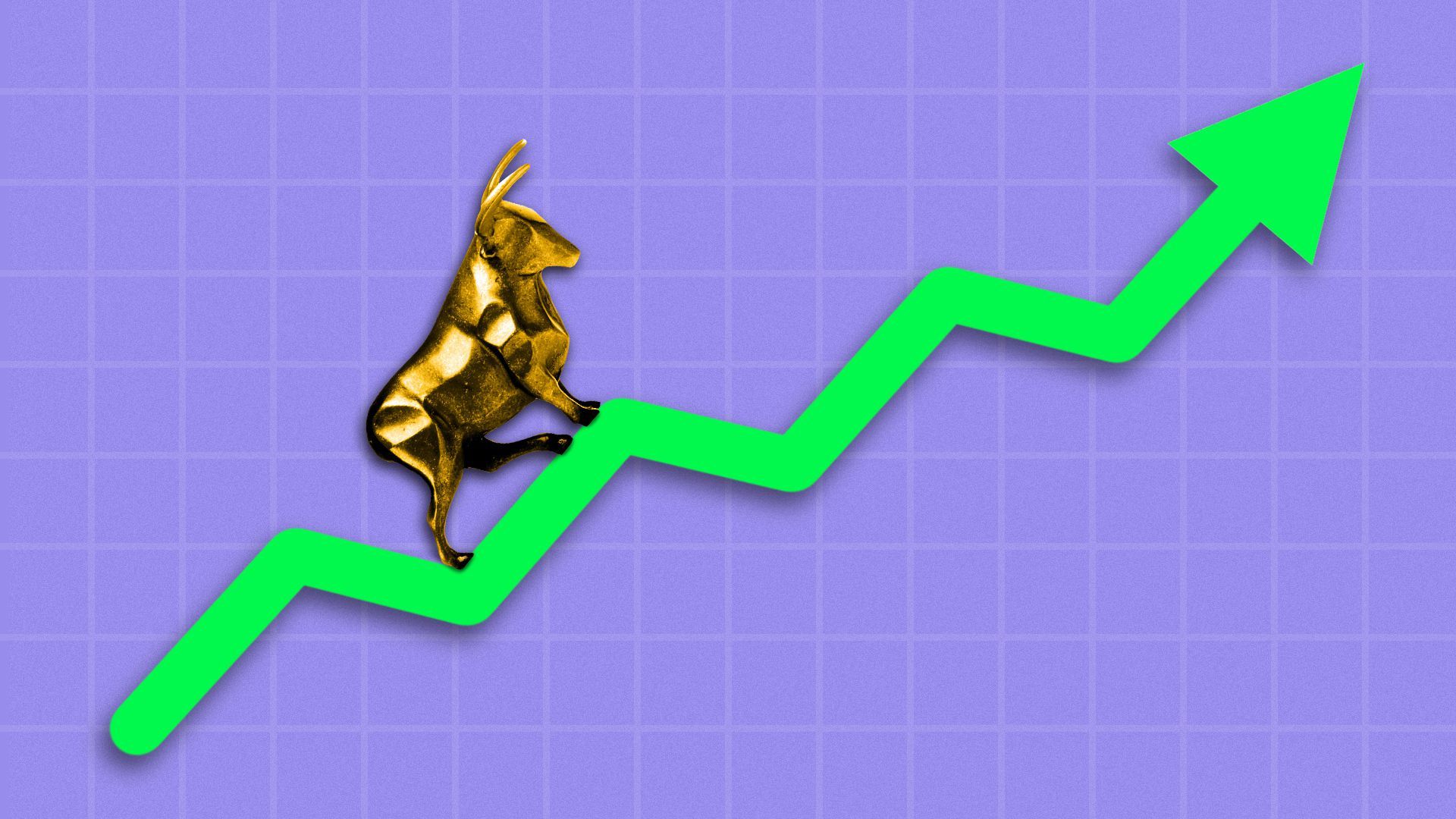 Even with Monday's stock market swoon, the S&P 500 could still rally to 5,000 within the next two years.
Why it matters: A big round number like 5,000 may seem like a stretch. But it's really not if you consider the historical precedents and the fundamentals, which support the case for reaching that milestone from its 4,258 close on Monday.
What they're saying: "If the economy continues to expand post-COVID, and companies continue to prosper in this new world, S&P 5,000 over the next two years seems very doable," Baird market strategist Michael Antonelli tells Axios.
By the numbers: To get to 5,000, the S&P 500 would have to gain a little over 8% per year for two years. This compares to a longer-term average return of about 10%.
"We are currently in year two of the bull market," LPL Financial's Ryan Detrick tells Axios. "So the key is this is actually still a young bull and higher than average returns are possible."
He notes that the S&P produced gains in each of the last five full months, a pattern which on average is followed by another 13% gain in the next 12 months. This gets you most of the way to 5,000.
Threat level: The Federal Reserve is expected to hike interest rates within the next two years, which could cool valuations, says DataTrek Research co-founder Nicholas Colas.
Strong earnings growth could fuel a broad rally that gets the S&P to 5,000 in two years, but it "feels like a stretch," he says.
The intrigue: Instead, Colas argues it's more probable that milestone will be achieved thanks to a handful of massive, high-growth tech names: Alphabet, Amazon, Apple, Facebook and Microsoft.
"If those 5 stocks each gain 30% over the next 2 years, that would be worth 6.6 percentage points of overall S&P gains," he wrote last week.
This path would require the other 495 stocks in the S&P to generate mid-single-digit gains per year for the index to get to 5,000 in two years, Colas says.
The bottom line: Forecasts for further stock market gains would be much more doubtful if they weren't backed by fundamentals. But the underlying economy continues to be one that's got a lot of pent-up demand coming from consumers with a lot of spending capacity.
Go deeper