How the PS5 made a great-looking game possible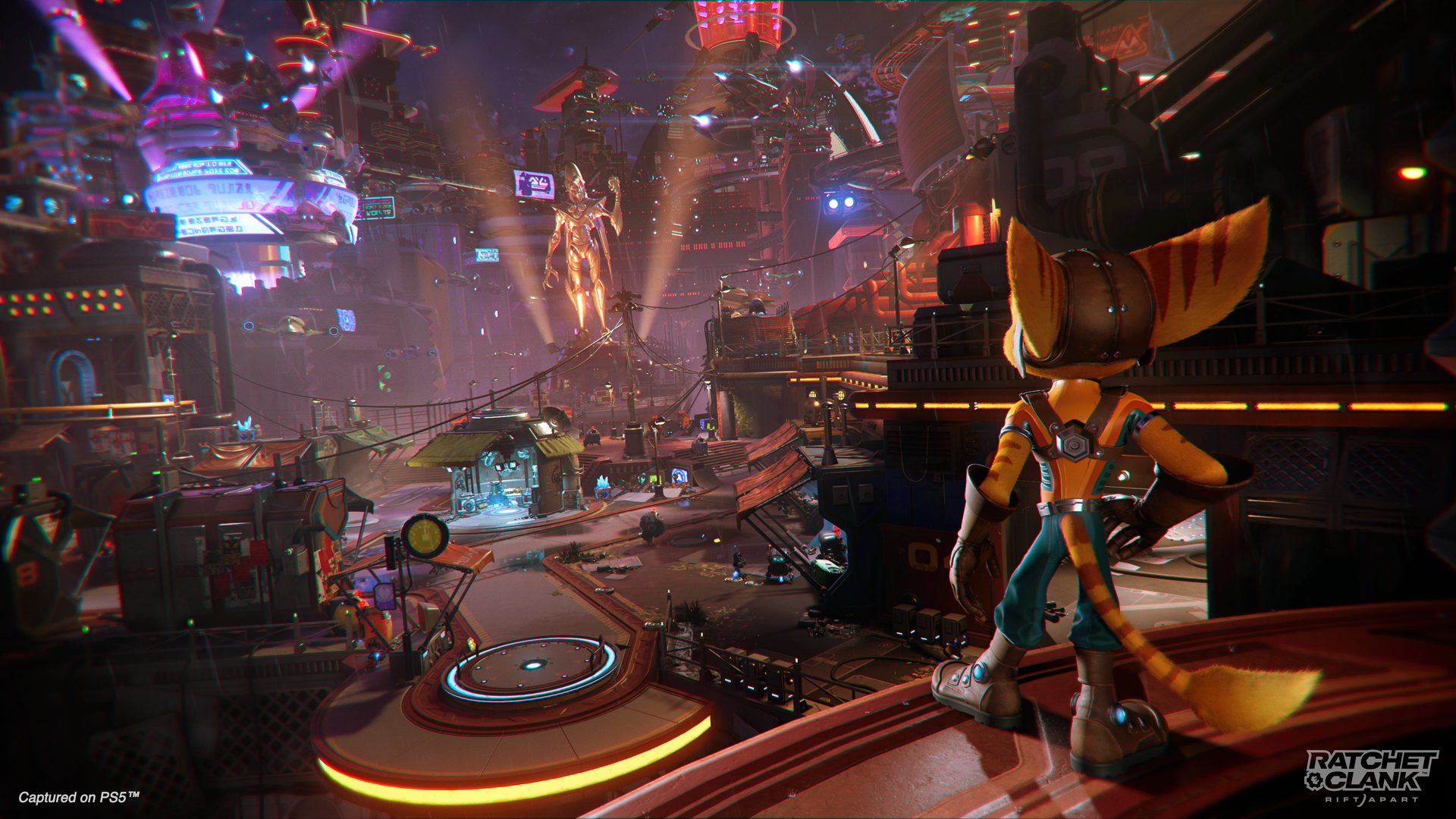 The PlayStation 5's ultra-fast storage deserves a lot of credit for the groundbreaking graphics in the console's recent hit, "Ratchet & Clank: Rift Apart," its developers told Axios in an exclusive interview.
Why it matters: Insomniac Games' recent release is the rare showcase that demonstrates just what a PS5 can do — and what a PS4 couldn't.
Many new games on the PS5 (and Xbox Series consoles) were also made for the weaker tech of the prior generation of consoles, but "Rift Apart" was designed for the PS5.
"We targeted a world density and a level of simulation complexity that fit the power of the hardware," game director Mike Daly told Axios.
"You could make a game like [the new] 'Ratchet & Clank' on the PS4, but just visually speaking, you would have to dial back a ton in order to get it to run."
Between the lines: The "hugest jump" from PS4 to PS5 is the console's speedy solid-state drive, or SSD, Insomniac director of core technology Mike Fitzgerald said.
The improvement isn't just the drive itself, Fitzgerald said, but the hardware pipeline that moves key pieces of data — visuals, sound, etc. — from storage to the game's RAM.
For video games, the speed with which data can be read from storage dictates anything from how long it takes the level of a game to load to how big or detailed the game world that the player is seeing can be.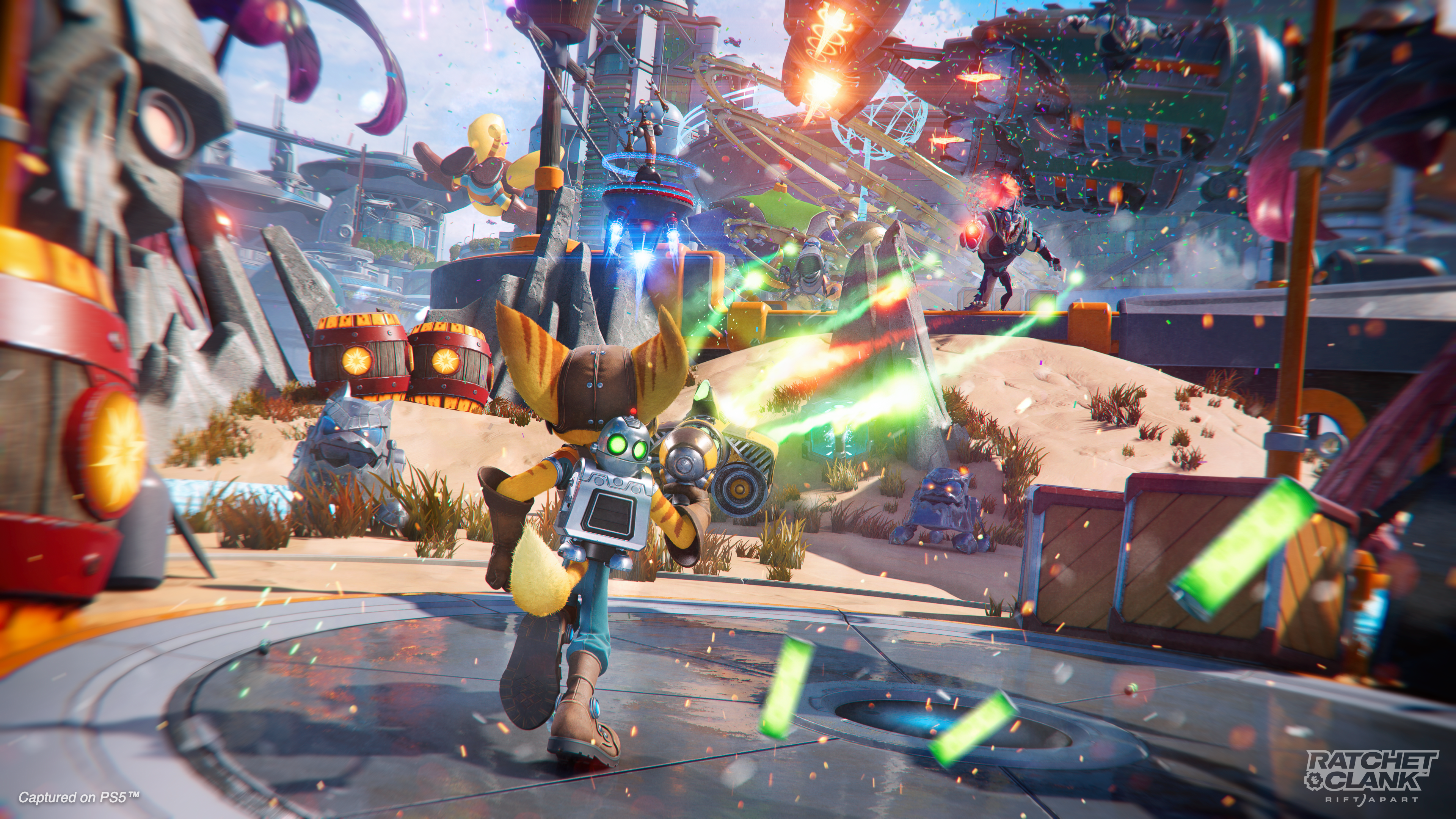 For Ratchet, that SSD enabled faster transitions from one part of the game to another:
In some levels, the game's planetary environments can instantly transform into an alternate universe version: "we're actually entirely unloading one and loading the other one," Fitzgerald said.
In prior games, when Ratchet went from one planet to another, the developers covered necessary loading times with animation of him getting into a spaceship and flying through space. In "Rift Apart" those scenes are just there for effect: "We'll fly in the spaceship for a while and then we still do the whole load in that fraction of a second," Daly said.
The SSD also helped make the game world's visually richer:
For their "Spider-Man" games on PS4, Insomniac focused on displaying long sight-lines in their version of virtual Manhattan, but limits on what they keep loaded into memory narrowed the number of building materials or props that could be used for a given scene, Daly said. "If you spin back around, we can get them there in time," Daly said.
For "Rift Apart," Insomniac focused on visual variety and density, knowing they didn't need to reserve memory for, say, may of the things that might be off-screen, behind a player.
"We spend as much memory as we can on just the things you can see in front of you at this moment. And the more we can do that and learn how to do that, the more stuff we can cram in there on, like a per pixel by pixel, basis."
The bottom line: Games such as "Rift Apart" that are exclusively designed for the newer consoles will remain rare for some time.
Most of Sony and Microsoft's upcoming releases well into 2022 will be made to run on the previous generation of consoles and the new one.
Go deeper