"Psychonauts 2" developers say Microsoft purchase helped make the game bigger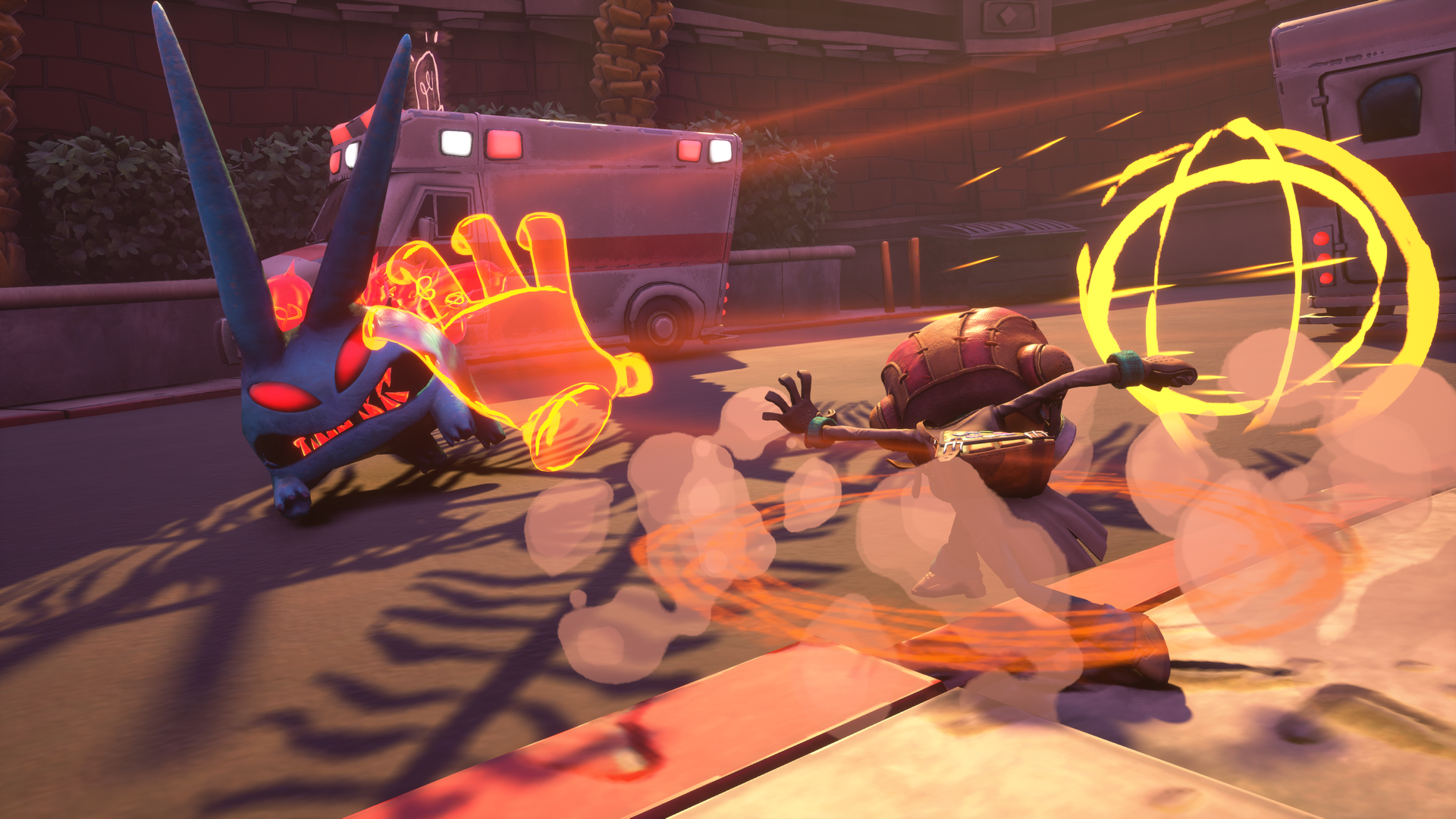 Microsoft's 2019 purchase of Double Fine gave the studio's developers the peace of mind and added finances to make next month's "Psychonauts 2" a bigger and possibly better game, its developers told Axios.
Why it matters: A comedic follow-up to 2005 cult classic about adventuring through people's minds, "Psychonauts 2" has taken a strange path to existing at all.
In 2012, wealthy "Minecraft" creator Markus "Notch" Persson tweeted at Double Fine founder Tim Schafer an offer to make a "Psychonauts" sequel "happen."
That went nowhere, but in 2015, Double Fine started crowdfunding for the project, netting $3.8 million from over 24,000 backers.
Then the Microsoft purchase kept the studio going and bolstered the game.
What they're saying: "To quote the age-old adage, you know, money is time," Double Fine senior system designer Lauren Scott said.
That extra time meant the ability to build the game's big "boss" enemies, lead environment artist Geoff Soulis said.
And it ensured the game would have a wider suite of smaller foes to fight. "We definitely got a bit of breathing room for our enemies that were more on the tail end of things that needed some more love," Scott said.
What we played: We tried the game's introductory level, set in the teeth-filled mind of a demented dentist, then explored the game's hub — the headquarters of the titular mind-spelunking psychonauts.
Levels are big, colorful and pleasing to jump and climb through.
The hub is a joy, full of amusing chatter and characters with whom to have silly chats.
Combat is simple, though the designs of enemies is a clever extrapolation of mental concepts. Doubts, for example, are gooey enemies that slow you down. Bad ideas are monsters who blow up in your face.
"Psychonauts" adventures are meant to be comedic explorations of minds that your character, Raz, can enter and explore. But there's no escaping the fact that many of the levels deal with people's anxieties and other mental health challenges.
"What we try to do is approach everything with as much empathy and care as we possibly can," Soulis said, noting the team worked with mental health consultants.
A level could be about a character's fears or addictions, which the player is climbing and fighting through.
The game's creators crafted scenes to show that Raz is creating space for the character to deal with their problems and choosing to go through a healing process. The idea is that "Raz kind of just helped them get there," designer Seth Marinello said. "The first game was just a little more direct, like: 'Hey, this person has this problem and Raz is going to go punch it.'"
What's next: "Psychonauts 2" comes out on Aug. 25 for PC, Xbox and, due to prior commitments, Microsoft's rival, the PlayStation 4.
Go deeper