Digital smart zones help manage crowded urban streets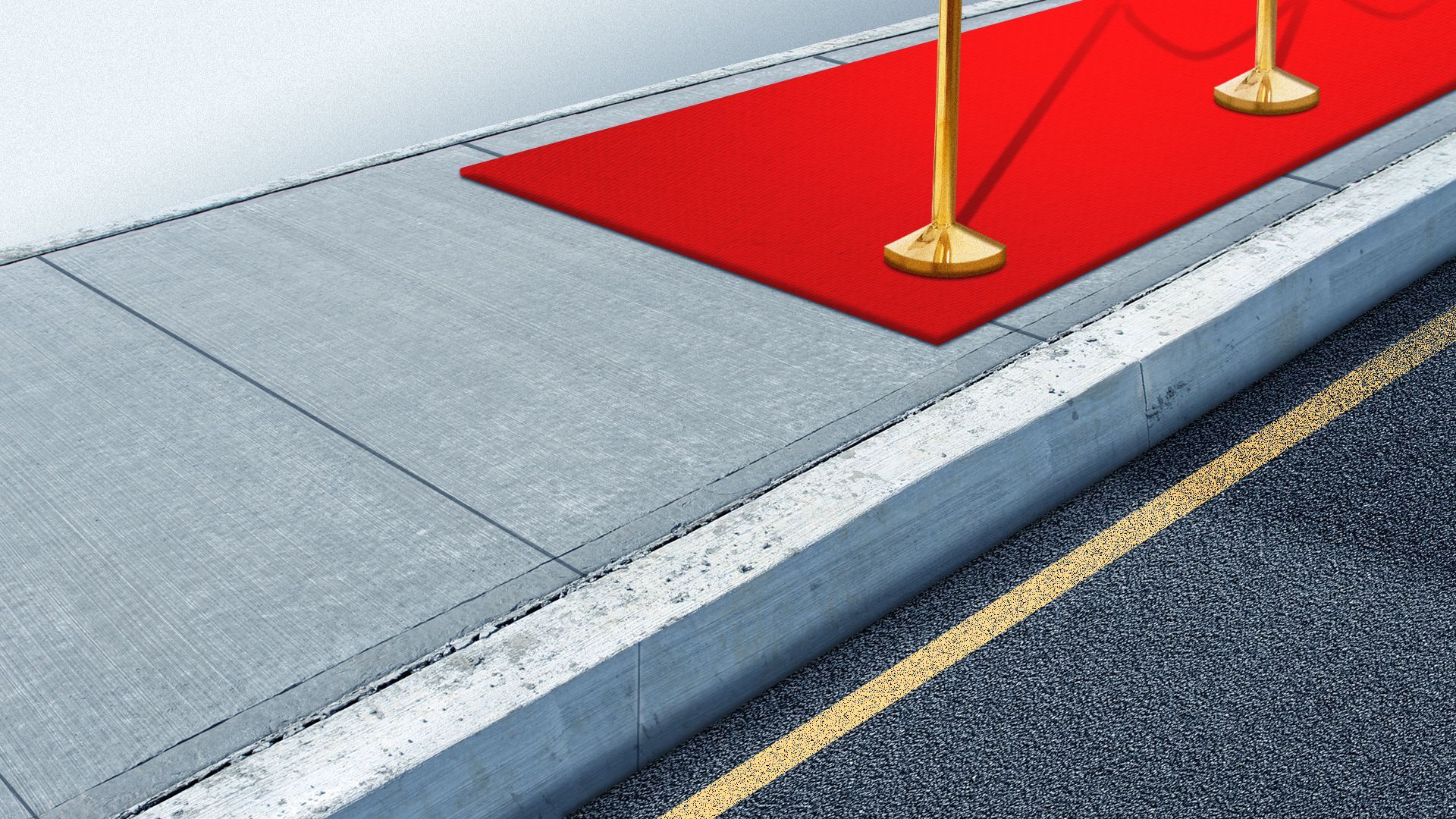 Exploding demand for curb space in urban areas has inspired new technologies like "digital smart zones" that help cities manage those narrow but increasingly valuable tracts of real estate.
Why it matters: Allowing delivery trucks or DoorDash drivers, for example, to automatically reserve the precise chunk of concrete they need — two minutes from now or for the next two hours — helps keep traffic moving and sidewalks clear.
The big picture: Cars, buses and delivery trucks have long tussled over curb access. But the competition really intensified during the pandemic when urban streets were transformed to make space for outdoor dining, new bike routes and a surge in curbside pickups and deliveries.
Beyond urban areas, it's playing out in Zoom towns too — the swelling suburbs, cities and tourist towns where remote workers relocated during the pandemic.
Driving the news: In a pilot that wrapped up recently, Aspen, Colorado, created "Smart Zones" to streamline commercial loading in its busy downtown area, which sees $1 billion of retail activity a year.
Aspen was one of four cities that partnered with curb management company Coord, a unit of Alphabet's Sidewalk Labs, to designate popular loading zones as Smart Zones.
How it works: Those designated stretches of curb are open only to drivers who book them in advance of arrival using the Coord Driver app.
Before starting a trip, the driver enters the destination address and then taps on a Smart Zone icon near that location.
When the driver is about half a mile away, the system automatically puts a "hold" on the Smart Zone so that no one else can book it.
If someone is parked there illegally, the driver can tap a button to alert the city's parking enforcement officers, who keep a close eye on the Smart Zones.
After the driver is done using the space, the $2 per hour Smart Zone fee is billed automatically to the driver or fleet operator's account.
What they found: Illegal parking was reduced and drivers spent less time circling in search of curb space, according to an Aspen case study.
Safety improved too, as fewer vehicles took shortcuts through alleyways, and pedestrians tangled less often with trucks blocking sidewalks.
Even ride-hailing went more smoothly in the Smart Zones, with passenger pickups and drop-offs lasting only a minute on average, versus the usual eight minutes, Dawn Miller, Coord's vice president of policy and partnerships, tells Axios.
What's next: Coord is launching a new round of pilots in denser cities this summer. One goal is to test flexible Smart Zones that respond to real-time traffic conditions with dynamic pricing.
"Places like New York, Boston and Philadelphia — those are the places this is needed the most," said Miller.
Go deeper