Rich candidates use mystery money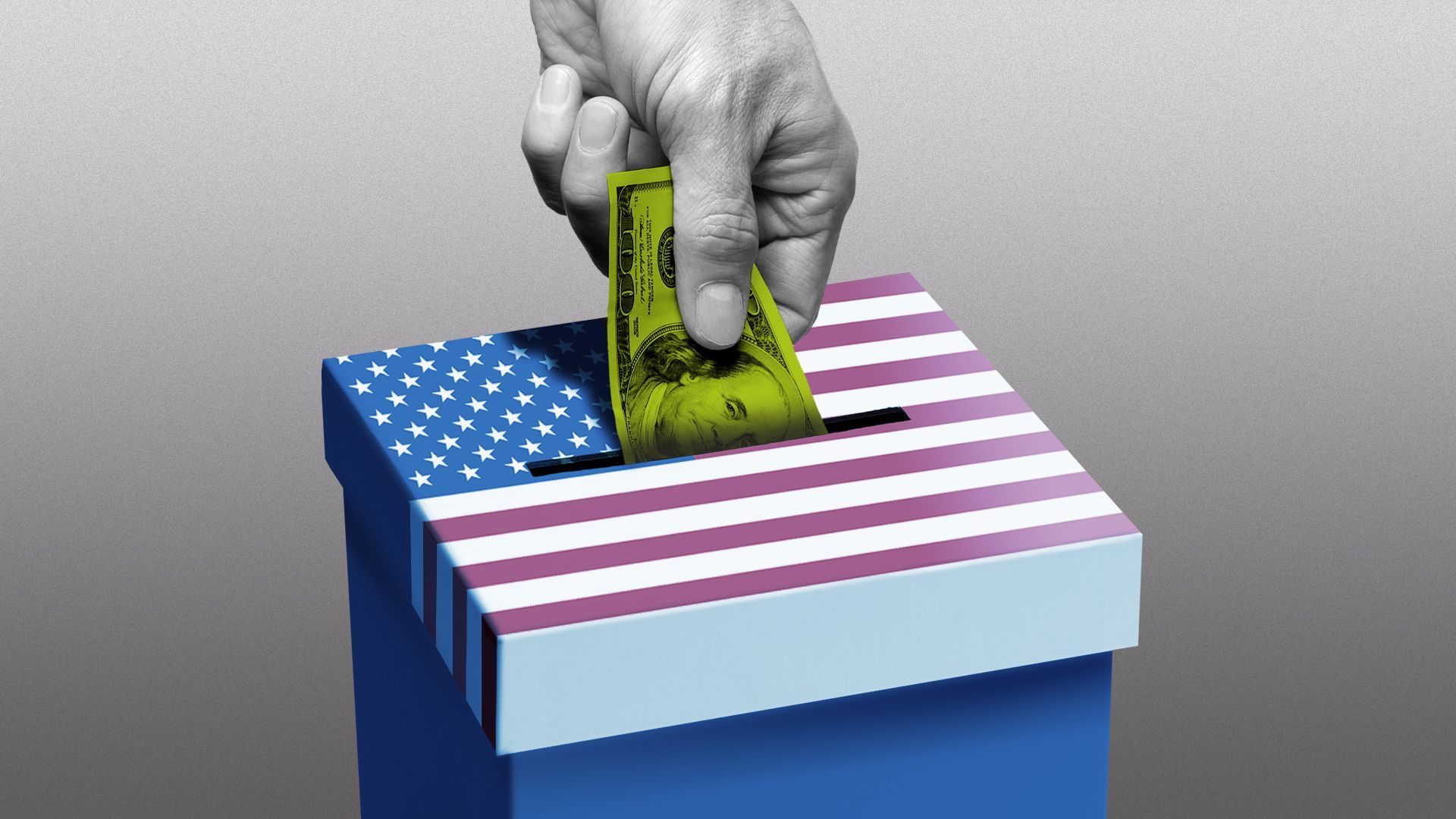 Wealthy congressional candidates are pouring millions into their own campaigns but failing to file mandatory disclosure forms, keeping voters in the dark about how they got their cash.
Why it matters: Unlike regular donors, candidates can give unlimited sums to their campaigns. Watchdogs say knowing the source is crucial to vetting potential conflicts of interest and ensuring hidden supporters won't unduly influence them in office.
Ignoring the law also speaks to a lack of fear of the congressional ethics officials charged with enforcing transparency requirements.
What's happening: In Arizona, Republican Senate candidate Jim Lamon has lent $2 million to his own campaign. He also poured another $2 million into a conservative voter registration group in the state days before he entered the race in early May.
The deadline for Lamon to file his personal financial disclosure form passed about six weeks ago. He has yet to do so or request an extension, according to the Senate Ethics Committee's website.
Two of his GOP primary rivals, both of whom entered the race after Lamon, have filed their personal financial disclosure statements.
Lamon is a solar energy executive, but the lack of a financial disclosure filing makes it difficult to know precisely how he derives his current income and what assets he holds.
In an emailed statement to Axios, a Lamon spokesperson said he he is "working diligently with his team of accountants, financial planners, and lawyers to ensure his financial disclosure is accurate, complete, and fully complies with the letter and spirit of all financial disclosure requirements."
In North Carolina, House candidate Sandy Smith has lent her campaign $110,000 this year. She ran for the same congressional seat last year and lent the campaign another $325,000.
Smith has not filed personal financial disclosures during either of her House runs.
She also failed to do so last year during an ill-fated effort to primary Sen. Thom Tillis (R-N.C.).
The big picture: Financial disclosure filings are legally mandatory. "Knowingly and willfully" failing to file can subject candidates to tens of thousands of dollars in fines and disciplinary action from congressional ethics officials.
Omar Navarro, a perennial Republican challenger to Rep. Maxine Waters (D-Calif.), is mounting his fourth consecutive House run this cycle.
He hasn't filed a personal financial disclosure statement since 2015.
What they're saying: "This information is especially relevant for candidates who rely solely on their financials assets to fund their campaigns," said Kedric Payne, the general counsel and senior director for ethics at the Campaign Legal Center.
"Voters may question whether candidates seek office to serve personal interests or the public's interest if they are not transparent from the start," Payne said.
Those disclosures can also prompt additional questions about the sources of money candidates use to self-fund.
Another North Carolina House candidate, Bo Hines, has lent his campaign $275,000. Unlike Smith and Lamon, Hines has submitted a personal financial disclosure filing in late June.
That filing lists just one asset, a blind trust of "undetermined" value, and annual income of between $124,000 and $224,000, making it unclear where Hines, a recent college graduate, got the money to lend to his congressional bid.
His campaign also did not respond to inquiries from Axios.
Editor's note: This story has been updated to include comments from a Lamon campaign spokesperson.
Go deeper