The hunt for celebrity COVID vaccine endorsements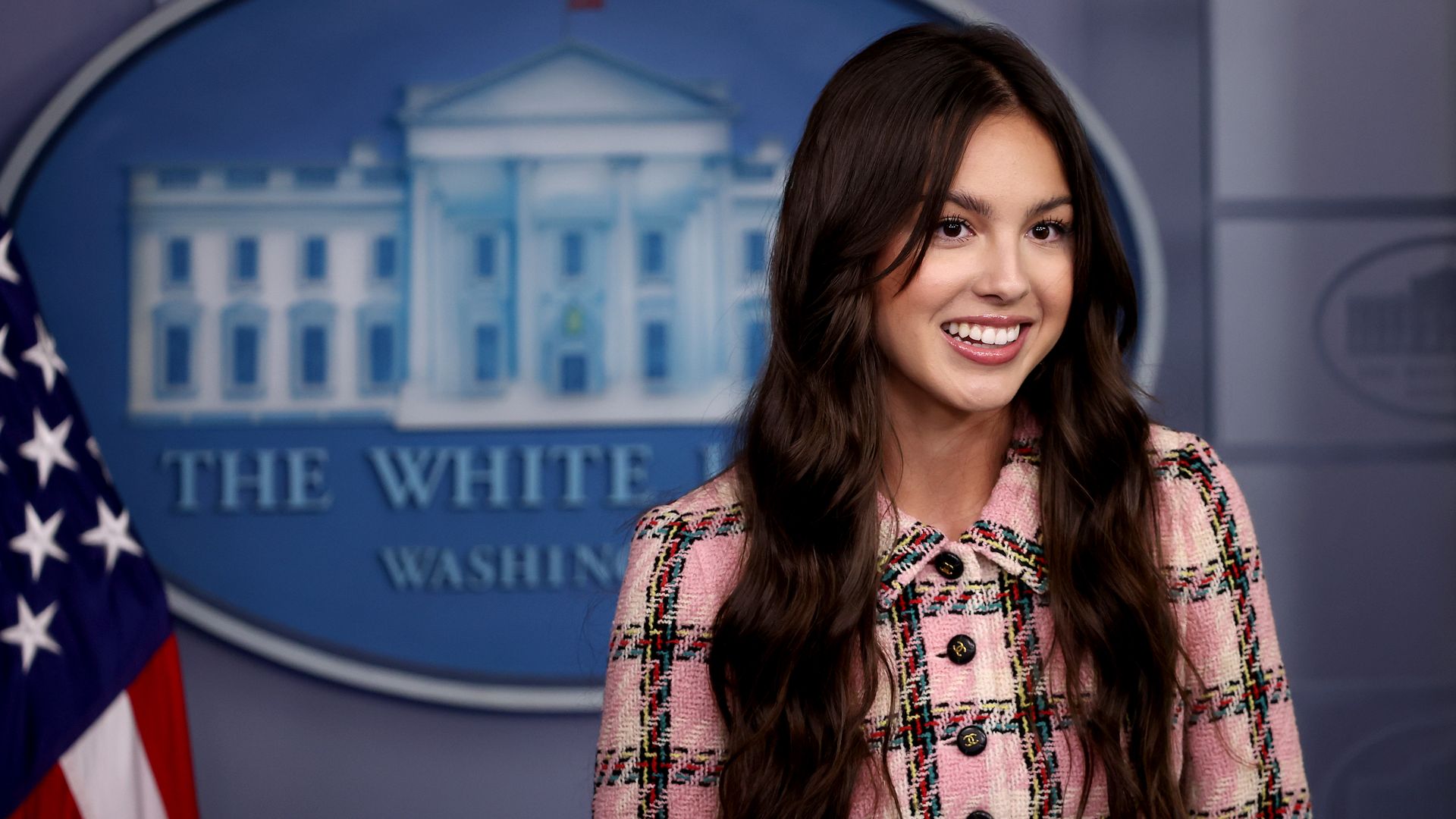 Gen Z pop star Olivia Rodrigo was at the White House this week to create promotional videos aimed at spurring sluggish COVID-19 vaccination rates among America's youth.
The big picture: Rodrigo is among the most high-profile recruits aimed directly at appealing to Generation Z by the Biden Administration when it comes to the vaccine.
This spring, HHS teamed up with multiple celebrities including actress Eva Longoria and TV hosts Kelly Ripa and Ryan Seacrest, as well as some NBA and NASCAR stars for the "We can do this: live" campaign.
"I think it's more than safe to say that we will be reaching out to celebrities and anyone that can help us spread the word about the safety and efficacy of the COVID-19 vaccines," a White House official told Axios.
But the typically noisy world of online promotion from celebs and social influencers, particularly for the younger set, has been comparatively quiet on the subject of COVID shots.
A handful of high-profile stars popular among Millennials, such as Demi Lovato, Joe Jonas and Jonathan Van Ness have posted getting vaccinated or their vaccine card on social media.
Last week, 90's rapper Juvenile took it to a new level when he reworked one of his hits with the lyrics 'Vax that thang up.'
Experts say there should be more coordinated efforts by the federal government and states to harness the power of singers, celebrities, and athletes.
It appears some public figures may be choosing not to endorse vaccines for fear of backlash, experts say. [There's also, notably, been a small number of celebrities who have said they won't get the vaccine.]
"Celebrities and influencers may hesitate to take a strong stand for fear of alienating a sector of their audience. Unfortunately, vaccines now have an ideological spin," Timothy Caulfield, a health policy professor at the University of Alberta in Canada, tells Axios.
"The silence matters," Caulfield added.
By the numbers: As of Wednesday, only 55% of 25-39 year-olds have received one dose, far below older Americans. With those aged 18-24, it's about 51%, according to CDC data.
Both age ranges have been slowly increasing at about half a percent weekly. Health officials say that's mainly due to complacency or lack of awareness.
But, but, but: It's trickier than ever to break through with public health messages.
In the past, public figures — from Elvis Presley getting the polio vaccine on TV to NBA player Magic Johnson going public with his HIV status — used mass media to create a buzz in conversation to inspire behavior changes, said Katy Milkman, Wharton professor and behavioral scientist.
Now it's all about the influencers. Marketing agency Xomad has been working to be a middleman between several state and local health departments like Oklahoma and San Jose and pay "nano-influencers" who have a reach of under 10,000 followers to promote vaccinations and information.
Their target group includes young Latino, Black and immigrant communities and they have been moderately successful, CEO Rob Perry said. "When the influencers speak, they're speaking with the backing of health officials on any kind of misinformation. It has a longer-term impact," he said.
Go deeper