Olympics will feature historic number of LGBTQ athletes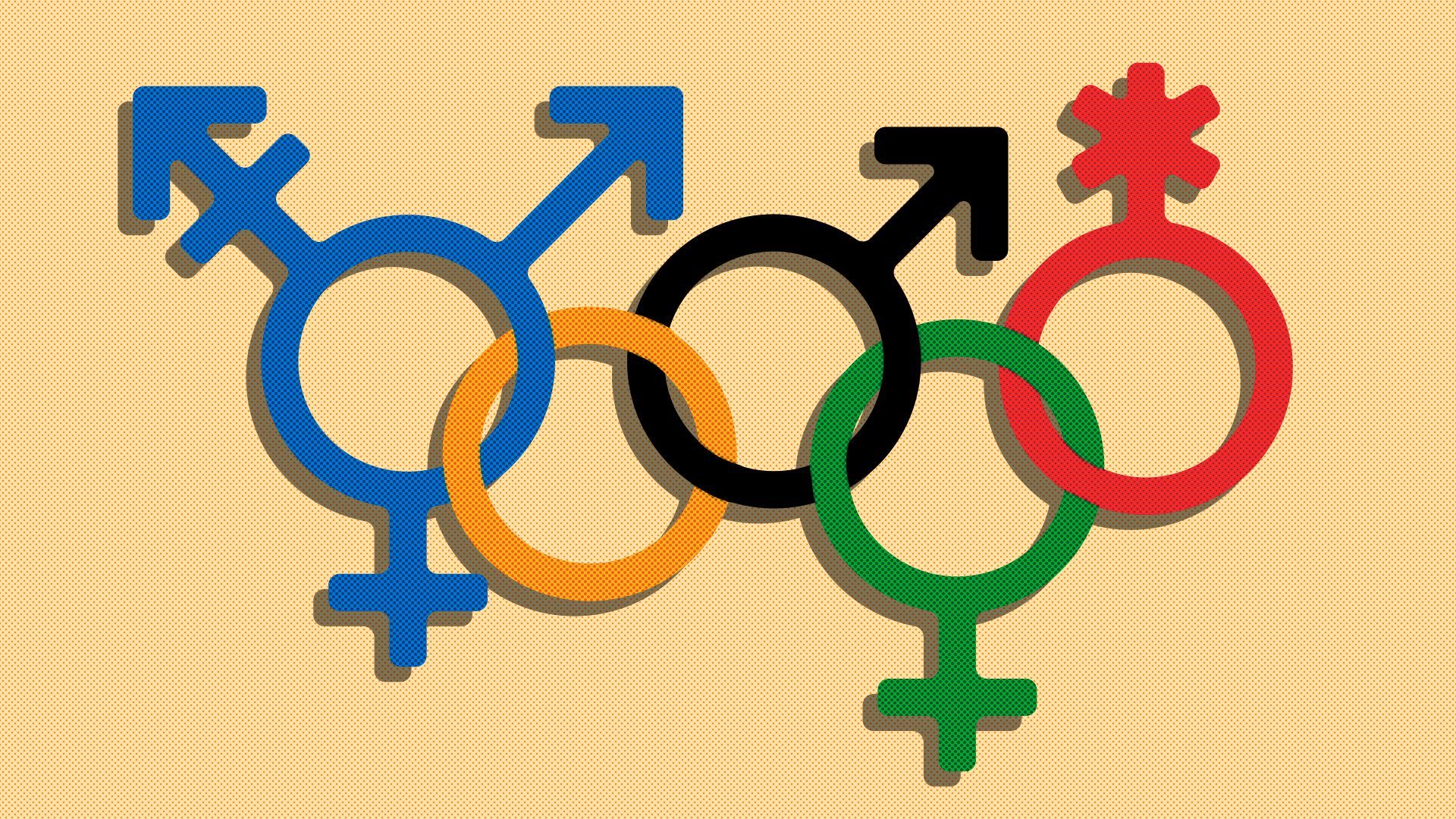 At least 142 athletes who are publicly out as LGBTQ are headed to the Olympics, beginning one week from today.
Why it matters: That's more than have participated at all other Summer Games combined, per Outsports.
By the numbers: Those 142 athletes include the first transgender Olympians and represent 25 different countries.
The U.S. leads the way with 34, followed by Canada (16), the U.K. (15) and the Netherlands (13).
Women outnumber men eight to one, while women's soccer has by far the most overall, with 38.
The big picture: Same-sex marriage is legal in only 29 countries, but as that number has grown over the years, so has the number of publicly out Olympians.
In 2012, the Olympics saw a then-record 23 LGBTQ athletes at a time when 11 nations allowed same-sex marriage. By 2016, LGBTQ athletes (56) and nations allowing same-sex marriage (22) both at least doubled.
If this year's historic total is any indication, it's likely that both of those numbers will continue increasing in 2024, 2028 and beyond.
Worth noting: There are also 69 countries and territories where homosexuality itself is outlawed, per the BBC, nearly half of which are in Africa and all but two of which (Mauritania, Gaza Strip) are sending athletes to Tokyo.
What they're saying:
"Being able to compete with the best in the world as my most authentic self ... shows how far we've come on inclusion in sport," Canadian swimmer Markus Thormeyer told Outsports. "I'm hoping that by competing at these Games I can show the LGBTQ community that we do belong."
"I wish that all gay athletes would come out ... I know they're in every sport," six-time U.S. Olympian Robert Dover (1984-2004) once said. "You just have to spend one day in the housing, the gyms, or at dinner to realize we're all over."
Meet some of the athletes: Power couple Sue Bird and Megan Rapinoe are as famous and successful as they come, so let's highlight a few of the other athletes.
Another power couple is the Dutch duo of Edward Gal and Hans Peter Minderhoud, each of whom has medaled in team dressage (equestrian), but not since they began competing together.
Quinn, on the Canadian women's soccer team, came out last fall as non-binary and transgender. They play for the NWSL's OL Reign and won a bronze medal in Rio.
Alexis Sablone and Alana Smith are members of the first ever U.S. Olympic skateboarding team. Sablone is a six-time X Games medalist with a signature Converse shoe; Smith in 2013 became the youngest X Games medalist ever, winning silver at age 12.
Between the lines: Examples like these 142 athletes, or Carl Nassib recently becoming the first active NFL player to come out as gay, are definitive signs of progress for the LGBTQ community.
Yes, but: "There is still work to be done to ensure that ... no person has to choose between being 'out' and being an athlete," says Amit Paley, CEO and executive director of the Trevor Project, which provides crisis intervention and suicide prevention services for LGBTQ youth.
Go deeper