As next heat wave nears, wildfires rage in West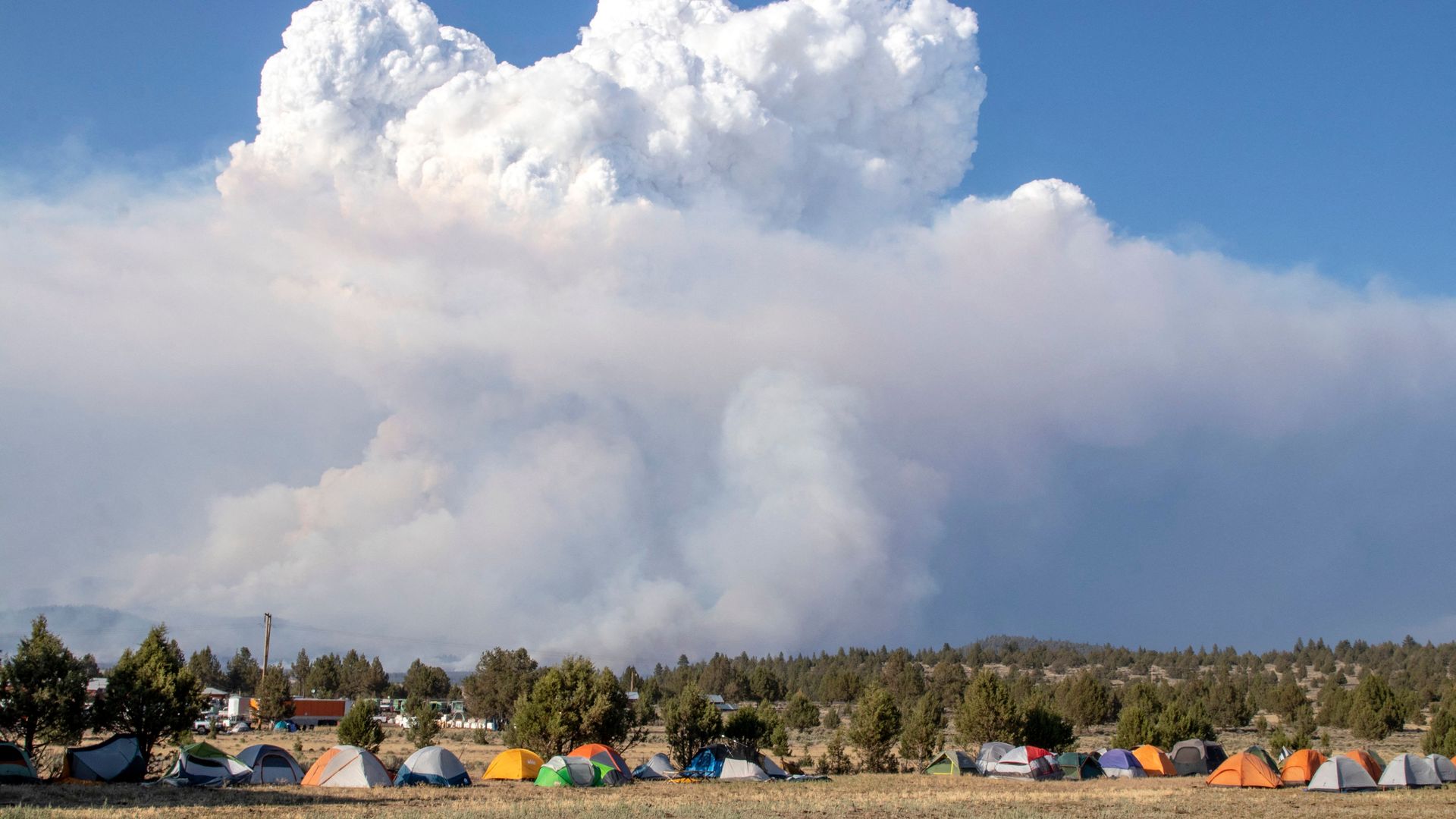 A total of 70 large wildfires are burning across the U.S., according to the National Interagency Fire Center, and this number is likely to grow as yet another powerful heat dome is set to build across the West, sending temperatures skyrocketing.
Why it matters: States across the northern Rockies and parts of the Pacific Northwest are set to see another searing heat wave from Saturday through at least Wednesday, with temperatures hitting 20 to 30 degrees Fahrenheit above average. This could significantly exacerbate the wildfires that are already ravaging the territory.
Forecasters with the National Weather Service warn of the potential for thunderstorms to form that could deliver little rain but dry lightning strikes that may spark new blazes.
These same areas that will see the extreme heat starting this weekend — including Montana, Idaho and Wyoming — are affected by wildfire smoke wafting in from fires in California, Oregon and Washington.
Driving the news: The Bootleg Fire, the largest wildfire currently burning in the U.S., has demolished more than 230,000 acres in Oregon and remains only 7% contained, per the Inciweb.
Some communities surrounding the blaze are still being evacuated, officials said on the Bootleg Fire Facebook page.
The NIFC, which coordinates federal firefighting agencies, on Thursday elevated its national alert level from 4 to 5, the highest on its scale and the earliest such designation in 10 years.
The big picture: The extreme drought and heat waves, which researchers say have been aggravated by human-caused climate change, are the main reason why this year's wildfire season ramped up so early.
What to watch: High temperatures on Monday in northeastern Montana could top 108 degrees Fahrenheit, with the heat stretching through midweek, according to the National Weather Service.
Computer models show that yet another heat dome is building across the West, this time moving north and parking itself over the northern Rockies, drawing warm air northward and locking it in place for an extended period.
This heat comes on top of an already hot streak, in the middle of a record drought. Boise, Idaho has reached or exceeded 95°F for a record-setting 20 straight days. The heat plus drought is leading to some of the driest vegetation for so early in the fire season -- a clear warning sign of the potential for additional large blazes.
The heat may be most extreme in portions of southern Canada, including British Columbia, Alberta, Manitoba and Saskatchewan, where above average temperatures may stretch for longer than seven days. Numerous fires are burning in Canada, sending smoke eastward all the way to mainland Europe.
The extreme heat will contribute to the potential for unusual wildfire behavior, including the development of towering clouds of ash and water vapor, known as pyro-cumulonimbus clouds, or pyroCb. These can spark new blazes via lightning, and alter winds in ways that make firefighting efforts extremely difficult.
This most recently happened Thursday with the Bootleg Fire.
While not in the area of intense heat, a fire weather watch is in effect for Sunday to Monday in the San Francisco Bay area due to an expected outbreak of thunderstorms that could touch off some fires. These storms are not expected to bring drought relief, however.
More storms could form further north, in Oregon and Washington, potentially causing additional fires there too.
Go deeper:
Go deeper