Biden calls on Congress to act after judge's ruling barring new DACA applicants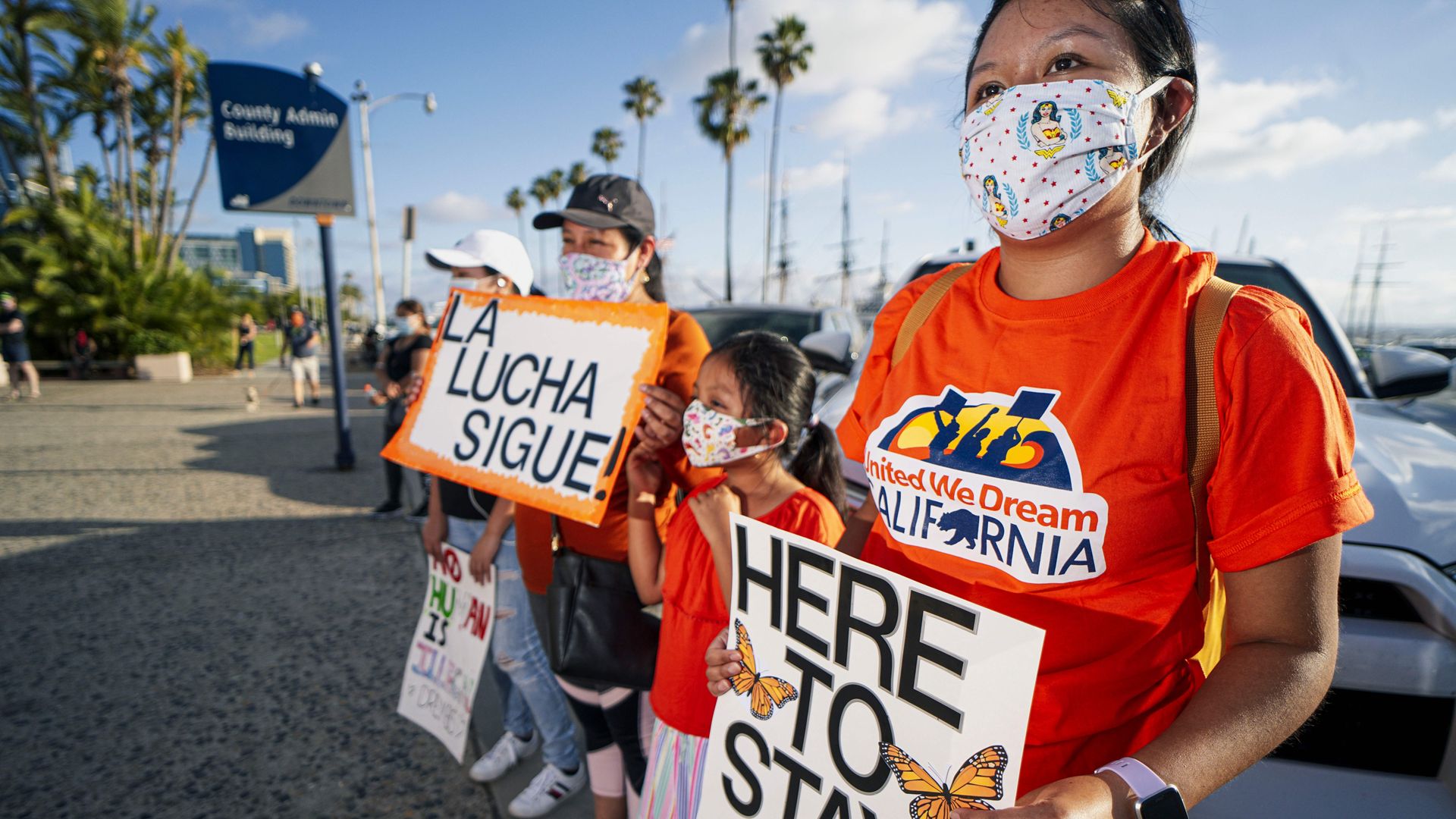 A federal judge ruled on Friday that President Obama did not have the legal authority to create the Deferred Action for Childhood Arrivals (DACA) program, which offers protection from deportation for immigrants brought to the U.S. illegally as children.
The latest: Calling the ruling "disappointing," President Biden on Saturday urged Congress to "ensure a permanent solution by granting a path to citizenship for Dreamers that will provide the certainty and stability that these young people need and deserve."
"I have repeatedly called on Congress to pass the American Dream and Promise Act, and I now renew that call with the greatest urgency," Biden said, adding: "It is my fervent hope that through reconciliation or other means, Congress will finally provide security to all Dreamers, who have lived too long in fear."
Why it matters: The U.S. District Court for the Southern District of Texas ordered the Biden administration to cease approving new DACA applications but specified that the decision would not affect current recipients for now.
The decision followed a challenge to the program filed by the attorneys general for nine Republican-led states, including Texas, who argued that DACA was improperly adopted and financially burdened them by making them pay for DACA recipients' education and health care.
What they're saying: U.S. District Judge Andrew Hanen held that the creation of the program violated the Administrative Procedure Act, which governs how federal agencies develop and issue regulations.
"To be clear, neither this order nor the accompanying injunction requires [the Department of Homeland Security] or the Department of Justice to take any immigration, deportation, or criminal action against any DACA recipient, applicant, or any other individual that it would not otherwise take," Hanen wrote.
"This ruling is wrong and is subject to appeal," Omar Jadwat, director of the ACLU's Immigrants' Rights Project, said in a statement.
"But Dreamers' futures shouldn't be in the hands of the courts. It is absolutely urgent that Congress acts now through the budget reconciliation process to provide Dreamers and other undocumented members of our communities with reliable status and a pathway to citizenship."
The big picture: Congress has for years tried to pass a legislative solution that would allow DACA recipients to live permanently in the United States, but those efforts have repeatedly failed.
"[T]he court takes no position on how DHS (or Congress, should it decide to take up the issue) should resolve these considerations, so long as that resolution complies with the law," Hanen wrote.
Senate Democrats hope to tie key immigration reforms to the next budget reconciliation package.
What's next: Biden said that the Department of Justice will appeal the decision to the U.S. 5th Circuit Court of Appeals and the Department of Homeland Security will "issue a proposed rule concerning DACA in the near future."
Read the full ruling:
Editor's note: This story has been updated throughout.
Go deeper