Autonomous trucks wow Wall Street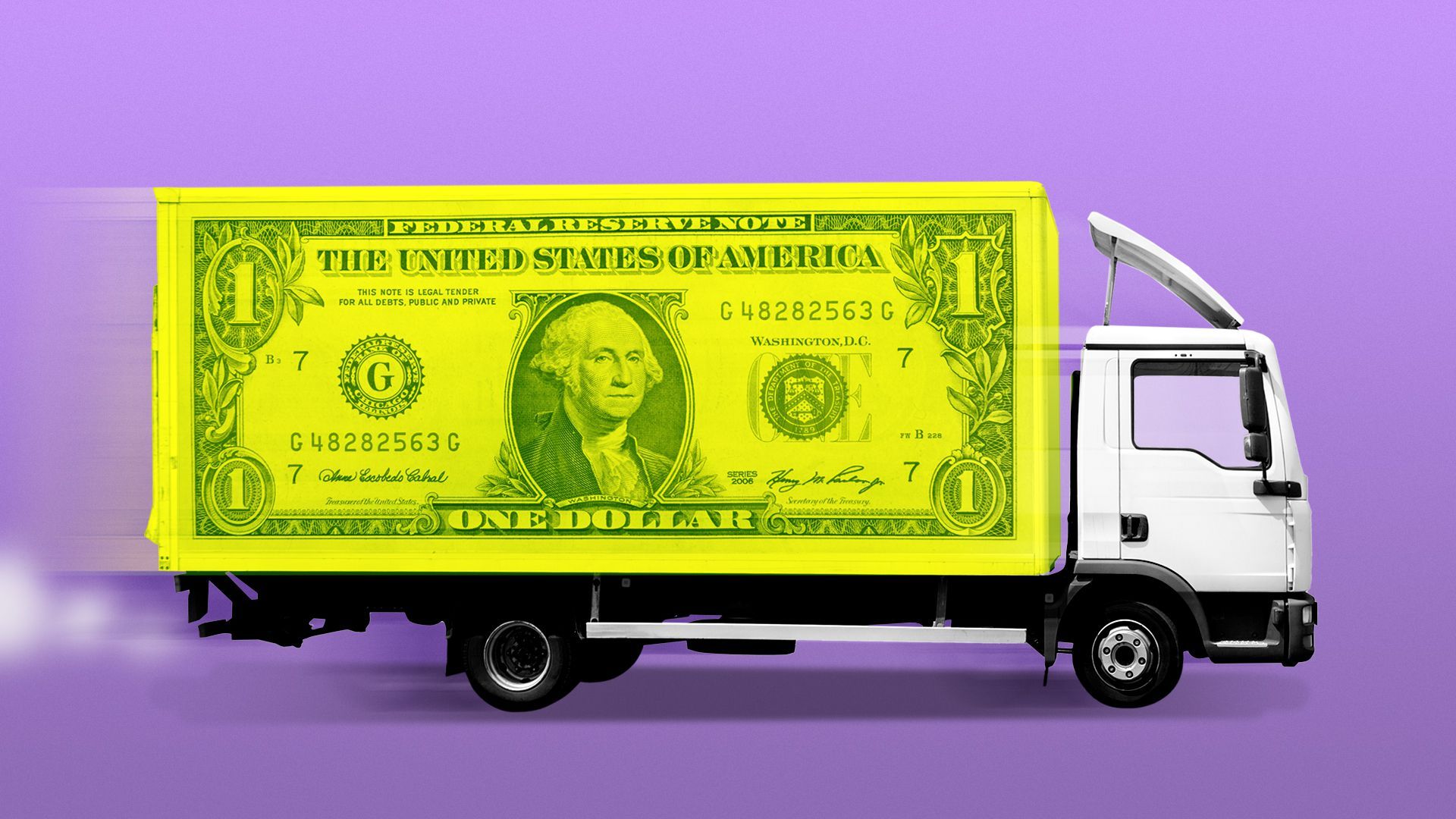 Autonomous trucking is a hot commodity as investors once dazzled by self-driving cars are now pouring truckloads of money into automated logistics.
The big picture: It's still not clear when robotaxis might be ready for large-scale deployment. Meanwhile, the explosion of e-commerce since the pandemic has created an increased demand for shipping.
By the numbers: In the first half of 2021, investors pumped a record $5.6 billion into autonomous trucking companies such as TuSimple, Plus and Embark.
Valuations for the top four companies in the truck sector soared 544% from Q2 2020 to Q2 2021, compared to only a 12% rise for the four largest robotaxi companies, according to PitchBook research.
"There's no question that investors are realizing the broader and potentially near-term opportunity with automated logistics," Asad Hussain, PitchBook mobility analyst, tells Axios.
Driving the news: Aurora Innovation is the latest self-driving tech company to go public, announcing plans Thursday to merge with a special purpose acquisition company, Reinvent Technology Partners Y.
Aurora will net about $2 billion from the deal and boost its valuation to an estimated $11 billion, more than any other publicly traded AV company.
The company, which turned its focus from robotaxis to trucks about a year ago, has partnerships with leading truck manufacturers Volvo Group and PACCAR, parent of Peterbilt and Kenworth. Together, they represent approximately 50% of the nation's Class 8 truck market — the largest 18-wheelers.
The "Aurora driver" will launch on the first of these companies' trucks in 2023, likely in Texas, where testing is underway.
Flashback: Back in 2018, Aurora co-founder and CEO Chris Urmson told Axios he didn't believe that long-haul trucking was a safe or smart way to start applying AV technology.
"Early on, there's a massive benefit to driving in urban environments because you learn more quickly," he said Thursday, explaining his thinking back then. At lower speeds, he said, there's "less kinetic energy" if something goes wrong.
"And we didn't think you could see far enough to solve the truck problem," he added.
Fast forward: Since then, Aurora has solved its perception problem by acquiring two lidar companies and built its core driving skills so that its Aurora Driver is almost ready.
What Urmson is saying now: The business argument for trucking is stronger than the case for robotaxis.
"It comes down to there's a massive shortage of 60,000 drivers. By the end of the decade, that shortage will be 160,000 drivers."
That seems to be the broad view of investors. "With robotaxis, you have to create the demand. But with the trucks, the demand is there. The labor thing is so crucial," says PitchBook's Hussain.
"And it's not just that there's a shortage of workers. The shortage is concentrated in long trips, and those are the easiest to automate."
What's next: Aurora still plans to target businesses outside of trucking, including last-mile delivery and ride-hailing, through its partnerships with Toyota and Uber.
Automated runs between airports and hotels or convention centers are a good place to start, Urmson said — but not until after Aurora's autonomous trucks are rolling.
Go deeper: Startups and VCs refocus autonomous vehicle efforts
Go deeper